In an industry with declining profit margins, and with volatile fuel prices, there is increasing need to grow greenhouse crops in an energy-efficient manner. The best approach is to attack this industry threat using a variety of strategies. In collaboration with horticulturists, agricultural economists, and agricultural engineers, we have developed this web site to provide summary information on production strategies and technologies that greenhouse growers can use to consume less energy and improve production efficiency. Please click on the links above for more information on each topic. Additional resources are below.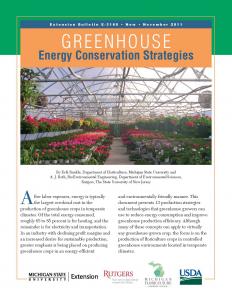 This 16-page summary, in pdf format, presents 13 production strategies and technologies that greenhouse growers can use to reduce energy consumption and improve greenhouse production efficiency. Topics include:
Energy-efficient lighting
Managing greenhouse temperature
Reducing air leaks
Retractable curtains
Maintaining heating equipment
Horizontal air flow fans
Efficient ventilation systems
Although many of these concepts can apply to virtually any greenhouse-grown crop, the focus is on the production of floriculture crops in controlled greenhouse environments located in temperate climates. Written by Erik Runkle (Michigan State Univ.) and A.J. Both (Rutgers Univ.).
We thank the Michigan Greenhouse Growers Council, who received a grant from the USDA Rural Development Office to help subsidize the costs of developing this energy resource. In addition, Project GREEEN has provided funding to researchers at Michigan State University to generate research-based information on how to optimize temperature and light to increase greenhouse cropping efficiency and thus reduce energy consumption.
The information on this website was compiled and organized by Matthew Blanchard (former post-doctoral research associate) and Erik Runkle (professor), Department of Horticulture, Michigan State University. If you would like to suggest a research-based article for this website, please E-mail Erik.
Permissions: We have made every effort to seek permission to use all material that appears on this web site. If we have inadvertently used anyone's material without permission, we will be happy to make the necessary arrangements at the first opportunity; please contact MSU Printing Services Course Materials Program (Lynne Woods). We especially thank Greenhouse Management magazine and Greenhouse Grower magazine for allowing us to post reprints of their articles on this website.
Resources