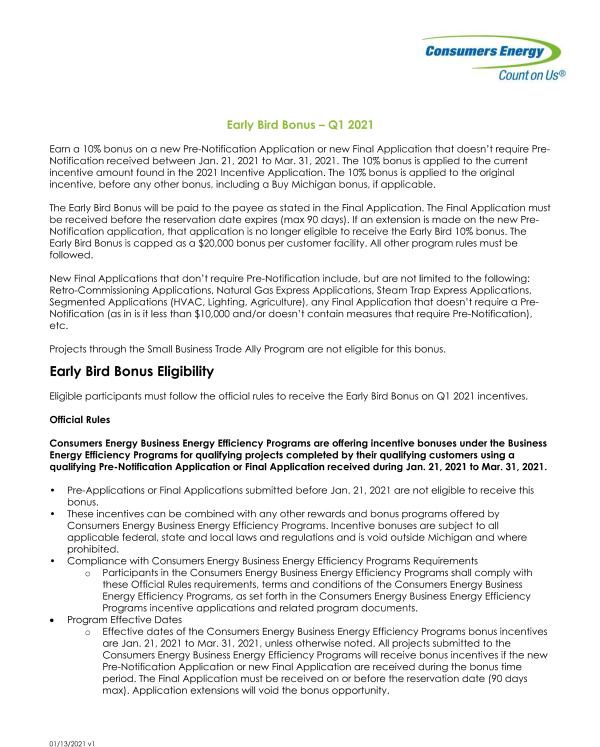 Consumers Energy Early Bird Bonus - Q1 2021
DOWNLOAD
February 24, 2021
Earn a 10% bonus on a new Pre-Notification Application or new Final Application that doesn't require Pre­Notification received between Jan. 21, 2021 to Mar. 31, 2021. The 10% bonus is applied to the current incentive amount found in the 2021 Incentive Application. The 10% bonus is applied to the original incentive, before any other bonus, including a Buy Michigan bonus, if applicable.
The Early Bird Bonus will be paid to the payee as stated in the Final Application. The Final Application must be received before the reservation date expires (max 90 days). If an extension is made on the new Pre­Notification application, that application is no longer eligible to receive the Early Bird 10% bonus. The Early Bird Bonus is capped as a $20,000 bonus per customer facility. All other program rules must be followed.
New Final Applications that don't require Pre-Notification include, but are not limited to the following: Retro-Commissioning Applications, Natural Gas Express Applications, Steam Trap Express Applications, Segmented Applications (HVAC, Lighting, Agriculture), any Final Application that doesn't require a Pre­Notification (as in is it less than $10,000 and/or doesn't contain measures that require Pre-Notification), etc.