Meat Laboratory
1360 Anthony Hall
The Michigan State University Meat Laboratory is part of the animal science complex (Anthony Hall) renovated through the Animal Industry Initiative in 1995 through 1998. This is a USDA-inspected teaching, research and outreach facility, which is managed by the Department of Animal Science and the Department of Food Science and Human Nutrition. Laboratory activities support the teaching, research and outreach efforts of the faculty of these departments and others at MSU.
The Meat Laboratory contains over 67,000 total square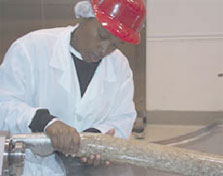 feet. Almost 18,000 square feet is dedicated to red meat and poultry slaughter and subsequent processing, including curing, cooking and equipment storage. The abattoir is designed to efficiently slaughter all major red meat and poultry species. It contains supporting refrigeration for chilling, cutting and further processing. The facility contains a sausage kitchen, which is equipped with all major processing equipment scaled down for laboratory-sized meat formulations. The kitchen is supported by appropriate refrigerated curing rooms, smokehouses capable of natural as well as liquid smoke applications and other pertinent cooking equipment.
There is over 15,000 square feet dedicated for personnel and over 5,000 square feet dedicated to two classrooms, which have full access to carcasses/meat from the pilot facility. There are three research laboratories and support facilities dedicated to understanding, improvement of meat chemistry, muscle growth, meat quality and meat microbiology.
Contact:
The Meat Lab
Food Science and Human Nutrition
Michigan State University
3385D Anthony Hall
East Lansing, MI 48824-1224
Phone: (517) 353-9773
Fax: (517) 432-0753

Jennifer Dominguez , Facility Manager
Food Science and Human Nutrition
Michigan State University
1358 Anthony Hall
East Lansing, MI 48824-1224
Phone: (517) 353-9773
Fax: (517) 432-0753
E-mail: doming21@msu.edu