Meat Judging Team
Michigan State has a long history of their meat judging program.
Organized through the American Meat Science Association, Michigan State competes in five contests each year. These include:
Southeastern Meat Judging Contest, The Ohio State University and University of Kentucky
Eastern National Meat Judging Contest, Wyalusing, PA
American Royal Meat Judging Contest, Omaha, NE
High Plains Meat Judging Contest, Hereford, TX
International Meat Judging Contest, Dakota City, NE
Each contest consists of placing classes, reasons, quality and yield grading, and specifications. Team members learn evaluation skills and writing skills in addition to how to quality and yield grade beef carcasses. All of these skills are valuable to employers for future careers. All the while, participation in the meat judging program grows a person's networking and allows them to be better leaders and teachers in school activities, careers and the community.
2012 Meat Judging Team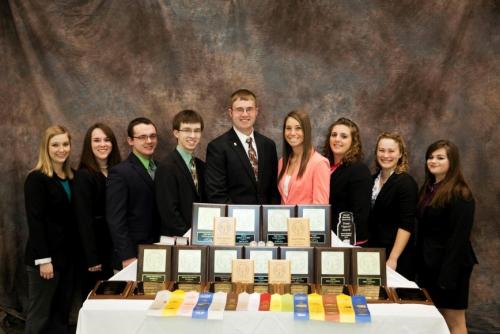 (L to R) Coach: Sarah Wells, Team: Emily Mitchell, Patrick Owens, Andrew Weaver, Lane Carpenter, Kelsey Steketee Audrey Ing, Julie Feldpausch, Molly O'Brien
Spring Result
Southeastern: 4th overall, Weaver – 2nd individual overall, Ing – 4th individual overall
Fall Results
Eastern National: 8th overall
American Royal: 7th overall, Ing – 7th individual overall
High Plains: 3rd overall, Carpenter – 4th individual overall
International: 4th overall, Steketee – 9th individual overall
2013 Meat Judging Team
Spring Result
Southeastern: 4th overall, Adams – 2nd individual overall, Bronkema – 4th individual overall
Fall Results
Eastern National: 10th overall
American Royal: 7th overall, Bronkema – 2nd individual overall
High Plains: 6th overall, Bronkema – tied for 8th individual overall
International: 8th overall