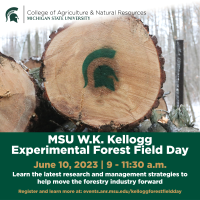 May 1, 2023
MSU Forestry faculty to highlight ongoing research and outreach programs
Hours
Hours Open to the Public
Visitors are welcome during the following hours:
April 1st – October 31st: 8:00 am to 7:00 pm
November 1st – March 31st: 8:00 am to 5:00 pm
Office Hours: 9:00 a.m. to approximately 4:00 p.m., Monday-Friday.
W.K. Kellogg Experimental Forest is closed during the following holidays: Memorial Day, Independence Day, Labor Day, Thanksgiving Day and the following Friday, Martin Luther King, Jr. Day, December 23-January 2 (Christmas Holiday/Winter Break).
The forest is private property owned by the university. Please respect signage and policies.
Restricted and Research Areas
The area around the office and infrastructure including the paved parking lot, bathrooms, and pavilion is no longer open to the public. These areas are reserved for business, research, educational activities, and outreach events. Please do not park or enter areas posted "Restricted Area – No Trespassing", "Research – No Trespassing" or "Authorized Personnel /Vehicles Only".
Parking
Public parking is available during posted hours in the gravel lot located 0.3 miles north of the main office on the west side of 42nd street.
Access to Trails
East Side Trails
Lemmien Loop Trail
Access to the Lemmien Loop is directly across 42nd street from the gravel parking lot. There is a short scenic trail that leads to a footbridge which crosses Augusta Creek. Follow the red blazes and trail markers. Please stay on marked trails.
North Country Trail
From Vermont to North Dakota, The NCT is the longest National Scenic Trail covering 4,700 miles through eight states. A portion of the trail makes its way through Kellogg Forest and offers views of upland forests and riparian areas along Augusta Creek. Follow the blue paint blazes.
West Side Trails
The west side of Kellogg Forest is also open for you to enjoy during posted hours. This area does not have marked trails, offers steeper topography, and tends to be more challenging than the Lemmien Loop. Please plan your hike accordingly and do not venture into this area if you are unfamiliar with orienteering or wilderness areas.
If you see something that needs attention, please contact the office at 269-731-4597 or for.kelloggforest@msu.edu
Recreation
THE FOLLOWING ACTIVITIES AND ITEMS ARE NOT PERMITTED AT KELLOGG FOREST:
FORAGING AND GATHERING
ALCOHOL AND FIREARMS
CAMPING /CAMPFIRES
DRONES/UNMANNED AIRCRAFT
PLEASE REMAIN ON DESIGNATED/MARKED TRAILS
Horseback Riding
West of 42nd street ONLY – May 1st through October 1st. Please park trailers on the outermost edge of the gravel parking lot to allow as much room as possible for other visitors. Parking for trailers is limited and not guaranteed. Please clean up after your horse while in the parking lot. Please DO NOT leave the maintained trails.
Archery Hunting
Open October 1st to January 1st in accordance with State regulations. All hunters are required to apply for an annual MSU hunting permit and adhere to MSU and Kellogg Forest hunting policies.
The hunting permit application is available on the "Resources and Reports" page.
Fishing
Augusta Creek is open to fishing in accordance with State regulations. Please be respectful of hours open to the public while planning your fishing trip.
Dog Walking
Your furry friend is welcome to enjoy the hike.
Please clean up after your pal and make sure they are always leashed.
MSU Ordinance -23.01
State Law – Dog Law of 1919
Kalamazoo County Ordinance – Article IV; Section 1
Commercial Photography
Permit Required. The application and Information regarding commercial photography can be found on the "Resources and Reports" page.
Established 1932
Established on abandoned agricultural land, the 716-acre Kellogg Experimental Forest is known worldwide for research on tree breeding and genetics, planting techniques, and plantation establishment and management. Much of the research that developed the Spartan spruce, a hybrid that combines the color and drought resistance of a blue spruce and the softer needles and rapid growth rate of the white spruce, was done at the Kellogg Forest. The forest is open to the public for biking, hiking, horseback riding and cross-country skiing, and has several interpretive trails.
W.K. Kellogg Experimental Forest now offers Spartan Pure Maple Syrup as part of a research effort in best practices for high-vacuum sap extraction. Spartan Pure Maple Syrup is made from pure maple sap, with no additives or preservatives. Now available at MSU Stores, MSU Surplus, Kellogg Biological Station and Kellogg Forest.