Making It in Michigan going virtual on April 27-29, and May 4-6, 2021.
The MSU Product Center team is taking Making it in Michigan virtual in 2021!
The conference and tradeshow will be held virtually from April 27 to April 29, and May 4 to 6, 2021.
By holding it over the course of two weeks we hope that entrepreneurs, buyers and others will be able to incorporate the educational sessions and tradeshow into their busy schedule as we know it is difficult to find time to "get away" for a virtual programs. The conference will feature in-depth educational sessions, networking opportunities and take-home resources. The program will also boast a pitch competition with the Michigan Good Food Fund and a collegiate chef recipe showdown in partnership with the Michigan Bean Commission.
The virtual tradeshow will provide a space for food entrepreneurs to sell their products and make connections with buyers through customized virtual vendor displays. The Michigan Department of Agriculture and Rural Development and the Michigan Department of Economic Development are partnering to offer a unique matchmaking opportunity for buyers and sellers. Save these dates, and check back here to register. Registration will be opening soon!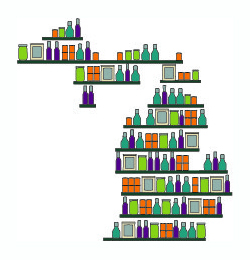 Featured Educational Sessions
Capitalizing on Trends in Today's Pandemic Driven Reality and Leveraging Social Media to Influence Consumers
Building Strong Teams with Bob Fish of Biggby Coffee and Jermale Eddie of Malamiah Juice Bar & Eatery
On the Cutting Edge: Trends to know when marketing your Business
With Crisis Come Change and Opportunity with Dr. Quentin Tyler with Michigan State University
Building Successful Partnerships with Major Retailers: A Panel Discussion

Buschs
Kroger
Meijer
SpartanNash
Whole Foods

Community Grocery Retail Panel

Oryana Food Co-op
Harvest Health
Marquette Food Co-op
Westborn Markets
Capital City Market

Market Trends and Regulatory Issues in Beverages
How to get your beverages to market
Market Trends and Regulatory Issues in Meat and Dairy
Access to Meat and Dairy Processing
Getting Started with Value-Added Agriculture
Innovative Approaches to Value-Added Agriculture, Next Steps
Start Up Tips: Sauces, Dips and Spreads
Next Level Sauces, Dips, Condiments and Salsa
Aquaculture 101 and Beyond
Understanding Seafood Sellers' and Customers' Needs
Start-Up Tips: Snacks, Desserts, Dried Goods and Pet Treats
Next Level Snacks, Bars and Dried Goods
Money, Planning & Tech Tools
Taking It To The Next Level: Funding, Marketing, & More
Start-Up Basics: From Recipe Development To Licensing To Sales
How to Make Sustainability work for You
Advanced Processing and Distribution
2021 Brings Unique partnership between MSU Product Center and Michigan Department of Agriculture and Rural Development and Michigan Economic Development Corporation
The 2021 Making It In Michigan Conference and Marketplace Trade show is offering a unique partnership between Michigan State University, Michigan Department of Agriculture and Rural Development and the Michigan Economic Development Corporation. This year's program will not only feature an enhanced educational program but also offer educational sessions in March and early April to help prepare vendors for the online trade show starting April 30, 2021 and allows vendors to also participate in the Pure Michigan Business Connection buyer-supplier matchmaking program on Thursday, May 6, 2021.

View information by type