10 Michigan youth compete at 4-H Shooting Sports National Championship
Ten youth represented Michigan at the 2016 4-H Shooting Sports National Championships. Learn more about this exciting event and how to get involved.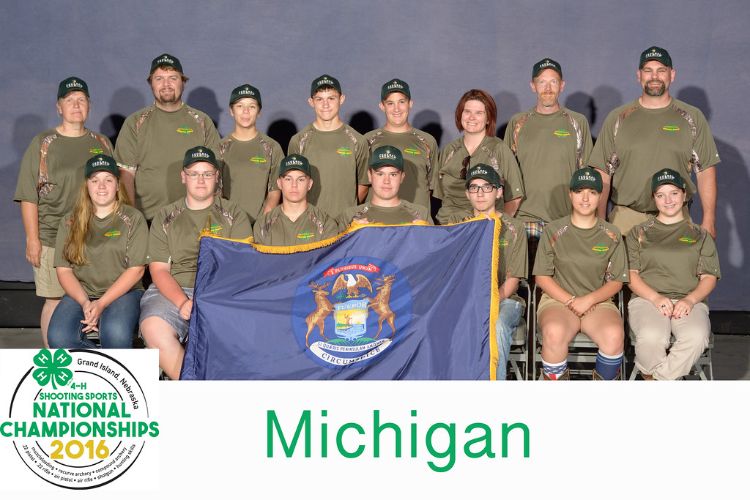 Ten Michigan youth took part in the 4-H Shooting Sports National Championships held in Grand Island, Nebraska, June 26 through July 1, 2016. Michigan 4-H hasn't had any youth represent the state in several years, so to have 10 youth attend after having no participation for several years is remarkable. This is the reflection of efforts by the shooting sports board of directors, the state training team and county instructors to promote and encourage youth to get involved.
The 4-H Shooting Sports National Championships is an annual event that allows youth to compete at the highest level while enjoying some camaraderie with their competitors. In addition to competition, there is a great deal of learning that takes place. The event includes opening and closing ceremonies, various discipline competitions, state team pictures, awards presentations, scholarships, an auction and much more. In addition, all youth attending were able to enjoy some time at a local water park and a teen social.
Preparation for youth to attend the national championships begins in December of each year. Applications for youth wishing to attend are due to the Michigan 4-H Shooting Sports coordinator by Dec. 1. Applications are then reviewed and candidates are selected. There are meetings in person and via phone to discuss the many preparations that need to be made. Ultimately, the selected youth need to put in considerable practice time in their chosen event so that they are at their competitive best.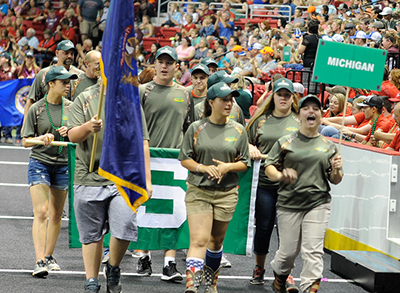 The youth and coaches that attended competed in four different events as follows:
Archery: Nathaniel and Taylor Inman, Kameron Shubel and Jeffrey Stone Jr. with coach Jeff Stone
Small Bore .22 Rifle: Nathan Black, Haley Lemle, Kelsey Peter and Sydney Smith with coach Greg Black
Shotgun: Robert Wagenborg with coach Jennifer Black
Muzzleloader: Tim Buck with coach Michael Shaffer
These youth and coaches should be congratulated on the time, effort and commitment they put into preparation and competing at the national championships. Parents should also be recognized for the support and care they provided to their own children as well as all who attended. Everyone attending ended the event feeling more connected to each other and proud to be a Michigander!
The most important aspect of attending the national championships is recognizing the value of the experience and learning from it. The main focus of shooting sports is youth development; learning valuable life skills and developing positive character traits. The youth that attended the national championships did not finish in the top 10 in their events. However, they represented Michigan admirably and with pride and came back home as champions in many ways. Many have expressed an interest to return next year.
For information about Michigan 4-H Shooting Sports, contact Nick Baumgart at baumga75@anr.msu.edu. Michigan State University Extension encourages participation in new experiences that are safe and expose youth to science involvement with 4-H Science: Asking Questions and Discovering Answers.