2011 wasn't a year for white mold … was it?
Now is a great time to get out of the truck and walk some soybean fields to look for diseases and estimate their potential impact on yield.
Sclerotinia stem rot or white mold caused by the fungus Sclerotinia sclerotiorum resulted in extensive soybean losses across the North Central region of the United States in 2009. The primary driver of extensive disease was the record cool temperatures during flowering (see national temperature map for July 2009 below). Despite our hot and dry July this year, there is still significant white mold disease in some fields. We've seen high levels of white mold in our scouting efforts from southwest Michigan, up into the Thumb and around MSU's main campus out toward Mason, Mich.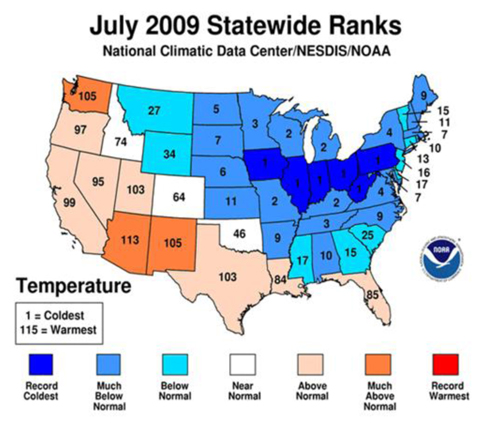 Yesterday, September 13, I stopped at a non-irrigated field. From the vehicle and even on the roadside it was difficult to see disease, but once I got into the canopy, disease was clearly visible.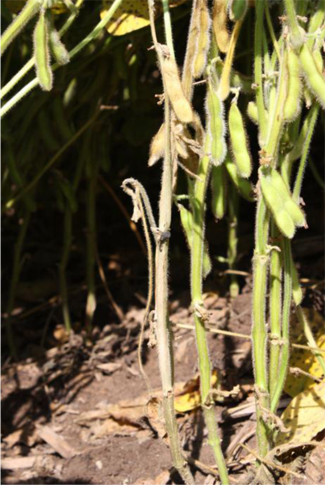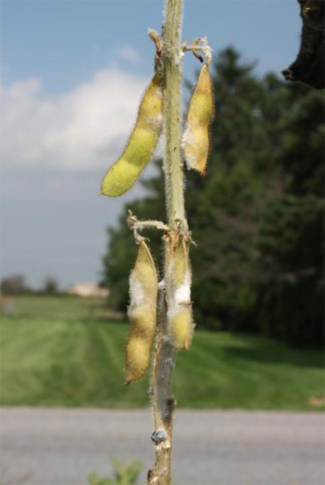 Estimating yield loss
White mold causes yield loss by reducing seed number and weight. There is good data to support that for every 10 percent incidence of white mold disease, yield potential will be reduced by two to five bushels per acre. In this particular non-irrigated field, I counted 100 plants and of these, nine had white mold symptoms (i.e., a 9 percent incidence). This means that for this particular field, we can expect that yield will be reduced in the order of two to five bushels per acre due to white mold disease.
Disease management and further information
Hot-off-the-press is a new white mold management guide for soybeans. Copies will be available from the Michigan Soybean Promotion Committee office and field crop MSU Extension educators. Additional information can also be found by reading the MSU Extension News for Agriculture article, "Sclerotinia stem rot of soybean, identification, factors and management" or going to Plant Health Initiative's White Mold (Sclerotinia Stem Rot) webpage.
If you would like to confirm a disease diagnosis, please send a plant sample into the following address or drop it off in person. Collect the entire plant, including roots, and ship overnight. Please include contact information and sample location.
Martin Chilvers
Department of Plant Pathology
35c Plant Biology Bldg
178 Wilson Road
Michigan State University
East Lansing, MI 48824
You can also contact Martin Chilvers, MSU field crop pathologist, at 517-898-3049.