2019 Champion Team Overall All East Contest
Congratulations to the MSU Livestock Judging Team! This is a 3-day contest that tests students true skills in not only judging but pricing, market evaluation, selection, and reasons.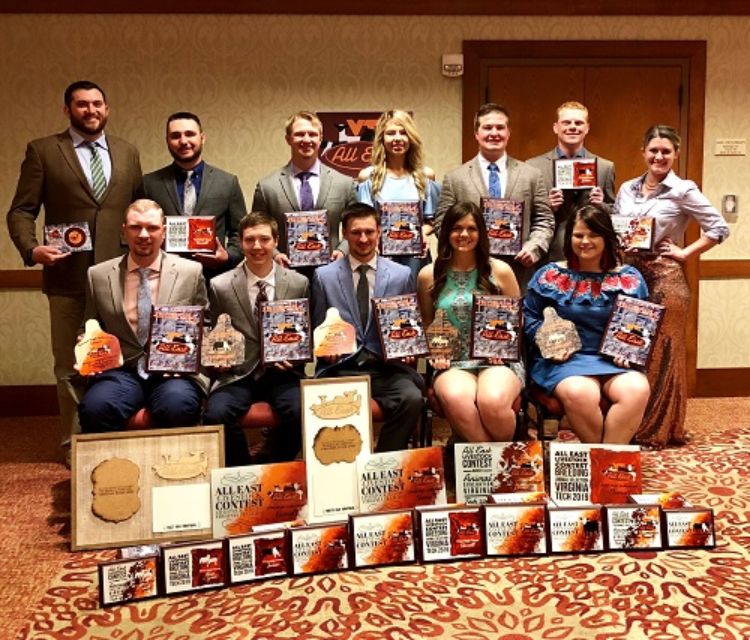 Team Results
Champion Team Overall All East Contest
Champion Team Judging Division
Champion Team Reasons
Champion Team Breeding Animal Selection
Champion Team Swine Selection
Champion Team Sheep/Goat Selection
Individual Results
Brad Chapman
High Individual Overall. High Individual Sheep, High Individual Hogs, High Individual Selection, High Individual Sheep Selection, 4th Overall Cattle, 2nd Reasons, 2nd Swine Judging, 5th Judging, 2nd Swine Selection, 4th Overall Eval, 5th Sheep Eval, 8th Swine Eval, 2nd Cattle Eval
Brady Littlefield
4th High Individual. 6th Overall Beef, 5th Overall Swine, 10th Overall Sheep, 3rd Overall Judging, 5th Reasons, 4th Cattle Judging, 10th Swine Judging, 8th Overall Selection, 4th Swine Selection, 4th Sheep Selection, 2nd Beef Eval
Rebecca Herzog
9th High Overall. High Individual Sheep Judging, 3rd Overall Sheep, 10th Overall Judging, 7th Overall Eval, 5th Beef Eval, 9th Sheep Eval
Thomas Littlefield
3rd Reasons. 7th Overall Judging, 6th Cattle Judging
Katie Romzek
9th Beef Eval, 10th Swine Selection
Additional Team Members
Ty Cool, Kelsie Letts, Kollin Johnson, and Zac Hultink
Coaches
Coach: Chastin Leggett
Asst. Coaches: Tawnie DeJong, Ethan Douglass, Brenden Johnson
Special thanks to Chris Strong for his support in evaluation and to all of our alumni, faculty, and sponsors for your continued support of our dreams.