4-H Tractor Operator Program offered in St. Joseph County during February 2019
The 4-H Tractor Operator Program in Michigan's St. Joseph County is open to 14-to-19-year-olds in St. Joseph, Cass, Branch and Kalamazoo counties.
January 18, 2019 - Author: Eric Anderson and EvaRuth Napier-Beeker, Michigan State University Extension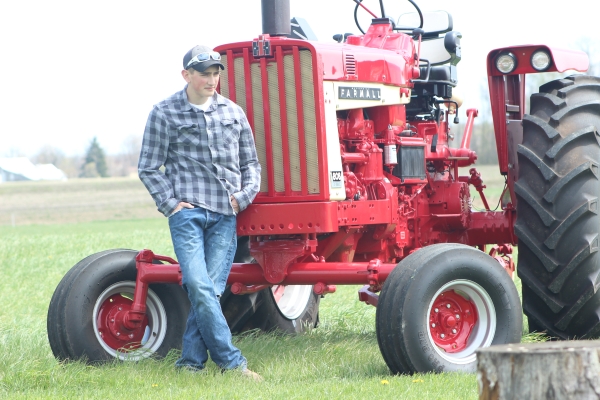 Farm life is an everyday experience for the approximately 893,000 youth (2014 data) who grow up on farms in the U.S. Another 265,600 youth were also hired in agriculture in 2014. These data were taken from the National Children's Center for Rural and Agricultural Health and Safety's "2018 Fact Sheet of Childhood Agricultural Injuries in the U.S." For those who live and work in agriculture, it is well understood that there are inherent dangers involved with day-to-day farm operations.
Every three days, a child dies in an agriculture-related accident, and an additional 33 children are injured each day in on-farm accidents. The number of fatalities in agriculture production was over 20 times higher on average than in all other industries combined between 2001 and 2015. The most common fatal events involved tractors and ATVs. A healthy respect for the dangers of farm equipment is critical, and education and training are vital in ensuring the safety of youth working in agriculture.
Michigan State University Extension and the St. Joseph County 4-H Program are offering the 2019 4-H Tractor Operator Program on Saturdays from 8 a.m. – 4 p.m., Feb. 9–23, at the St. Joseph County MSU Extension office, 612 E. Main St., Centreville, MI 49032. This schedule includes educational sessions, some driving practice, written and driving tests, and graduation. We require a minimum of 24 hours of instruction and participants must be 14 years of age by the date of the driving test to be eligible for federal certification.
Youth who successfully complete the 4-H Tractor Operator Program will receive a certificate of training from the U.S. Department of Labor required for operating a 20 PTO horsepower or greater, garden or agricultural tractor by 14-to-19-year-olds employed on property not owned, leased or operated by a parent or legal guardian. Certification is also utilized by youth who exhibit and participate in local contests, parades and festival activities.
Educational topics include: farm/ranch hazards and safety, tractor component basics, pre-operational procedures, operation basics, tractor-powered implements, self-propelled agricultural equipment, operating on public roadways, basic maintenance and repair, ATV/utility vehicle safety and first aid and emergencies. The 4-H Tractor Operator Program is a major investment of time, but is one of the most valuable experiences we offer that teaches young people safety and job skills to last a lifetime.
Cost for the 4-H Tractor Operator Program is $25 for current 4-H members and $45 for non-members. Course fee includes lunch and snacks each day. The course will run if the minimum number of participants have registered. Participants must make payment in full at the MSU Extension office and submit all completed paperwork by Jan. 25, 2019, to be registered. Class size is limited, so register early! Questions may be directed to Eva Beeker, 4-H program coordinator, at 269-467-5512 or beekere@msu.edu.
Persons with disabilities may request accommodations by calling the St. Joseph County MSU Extension office at 269-467-5512 by Feb. 1, 2019, to ensure sufficient time to make arrangements. Requests received after this date will be met when possible.
---