4-H youth appreciate new cultures through state exchange
Youth build life skills, enhance appreciation for diversity and multiculturalism when they participate in 4-H state exchanges.
Youth exchanges provide opportunities for youth from different communities, states or countries to come together and learn about the culture and way of life in another geographic location. This summer, 15 Washtenaw County 4-H members participated in an exchange with 4-H members from Burleson County, Texas. While the draw of the experience for all youth involved was an opportunity to travel to a different state and meet new people, youth learned a great deal more from their experiences.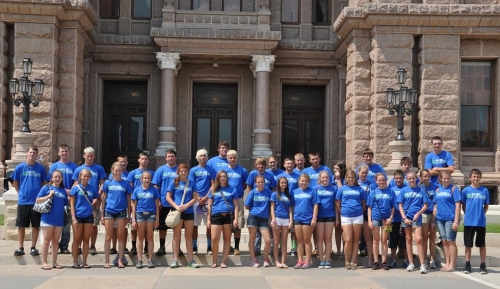 Photo Caption: Members of the Washtenaw County, Michigan and Burleson County,
Texas 4-H Exchange groups stop for a photo in front of the Texas State Capitol.
Prior to traveling, youth researched counties across the United States that were interested in exchanges and developed an advertisement to promote the opportunity to travel to Washtenaw County, Michigan. Through this exercise, youth learned about the geographic location and demographics of dozens of counties across the country, and began to narrow down their top choices. Youth considered states including Montana, Colorado, Virginia and Texas. Through the process of developing their advertisement about an opportunity to exchange with Washtenaw County, Mich., youth examined their local demographics, appeal for others of visiting their hometown and considered local attractions of which they were proud.
After developing an agreement with Burleson County, Texas and agreeing upon travel dates, the youth researched and discussed the differences they could expect between the two counties. Youth researched characteristics including population, climate and local economy so that they could begin to develop a comparison between their destination and their home county. Worksheets to assist youth in this process are available in Michigan State University Extension's "A Guide to 4-H Youth County Exchange Programs."
Youth also learned the value of budgeting and fundraising in order to make the trip possible. Most 4-H state exchanges require the traveling youth to cover their travel expenses while the hosting youth cover any entertainment expenses during their stay. This requires a two-year commitment to fundraising. The youth worked hard for several months to raise funds through car washes, bake sales and bottle drives. In total, Washtenaw County youth raised more than $7,000 to support the cost of their trip, which covered more than 70 percent of their total travel expenses.
Prior to travel, youth complete an application which includes a profile to share with a potential host family in the destination county. The hosting county uses the profiles to make appropriate matches based on age and interests. Aside from a short hotel stay, youth stayed in homes of host families for the duration of the trip. This allows youth to deepen bonds of friendship and obtain a better understanding of what life is like in a different state and community.
Upon their return, 11 of the youth travelers completed an evaluation designed to measure the extent of their learning experience. As a result of their participation in the 4-H exchange, all respondents agreed or strongly agreed with the statements, "I can meet people and form new friendships," and "I respect others who may be different from me." The responses were collected using a 5-point Likert scale, with average responses of 4.6 and 4.8 respectively.
The Washtenaw County 4-H Exchange Coordinator and chaperone shared her reflections of the trip stating, "4-H Exchange is an outstanding opportunity for youth. The experience provides many opportunities and educational encounters that youth may not otherwise come in contact with. Once the excitement of traveling with friends and arriving at our destination settled down, the youth were able to concentrate on the new friends they were meeting and going to be interacting with for the next week. Interacting and living with our new friends for a week really taught our members about diversity. Not only did it teach us about ethnic diversity, we were in an area of Texas that has a strong heritage of Slovakian ancestry. The culture was different, the food was different and some language was different, even though we never left the United States."
For more information on planning a youth exchange, please review "Ten Tips for Organizing a Youth Exchange."