4-H around the world: St. Croix
Similar 4-H programs exist in more than 80 countries. Let's explore some of these 4-H programs in this global connection.
March is the month that some individuals celebrate St. Patrick's Day. The four-leaf clover, thought by the Irish to bring good luck, also represents the youth development program 4-H, which has spread around the world. This is the second article in a Michigan State University Extension series that explores 4-H across the globe. The first article in this series focused on 4-H in Africa. This article will continue the adventure and explore 4-H in St. Croix, Virgin Islands.
Did you know that St. Croix is a U.S. territory? Did you know they have had 4-H on the island since the early 1950's? Let's explore!
4-H across the Virgin Islands encourages youth from the U.S. territory to participate in 4-H youth development programming on the islands of St. John, St. Thomas and St. Croix. Sarah Dahl-Smith, an Extension agent and 4-H contact on the island of St. Croix, shared information about 4-H on the island. "The Cooperative Extension Service 4-H, Family and Consumer Sciences" is located in the Research and Extension Center on the lovely University of the Virgin Islands Albert A. Sheen campus. Currently there are approximately seven 4-H clubs, including military programming, community clubs and school-based clubs. With only one 4-H staff person, the 4-H program relies on a dedicated team of adult 4-H volunteer leaders and is complimented by highly motivated teen leaders."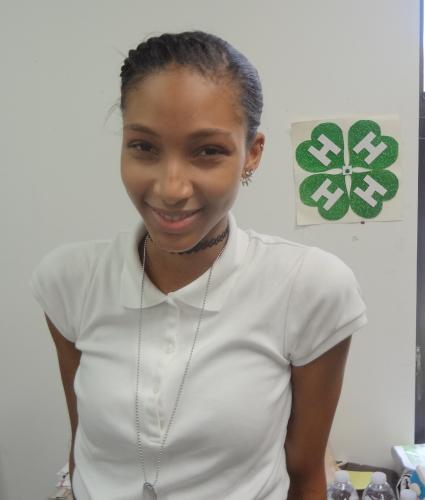 How does 4-H look in St. Croix? Overall, 4-H in St. Croix follows the same 4-H clover symbolism (head, heart, hands and health) as it does across the globe. In a recent visit to the St. Croix 4-H Office, I had a wonderful conversation with Sarah Dahl-Smith and 4-H teen leader Nailah Otto, president of the 4-H Ambassadors Club. They had just completed their fair event and were preparing for the awards program. In Michigan 4-H, you will generally see an agricultural theme at the fairs with many animals, crops and crafts. In St. Croix, the fair is more culturally-themed with music, crafts and environmental projects. A viewer of their recent fair commented on how much they enjoyed seeing a beautiful peacock, cute pigs and other animals made from by the youth from recyclable items like milk jugs, pop bottles, etc.
Next time you're on a vacation or spring break, look for and find your lucky 4-H clover -- 4-H is around the world!
Other global educational opportunities can also be found on the MSU Extension Global & Cultural Education website. For more information about 4-H learning opportunities and other 4-H programs, contact your local MSU Extension office.

Other articles in this series