4-H Capitol Experience prepares teens for active citizenship
Teens from across Michigan gathered at the state Capitol March 17-20 for the annual 4-H Capitol Experience conference.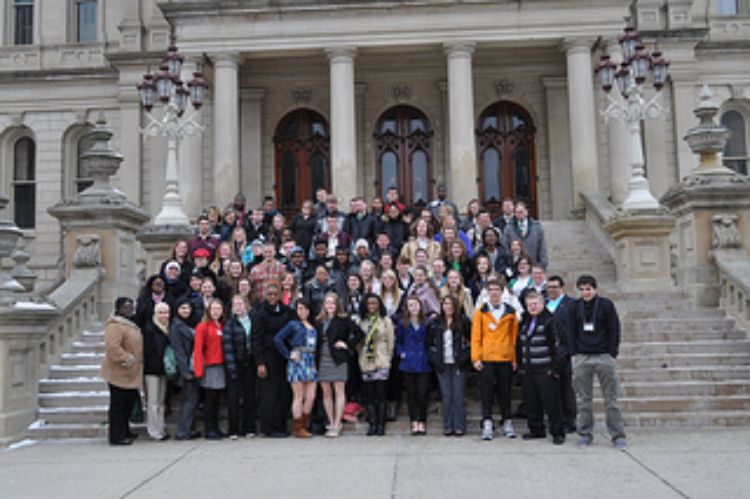 Teens from across Michigan gathered at the state Capitol March 17-20 for the annual 4-H Capitol Experience conference. The four-day event gave youth the chance to become involved in civic engagement and public policy as well as provide an
in-depth look at state government.
During their time in the capital city, attendees learned the responsibilities of citizens, explored different aspects of policy issues, discovered various career options available in public policy, attended a bill writing session and met people involved with state government. The goal of this conference is for youth to learn they can influence the government, even at a young age.
"We want youth to learn that their voice is important even before they are able to vote," said Extension educator Jackie Martin.
Although not all participants are necessarily interested in pursuing professions associated with government, Capitol Experience provides a chance for teens to get a different viewpoint of state government and its policies, and learn how they can have an impact on issues.
"I always wanted to know how the Capitol works, exactly what is unique about it and just what the roles are," said first year 4-H Capitol Experience participant Weniesha I. Newman.
Whether or not the teens are interested in civic engagement or public policy as a future career, Capitol Experience is a rewarding opportunity that proves to be beneficial for all who attend. Participants leave the conference eager to share what they have learned and spread those lessons throughout their counties.
"Some of them really do come with aspirations to become politicians in the future, but plenty of them just come for the experience and I think they gain a ton out of the opportunities that they have here," said Martin.
Some participants do use 4-H Capitol Experience as way to become involved with government in some way. Despite still being a teenager, first-year 4-H Capitol Experience participant Josiah Bear was eager to admit his goals for the future. "Since I was 10, I wanted to be the President of the United States, so this is just one of those stepping stones building up to that," he said.
Capitol Experience provides youth such as Bear the chance to learn from representatives who are currently working in government positions. By learning through numerous hands-on activities, participants get a real sense of just how much work goes into specific jobs that make up and support the government.
"I want to get a more in-depth view of how the government works on a day-to-day basis and how to get to be the President of the United States step by step, going through the rules, and learn from all the people and other people's mistakes," Bear said.
Capitol Experience attendees were selected based on an application process. Before attending the conference, selected participants were expected to complete a pre-conference activity to teach them about local civic engagement by attending government meetings, interviewing members of non-profit organizations or researching local issues, as well as contacting their representative and senator expressing interest in meeting them at the conference. When participants return home to their counties, they are encouraged to become involved with local public policy issues, participate in service projects or carry out local projects.