4-H makes a difference in post-secondary education enrollment
Michigan 4-H alumni are more likely to enroll in post-secondary education than their same age peers.
Michigan State University Extension's 4-H program provides youth with fun opportunities that expand their horizons, allow personal growth, provide career exploration and post-secondary education goal setting. Middle school and high school-aged youth participants develop critical life skills, gain new content knowledge and see themselves in a bigger context than their local community. They learn and develop in new and diverse settings and strengthen their connection to Michigan State University. With so many positive youth outcomes that result from 4-H, it is no surprise that youth involved in Michigan 4-H are nearly twice as likely to enroll in college than the same-age Michigan population.
Michigan 4-H Youth Development has tracked the college enrollment rates of 4-H alumni since 2009. The tracking is done using county 4-H membership records for high school seniors and registration data from statewide 4-H pre-college programs. Michigan 4-H obtains its 4-H alumni college enrollment data through a StudentTracker subscription with the National Student Clearinghouse (NSC) using full names, birthdates and graduation years. NSC is a national enrollment verification system that can be used by pre-college programs such as 4-H to determine college enrollment and graduation rates for program participants. More than 3,500 colleges and universities, enrolling more than 98 percent of all students in public and private U.S. institutions, provide enrollment and graduation data to the NSC.
The bar graph below shows college enrollment rates for 4-H high school seniors enrolled in county 4-H programs, as well as participants in four statewide 4-H pre-college programs: 4-H Capitol Experience, 4-H Exploration Days, 4-H Great Lakes and Natural Resources Camp and the Michigan 4-H Youth Conservation Council. The state and national comparison data from the U.S. Census Bureau 2013 American Community Survey One-Year Estimate is also shown. Although this is the best available data, it is not an exact "apples to apples" comparison as the U.S. and Michigan data show the number of enrolled college students between the ages of 18 to 24 and the 4-H data show college freshmen enrollments for 4-H alumni who graduated high school in 2009 to 2014.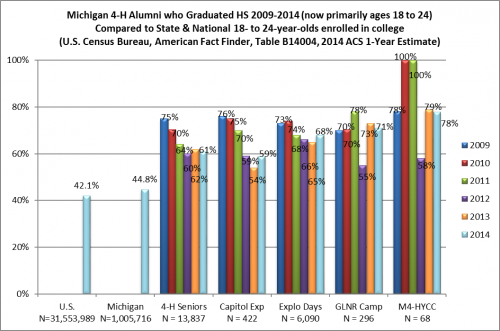 The next graph reflects data for the same students represented in the previous chart but with duplicates across 4-H programs removed. It provides the statewide 4-H alumni college enrollment data for college freshmen classes 2012 to 2014.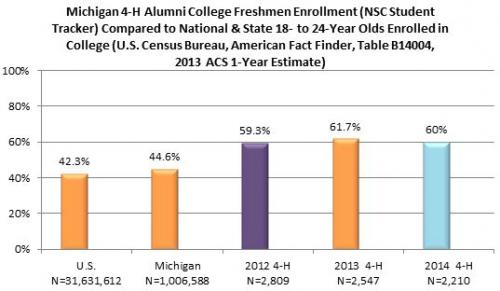 College enrollment rates of 4-H youth at the county and district level is available, beginning with the high school class of 2012. This data shows 4-H alumni are more likely to go to college than their same-age peers in 90 percent of Michigan counties. In the counties where the overall young adult population college enrollment rate is higher than that of 4-H alumni, there is a major university or community college within that county.
The below graph reflects Michigan State University Office of Admissions' numbers for Michigan 4-H youth who were high school graduates from 2010 to 2014. As shown in this chart, of the more than 2,500 Michigan 4-H'ers that applied to Michigan State University from 2010 to 2014, 68.4 percent were admitted and 40 percent enrolled. The college major information for those enrolled indicated that 61.7 percent of these 4-H alumni declared a science, technology, engineering or math major.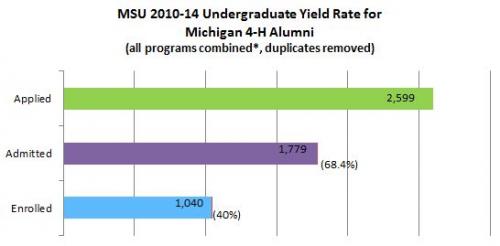 Youth development and experiential education provide the research-based foundation for 4-H programming. Michigan 4-H Guiding Principles reflect how national research and practical knowledge define positive youth development. For more information and to get involved, visit the 4-H website or contact your closest MSU Extension office by online or by dialing toll-free 1-888-MSUE-4MI (1-888-678-3464) and entering the first five letters of your county's name. Don't miss out your chance to reap the benefits of 4-H - ask to speak with someone today about joining 4-H!