4-H Renewable Energy Camp prepares youth for college
At 4-H Renewable Energy Camp, youth learn scientific thinking, gain knowledge of environmental and energy-related issues, and build skills needed for a successful transition to college and life as an adult.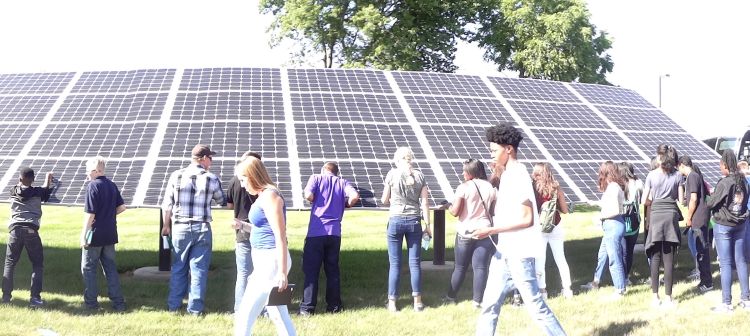 What do 33 youth from 13 different Michigan counties and five different states have in common? They all shared a passion and interest in environmental science, specifically in the field of renewable energy. They all have the desire to explore career opportunities in renewable energy and at Michigan State University.
The 33 youth, ages 13 to 19 years old, attended the 4-H Renewable Energy Camp in July 2017. Renewable Energy Camp is one of the pre-college programs offered by MSU Extension 4-H Youth Development. The camp is designed to educate youth on current issues and technologies impacting energy and the environment. It teaches problem-solving and critical thinking skills through teamwork and hands-on learning, and fosters participants' ability to meet new people and make new friends from different places around Michigan and the nation. All this helps youth develop social and academic skills needed for a successful transition to college and life as adults.
Youth stayed in one of the residential homes at MSU and spent five days exploring research and engaging in hands-on opportunities in the field of renewable energy. Youth worked with leading researchers at MSU and professionals from the industry to conduct experiments, make their own biofuel, design and test wind turbines, and design and build a solar-powered structure.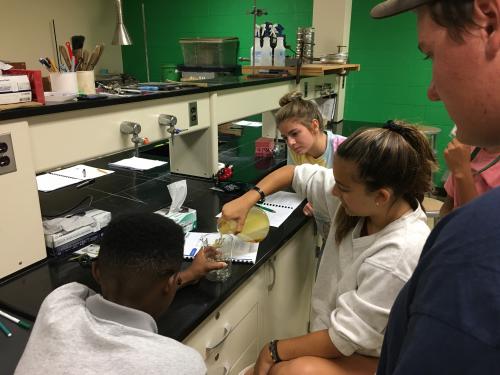 What was the impact of participating in Renewable Energy Camp?
Post-event evaluations showed that participating youth gained knowledge and skills related to environmental science and conservation. Youth also reported aspiring towards scientific career fields.
91 percent of youth can use scientific data to form a question.
93 percent of youth believe they can influence environmental issues through conservation.
79 percent of youth are interested in a career in environmental science.
100 percent of youth feel more knowledgeable about career opportunities to pursue in environmental science-related fields.
87 percent of youth are now interested in attending MSU.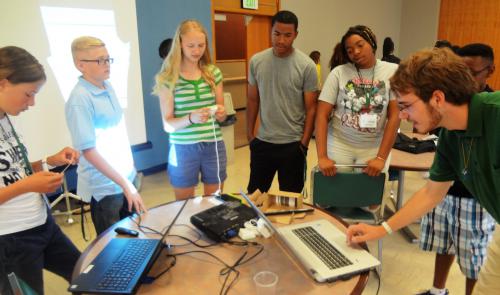 When asked "Based on what you have learned at this camp, do you think you will change how you use energy?" youth responded with the following:
"This camp has opened my eyes to how much we directly impact the environment."
"I am going to be more cautious about my everyday actions, such as charging my laptop and blow-drying my hair. I also am able to educate other people about it now."
"I will try to be more environmentally-friendly by saving water and turning off the lights when I don't need them. I may also pursue a career path pertaining to world-friendly energy consumption."
The 2018 4-H Renewable Energy Camp is scheduled for July 23-27, 2018. Students who will enter eighth, ninth or 10th grade following their involvement in an MSU pre-college program are eligible for nomination to apply for a MSU pre-college scholarship.
Did you know youth who participate in Michigan 4-H pre-college programs are more likely to go to college? Of youth who participated in 2015 and 2016 pre-college programs, 77 percent enrolled in college in the six months following high school. That is 23 percent higher than the Michigan average.
Michigan State University Extension and the Michigan 4-H Youth Development program help to create a community excited about STEM (Science, Technology, Engineering, and Mathematics). 4-H STEM programming seeks to increase science literacy, introducing youth to the experiential learning process that helps them to build problem-solving, critical-thinking and decision-making skills. Youth who participate in 4-H STEM are better equipped with critical life skills necessary for future success.
To learn more about the positive impact of Michigan 4-H youth in STEM literacy programs, read our 2016 Impact Report: "Building Science Literacy and Future STEM Professionals."
Michigan 4-H has many 4-H science programming areas for youth to explore. Science is everywhere with many questions to ask and discoveries to be made. For more information about 4-H learning opportunities and other 4-H programs, contact your local MSU Extension office.