A New Local Food Grocery Store Opens in Flint, Michigan
A new local food grocery store and café opened in downtown Flint, Michigan to support residents in need of healthy food options.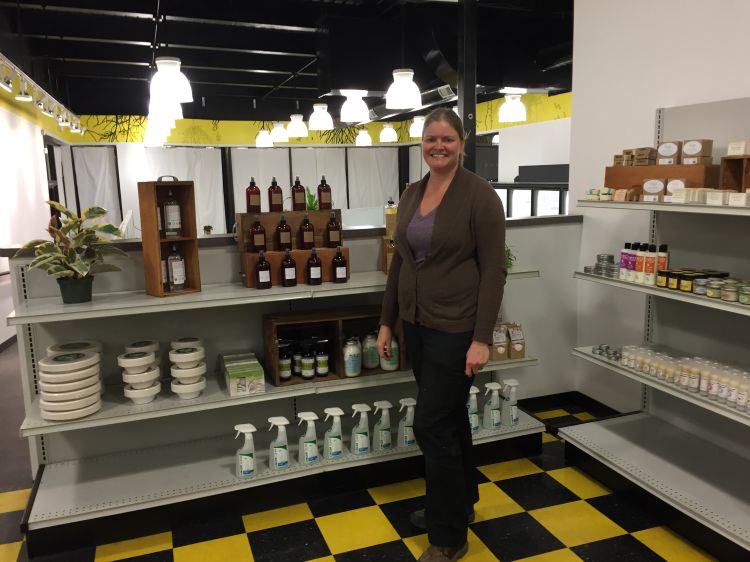 In the city of Flint, Michigan, where nearly half the population lives more than a mile from a supermarket, efforts are underway to give residents more retail grocery options. Food retail abandonment has been a problem in this city with over 40 percent of its citizens under the poverty level. This economic abandonment of food retail has taken place over 40 years, leaving the city with stores offering insufficient variety/quality of healthy foods, often at higher prices. The closure of the remaining five chain grocery stores in last three years has left residents with fewer healthy food retail choices at a time when the city is most vulnerable. One of the key strategies to fight lead exposure is the regular consumption of a healthy diet, including foods high in calcium, iron and vitamin C, so the opening of the new Local Grocer grocery store in downtown Flint has been a very positive development on many levels. Improved healthy food access, new food business development and the employment of area residents to help operate the business are a few of the benefits to the local economy and community.
Local food as a partial solution
The local food movement in Flint has been underway for numerous years now, capitalizing on these local strengths: available land, knowledge and demand for healthy food and two of the pioneers in this Flint movement have taken action while the conventional food system has struggled to fill in the gaps. Local Grocer owners Erin Caudell and Franklin Pleasant have long been involved as advocates of community engagement as well as supporting Flint residents through the strengthening of local food systems. They helped with the start up of Edible Flint early on as the organization was emerging with the support of Michigan State University Extension, with aligned organizations like the Flint Farmers' Market and other local food systems advocates in the community. The Flint Farmers' Market has been a healthy food hub for years, bringing in significantly more shoppers from low income neighborhoods with food access issues through the use of innovative food assistance programs like Double Up Food Bucks and Hoophouses for Health. Both of these programs have expanded their reach in Flint in response to the water crisis and the increased need for healthy food access.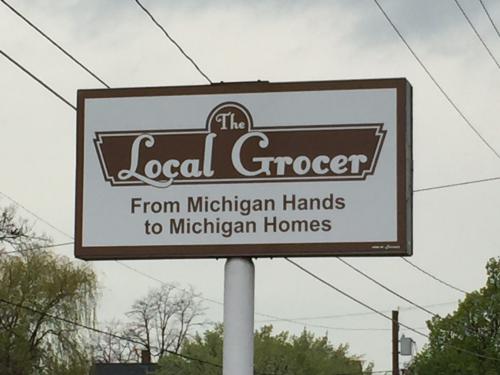 Erin and Franklin's new store, the Local Grocer, opened as an all Michigan sourced grocery store and café in December of 2015. With their goal of providing Flint residents with healthy, local, and naturally grown food, the Local Grocer was created as an expansion of their successful Local Grocer stand at the Flint Farmers' market. In addition to managing their stand and grocery store, they are intensively farming 1.5 acres (on a total of 9.75) with three hoop houses and additional field production. After having the stand at the Flint Farmers' Market for several years, Erin noted that the customers kept coming back and wanting more locally grown and made food. Their new store allows them to expand the scope of the products they offer and work with numerous local businesses and farms in Michigan.
The Local Grocer offers groceries from seven small farms around Michigan that share the owner's production values and growing practices. In addition to farm produce, Local Grocer also sells fresh, healthy ready to eat items too, while employing nine area residents in all of their endeavors. The grocery store offers the convenience of stopping in to pick up lunch and locally grown/made groceries (including meats, dairy, beverages and more). This allows the Local Grocer's customers to live out their farm to fork philosophy. Since the store is open year-round with as much local produce and value added food products available, there is a lot of planning involved in order to ensure there is an adequate supply at all times. One challenge is having to explain to customers why they can't find fresh tomatoes or other seasonal produce year round. One of the benefits of choosing locally grown produce is that although it isn't available year round, its improved quality and taste is best in season. Erin and Franklin are currently adding another hoop house on their farm that will allow them to extend the growing season for even more winter crops.
In addition, they are operating a Community Supported Agriculture (CSA) program for a 27 members this year. With the support of the Flint Farmers' Market and several other organizations, Local Grocer is planning to operate a mobile food market this summer to offer yet another innovative way for Flint's residents to access healthy foods in underserved neighborhoods with transportation challenges. This mobile market provides a small, nimble and adaptive option with the ability to work around the limitations of a traditional retail operation, and has been planned with a participatory mapping exercise with the community to define the areas of the city in highest need. Erin and Franklin and the businesses they have created represent the strong, resilient and dedicated people of Flint as they move forward through the city's historic and recent challenges.