Accumulate wealth, not debt!
Get started on your savings plan today by participating in a national initiative during America Saves Week.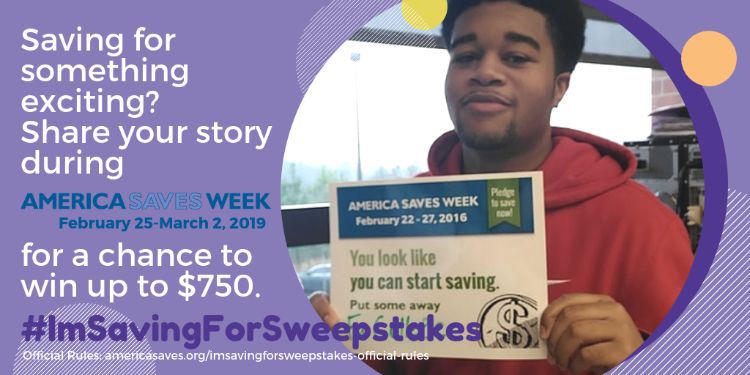 Debt in America is at an all-time high. Debt occurs when the wealth generated is less than the wealth consumed. You can look at a real time snapshot of the nation or a state's balance sheet with just a click of a button on the U.S. Debt Clock website. What can you do as an individual, employer, educator, financial institution or community to help reduce debt?
A week-long national program, America Saves Week is designed to address this very issue. Each year, America Saves Week, through its network of over 2,000 participating organizations including Michigan State University Extension, reaches millions of Americans through a variety of programs, social media outlets, educational messages and financial resources.
As an individual, do you have a savings plan? According to the 2017 America Saves survey, savings habits have eroded over the past decade. Specifically:
In 2017, 46 percent of the people surveyed said they "have a savings plan with specific goals" whereas in 2008 the figure was 62 percent.
More than half (55 percent) of the people surveyed in 2008 said they "save for retirement at work." However, this figure fell to less than half (46 percent) in 2017.
Only 45 percent of the people surveyed knew their net worth in 2017 as compared to 54 percent in 2008.
Get started on your savings plan today by participating in America Saves. It can be easy, fun and money smart! Research shows those with a financial plan are more likely to spend less than they earn and save the difference than those without a plan. By just signing up, you can receive saving tips, informational newsletters, financial tweets, connect with a local campaign, track your savings, make a savings pledge and even win prizes.
Win up to $750 in the #ImSavingForSweepstakes by sharing your savings goal, tip or story. To enter:
Take the America Saves Pledge, tell America Saves what you're saving for and make a simple savings plan to reach your goal.
Share your tip, story, video or photo featuring your savings goal and that answers at least one of these questions: What are you saving for? What is your savings story and how can it help other people? What is your favorite savings tip or trick?
Post it on Facebook, Instagram or Twitter with the hashtag #ImSavingForSweepstakes.
In 2018, nearly 89,000 people committed to save over $100 million, with the top savings goals identified as emergency funds, education and clothing/shoes. Join the other 651,000 people who have taken the America Saves Pledge since its inception.
Start saving today for tomorrow. America Saves Week and Michigan State University Extension have a wealth of personal finance tools and resources to help you get started today by making a savings plan to reach your goals. Many free programs on money management are offered for adults and youth across the state and throughout the year.