Adequate water supply is the heart of an irrigation system
Irrigation investments start with securing an adequate water supply that meets the state legal requirements for large-scale water use and minimal potential for conflict with neighbors or adverse resource impacts.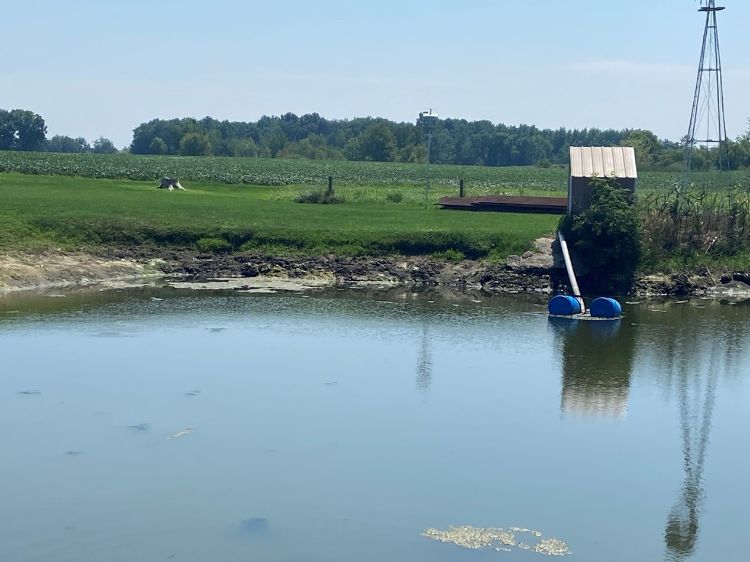 Drought periods remind all irrigators—and those wishing they had irrigation—of the importance of an adequate and dependable irrigation water supply. Most irrigation systems in Michigan and Indiana are designed to provide at least 1 inch of water per four days of crop water use or roughly 5 gallons per minute (gpm) pumping capacity per irrigated acre. As an example, a 500-gpm water supply would be needed to irrigate 100 acres.
In many situations, unless the producer starts irrigating early to bank soil water, a system with less than 5 gpm per irrigated acre pumping continuously at capacity will not be sufficient to avoid drought stress over long periods (15-25 days), depending on soil type. Shutdowns from power brownouts or breakdowns make having additional capacity an advantage. Thus, many irrigators are designing for or increasing their water capacity to 1 inch every three days (7 gpm per acre irrigated). This allows six days a week of pumping to meet peak summer demands and capacity to catch up if they have irrigation downtime.
Availability of water in crucial weeks in late July and early August dictates the economic feasibility of irrigation investments. Most specialty crop contracts require the irrigation capacity to match crop water use for even an extended drought. The high returns given to irrigated land are tightly correlated to the ability to produce in a drought year when demand for the crops will be at their highest.
Many areas of Michigan and Indiana do not have water available in quantities to provide the security of adequate irrigation in the driest conditions. This is the major reason irrigation in both states is concentrated where adequate water is available and soil types are sands or sandy loams that provide the highest yield increases from irrigation. Irrigation equipment dealers familiar with your area will have a good idea of well drillers and excavators that do irrigation-related work in the area. The well drillers and pond excavating businesses can also provide insight into your area's water availability.
Michigan and Indiana have online water information to get a rough idea if water is available in large quantities. Well log databases are available in both states: Indiana's Well Record Database and Michigan's Scanned Water Well Record Retrieval System. The well logs provide information about the depth and capacity of wells drilled in your area. However, since they are mostly domestic wells requiring limited capacity to meet household needs, they may not be fully representative as they are not always drilled into the most productive part of an aquifer or as deep as large-volume wells.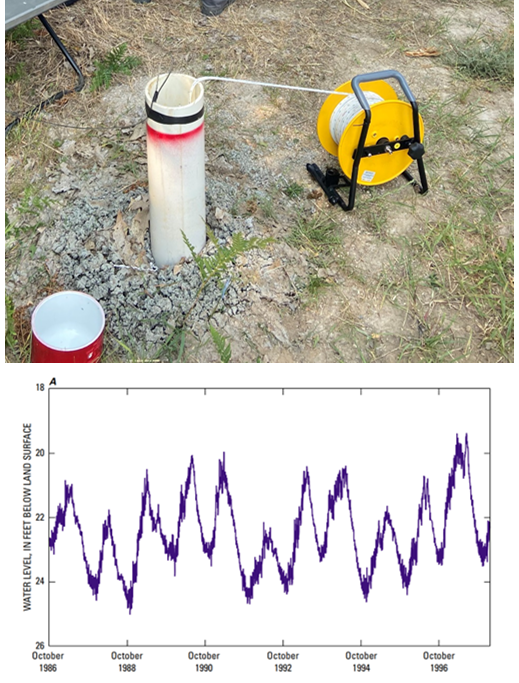 Good irrigation ponds are dependent on recharge from groundwater. They are often deep and relatively small at less than an acre in size. Recharge happens when the pond draws from the porous saturated layer near the surface that intersects with groundwater. Lined man-made reservoirs and natural ponds not connected to groundwater are dependent on being filled by natural gravity flow in the spring or pumping a smaller supply to accumulate water for irrigation. Their ability to serve as an irrigation water resource is dependent on pumpable capacity minus evaporative loss and water lost to groundwater from the time of collection to the day irrigation is needed. This is dependent on the permeability of the liner or the nature of the seal at the bottom and sides of the pond or reservoir and the time of use.
Monitor ponds or potential surface withdrawal sites for possible irrigation use in mid- to late-August after a period of no rain for a few weeks. The groundwater connection to the pond will be limited at this time, and stored water will be at its low point. Experienced pond excavators will often dig a small test hole and monitor the groundwater entering the hole to judge the irrigation feasibility of the site.
Indiana and Michigan have registration requirements for water withdrawals from surface or groundwater with capacities greater than 70 gpm. Indiana's system is under the control of Indiana Department of Natural Resources - Water division. In almost all situations, registration can be made after the construction of the withdrawal, but before pumping starts, by contacting their office at 317-232-4160.
In Michigan, a water withdrawal registration is required before pumping starts, but is recommended before drilling the well or construction of a surface water withdrawal. The process starts with the Michigan Water Withdrawal Assessment Tool (MIWWAT). In many situations, registration can be made immediately online by completing the MIWWAT process. For some withdrawal sites, automatic registration is not available, and the tool will require a site-specific review. Water registration at these sites will require additional time and potentially an investment of money for a hydrogeological study. In some areas, withdrawals may not be allowed under current rules.
In the summer of 2018, Michigan passed Act 209, providing for an alternative site-specific review process. The legislation laid out the specifications for the study of Large Quantity Withdrawal (LQW) wells less than 695 gpm. A qualified hydrogeologist can submit to the Michigan Department of Environment, Great Lakes, and Energy (EGLE) a study quantifying the impact of the well on streamflow. In many situations, estimates of depletion to the local stream from the study may be significantly less than the MIWWAT tool provided. The difference between the studies on the estimation of impact and the MIWWAT tool's estimate would be the water pumping capacity available for registration. See Alternative Analysis Submittal Pursuant to 2018 Public Act 209 for more information on the new alternative to the site-specific review.
Be aware, the cost of studies for the Michigan alternative site-specific review can be thousands of dollars and may result in no estimated potential reduction in stream impact and would not result in registration.
In both states, well water uses greater than 70 gpm that impact neighboring home well use, in quantity or quality of water, may result in replacement or modification to the home well at the expense of the irrigator. More information on the Indiana well conflict program can be found at Water Rights: Emergency Regulation - Indiana Code 14-25-4. For more information about Michigan's program, see Michigan's Groundwater Dispute Resolution.
Since Michigan and Indiana follow riparian doctrine, surface water sources will be legally limited to only parcels adjacent to the water body. Learn your rights and the rules that govern water use to avoid complications when you irrigate. For more information on your rights to use water in large quantities in Michigan, refer to "An Overview of Existing Water Law in Michigan Related to Irrigation Water Use and Riparian Considerations." In Indiana, visit Indiana's Water Availability Use & Rights website.
Late summer is the time to investigate the irrigation water sources for a proposed irrigation project. Cropping seasons with low spring and summer rainfall will have reduced static water levels in the area you're considering irrigating to the lowest levels of the season. Investigating your water source during August following dry periods provides producers with a good indication of what the potential water source's capacity will be at the time when most needed—the end of a long, dry summer.
Many more areas of Indiana and Michigan have adequate water for smaller-scale irrigation systems (less than 100 gpm) than for large-scale field crop systems. These water supplies will often meet the irrigation needs of truck crops, ornamentals, greenhouses or orchards. The complicated factor of potential cross-contamination of potable water for human consumption and irrigation water is more common with smaller systems where housing and production are closer together. Investigate the legal requirement for potable well isolation requirements and backflow prevention devices required for your proposed withdrawal before finalizing any plans.
For more information on irrigation, and profitable and sustainable use of natural resources, visit the Michigan State University Extension Irrigation website or Purdue University's Irrigation and Water Management website.