Advancing Great Lakes rip current forecasting through perishable data recovery and analysis
New technology is being tested to help forecast dangerous currents in Lake Michigan to help protect beach-goers and to save lives.
In the fall of 2012, a team of researchers from Michigan Technological University, University of Michigan, Michigan Sea Grant, and the National Weather Service led by Guy Meadows (Michigan Technological University) began a research project in Mackinac County along the northern Lake Michigan shoreline. The project studied conditions after a strong rip current event to help prepare for a radar study of rip currents that will begin this spring. The goal of the project is to develop a framework for the prediction and early warning of Great Lakes rip currents for the beach-going public.
Funding for this project comes from the Michigan Coastal Zone Management Program, Michigan Department of Environmental Quality, through a grant from the National Oceanic and Atmospheric Administration, U.S. Department of Commerce.
The field pilot test that was conducted in the fall of 2012 determined the readiness for full field data collection using advanced, newly developed technology that included a shipboard survey system; a remotely operated, very shallow water, bathymetric unit (BathyBoat); and an Autonomous Underwater Vehicle (AUV) for nearshore mapping. The shipboard survey system was utilized for mapping the deep-water portion of the nearshore survey, while the BathyBoat was used t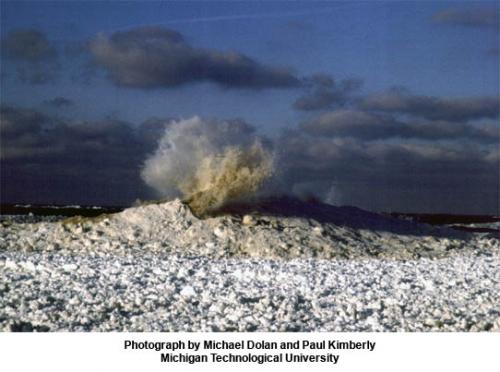 o survey the very nearshore region where a conventional boat cannot navigate. The AUV was used to survey the region between the nearshore sand bars that run parallel to the shore. Combining all three sources of data produced a nearshore map of the area. Several rip-channels were documented in this mapping, as well as longshore troughs that feed the rip channels between the sand bars. This combined system of longshore and rip channels can combine with wind and wave-driven flows to form dangerous nearshore currents.
A series of continued site visits were conducted into the winter season. Most dramatic of these observations has been the presence and orientation of "ice volcanoes" over the second offshore sand bar that runs parallel to shore. A break in the line of ice volcanoes at the site coincides with the trough of the major rip channel. This can be explained by wind generated storm waves that move under the nearshore ice field. These waves then break over the second offshore sand bar just as they do in the absence of ice. The breaking process with ice in place causes water to be forced upward through the ice lid forming the ice volcanoes. Where the waves are not shoaling and breaking in the deeper rip channels the ice volcanoes do not form. It was determined that the rip channels present at the time of the preliminary field test are relatively permanent features of this nearshore region.
Guy Meadows will be making a presentation on this research at the Great Lakes Water Safety Conference in Gaylord on April 12, 2013.
---