Advantages of a bilingual brain
Teaching young children a second language is beneficial in many ways.
July 27, 2016 - Author: Tracy Trautner, Michigan State University Extension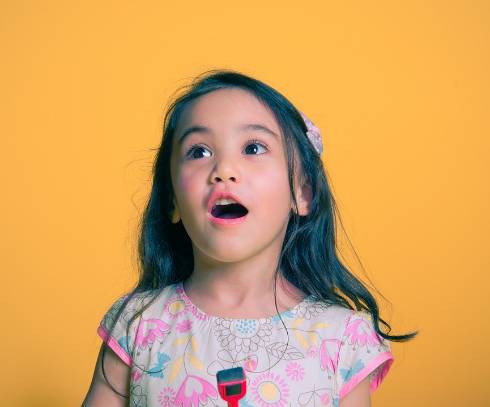 Why would we want young children to learn a second language while they are focused on learning their primary one? It seems like this would be learning overload at a time when they are also learning how to be friends, count, play on the playground and so much more. However, this is a time in our lives when acquiring a second language comes very naturally. The brains of young children are uniquely suited to learn a second language as the brain is in its most flexible stage. They can learn a second language as easy as they learned to walk and learn their primary language.
As adults, we have to consider grammar rules and practice, but young children absorb sounds, structures, intonation patterns and the rules of a second language very easily. Up until the age of 8, young learners benefit from flexible ear and speech muscles that can detect differences between the sounds of a second language.
If youth can learn multiple languages, why not teach them? A recent study from York University in Toronto suggested that exposure to two languages over one language had many benefits. The results showed that bilingual children may have a superior ability to focus on one thing and change their response, easily indicating "cognitive flexibility." Both traits require self-control, a very desirable trait in the early childhood classroom as well as life. When a bilingual toddler attempts to communicate, the languages in the brain "compete" to be activated and chosen. The child must select one and suppress the other, which requires attention and the ability for the brain to be flexible, which is possible at this early age. The interference forces the brain to resolve internal conflict, giving the mind a workout that strengthens its cognitive muscles.
Bilingual children are also more adept at solving certain kinds of mental puzzles. A 2004 study by psychologists Ellen Bialystok and Michelle Martin-Rhee found that bilingual youth were more successful at dividing objects by shape and color versus their monolingual peers who struggled when the second characteristic (sorting by shape) was added. This suggests the bilingual experience improves the brain's command center, thus giving it the ability to plan, solve problems and perform other mentally demanding tasks. These tasks include switching attention from one thing to another and holding information in mind – like remembering a sequence of directions when getting ready for school in the morning or, for adults, driving a car.
While it may be easier for young children to pick up a second language, there are benefits for adults as well. Researchers found that young adults who knew two languages performed better on attention tests and had better concentration compared to those who only spoke one language. This is largely because of the workout our brain receives while switching back and forth between one language and another when deciding how to communicate. It allows us to focus better during a lecture and remember relevant information.
Learning a second language can protect against Alzheimer's as well. Recent brain studies have shown that bilingual people's brains function better and for longer after developing the disease. On average, the disease is delayed by four years compared to monolinguals.
Do not fear that learning two languages will confuse or distract your child. Remember, their brains are flexible and the skills they develop beyond learning a second language is immeasurable. Bilingual children learn that an object stays the same even though the object has a different name in a different language (object permanence). For example, a foot remains a foot in English as well as French. Studies have also repeatedly shown that foreign language learning increases critical thinking skills, creativity and flexibility of mind.
In a world where most of the population is bilingual and one out of five American households speaks a language other than English, it would seem beneficial to think about how you can support your child in learning a second language at a young age. Knowing other languages and understanding other cultures is important for today's youth. As they prepare to live and work in a global society, they will be interacting with others around the world on a routine basis and doing business with those who speak a different language. Learning a second language also gives the brain the skill set necessary to learn additional languages in the future.
The following articles provide additional information about the advantages to learning a second language as well as helpful tips to support your child:
For more articles on child development, academic success, parenting and life skill development, visit the Michigan State University Extension website.
---