Allegan and Clinton County youth win state dairy quiz bowl contests
Senior team from Michigan's Clinton County advances to national contest in November.
August 21, 2018 - Author: Melissa Elischer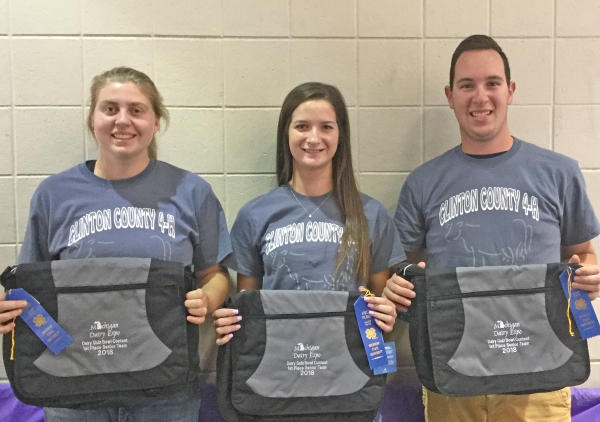 Every July, youth from across Michigan gather at the Michigan State University Pavilion for Agriculture and Livestock Education to demonstrate their knowledge during Michigan 4-H Youth Dairy Days and Michigan Dairy Expo. This week-long event, supported by MSU Extension and the MSU Department of Animal Science, includes three educational contests for 4-H members, youth showmanship and breed shows, and culminates with an open show for youth and adults that showcase the best cattle in the state. This year, nearly 175 youth from 18 counties participated in at least one event during the week.
The week closes with the Dairy Quiz Bowl Contest on Thursday. Youth compete in one of three age divisions: Novice (9-11 years old), Junior (9-14 years old) and Senior (15-19 years old).
This is a fast-paced contest where youth compete in teams of three to four people and there are two phases to the contest. In the first phase, each youth is asked a true/false question—one for each Novice and Junior teammate, two for each Senior.
After both teams have answered their true/false questions, phase two starts where youth must "buzz in" to answer a toss-up question. Novice have 10 questions, Juniors 12 and Seniors 14 to answer in the round. Youth must answer true/false and toss-up questions without the help of their team members. If three different team members correctly answer questions, they earn a bonus question where the team can work together to provide answers and add big points to their score.
This year, many of the questions were focused on dairy cattle health, however, topics about reproduction, physiology, general agriculture, milk production and many more are included. Coaches work with youth for weeks to help them learn a wide array of information about all aspects of dairy cattle production and agriculture.
Resources available to 4-H volunteers and coaches include sample questions from Cornell University and New York 4-H, North Carolina State University and 4-H, and Penn State University and Pennsylvania 4-H. eXtension is another great resource to find articles related to all areas of dairy cattle management to prepare for this contest.
In the Novice Division, the Clinton County team placed first with team members Clarissa Baese of Elsie, Michigan; Harris Evans and Thomas (Tom) Hicks of St. Johns, Michigan; and Ethan Humphrey of Fowler, Michigan. The second-place team was from a joint team from Isabella and Washtenaw counties. Team members were Harper Jane Adkins from Saline, Michigan; Eli Deters of Fremont, Michigan; Jadyn Herzog of Paris, Michigan; and Megan Wilson of Blanchard, Michigan.
The Allegan County team placed third and members were Allie Coffey from Allegan, Michigan; John Geerlings of Hamilton, Michigan; and Colby Tucker of Hopkins, Michigan. In fourth was the team representing Branch and Clinton counties: Sebastian Brenneman and Kelsey Gruner of Coldwater, Michigan, and Joshua (JD) Miller of Elsie, Michigan. The team from Ottawa County finished fifth and its members were Kyle Killebrew from Allendale, Michigan; Mykka Lebron and Cadence Nagelkirk of Zeeland, Michigan; and Lilian Roof from Hudsonville, Michigan.
The team from Allegan County was the winner in the Junior category. Team members were Anna and Sam Geerlings of Hamilton, Michigan; Caleb Tucker from Hopkins and Tristan VanDenBerg of Plainwell, Michigan. Members of the second place team, which represented Branch County, were Mallorie Brenneman from Coldwater, Michigan; Max Hughes from Jonesville, Michigan; Gerl Pish of Quincy, Michigan; and Hope Shilling from Reading, Michigan.
In third place was the Hillsdale County team: Teagan Howell from Jerome, Michigan; Levi Poling of Addison, Michigan; and Clayton Weston from Concord, Michigan. In fourth place was Isabella County with Kenzie Bradley and Abigail and Emily Wilson of Blanchard, Michigan, and Lydia Deters of Fremont. Clinton County Team C placed fifth. Its team consisted of Joseph Domecq of Rives Junction, Michigan; Nathan Halfmann of St. Johns; Sam Meyer from Ionia, Michigan; and Matthew Whitaker of Elsie, Michigan.
Clinton County won the Senior division. The winning team members were Miriam Cook of Pewamo, Michigan; Amanda Hicks of St. Johns; Jessica Nash of Elsie; and Kyle Schafer of Westphalia. The team from Allegan County placed second in the Senior division. Team members were Olivia Coffey from Allegan; Shannon Good and Anna Wehler from Caledonia, Michigan; and Casey Ybema from Hopkins.
Youth from Branch County placed third: Mariah Jansen of Sturgis, Michigan; Kaylee Kriser from Quincy; Jennifer VanLieu of Reading; and Hayley Wineland from Coldwater. The Shiawassee County team was fourth, with team members Madelyn Grace Chisley, Marc and Paul Hendzel and James Place all from Perry, Michigan. Ottawa County placed fifth with members Chelsea Barnes and Ashton Geurink of Zeeland, Michigan; Joshua Tripp from Dorr, Michigan; and Jacob VanderMolen from Allendale.
Cook, Hicks, Nash and Schafer, members of the winning senior team from Clinton County, move on to represent Michigan at the 2018 North American Invitational 4-H Dairy Quiz Bowl Contest. This contest takes place Nov. 2-3, 2018, during the North American International Livestock Exhibition in Louisville, Kentucky. The Michigan team will compete against other 4-H teams from across the country, seeking top national honors.
Congratulations to all 4-H members who competed this year and good luck to the Clinton County team moving on to the national contest!
---