Washtenaw, Mecosta, Ottawa and Allegan counties were top winners in state dairy quiz bowl contests
Senior team from Allegan County is the first to win Dr. Katherine Lee Memorial Award.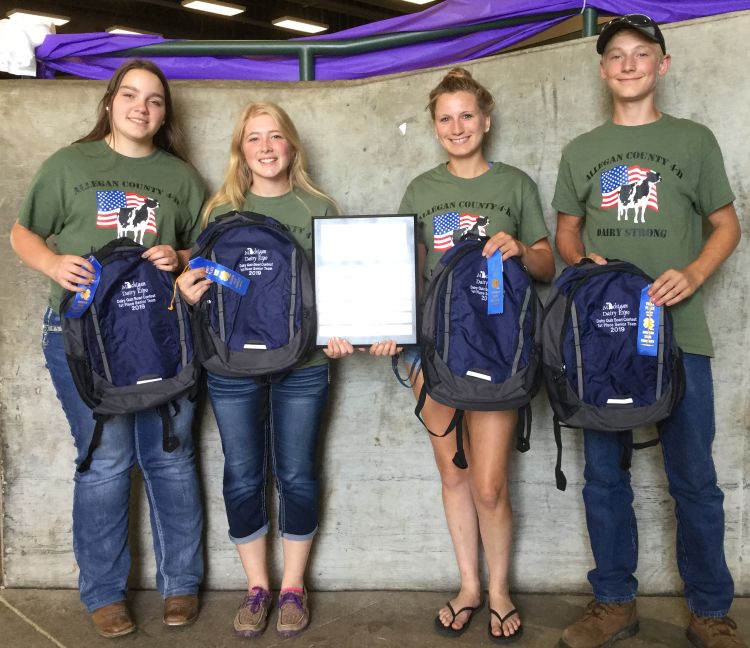 Every July, youth from across Michigan gather at the Michigan State University Pavilion for Agriculture and Livestock Education to demonstrate their knowledge during Michigan 4-H Youth Dairy Days and Michigan Dairy Expo. This week-long event, supported by MSU Extension and the MSU Department of Animal Science, Includes three educational contests for 4-H members, youth showmanship and breed shows, and culminates with an open show for youth and adults that showcase the best cattle in the state. This year, nearly 160 youth from 20 counties participated during the week.
The week closes with the Dairy Quiz Bowl Contest on Thursday. Youth compete in one of three age divisions – Novice (9-11 years old), Junior (9-14 years old) and Senior (15-19 years old). This is a fast-paced contest where youth compete in teams of three to four people and there are two phases to the contest. In the first phase, each youth is asked a true/false question – one for each Novice and Junior teammate, two for each Senior.
After both teams have answered their true/false questions, phase two starts where youth must "buzz in" to answer a toss-up question. Novice have 10 questions, Juniors 12 and Seniors 14 to answer in the round. Youth must answer true/false and toss-up questions without the help of their team members. If three different team members correctly answer questions, they earn a bonus question where the team can work together to provide answers and add big points to their score.
This year, many of the questions were focused on dairy cattle nutrition; however, topics about reproduction, physiology, general agriculture, milk production and many more are included. Coaches work with youth for weeks to help them learn a wide array of information about all aspects of dairy cattle production and agriculture. Resources available to 4-H volunteers and coaches include sample questions from Cornell University and New York 4-H, North Carolina State University and 4-H and Penn State University and Pennsylvania 4-H. eXtension is another great resource to find articles related to all areas of dairy cattle management to prepare for this contest.
The first place team in the Novice division was a joint team from Washtenaw and Mecosta counties. Team members were Harper Jane Adkins, Lizzie Pantolin and Jadyn Herzog. The second place team was also a combination team from Iosco and Clinton counties: Gavin Brubaugh, Lane Guoan, Gabrielle Nelkie and Dillon Alexander. Third place was a team of Clinton County youth: Joshua Miller, Clarissa Baese, Thomas Hicks and Meadow Evans. The team from Shiawassee County came in fourth: Cal Place, Angel Rice, Makayla Jacobs and Abby Lehman.
In the Junior category, a team from Ottawa County took top honors. Team members were Delbert Smith, Brandon Dreyer, Kyle Killebrew and Josiah Tripp. The second place team was from Clinton County with members Olivia Black, Jolene Nash Willow Evans and Joseph Domecq. Coming in third was a second Clinton County team: Jordan Hicks, Landon Thelen, Emma Fox and Paul Meyer. The team from Allegan County took home fourth place with team members Sam Geerling, Lexie Vandenburg, Colby Tucker,and Tristin Vandenburg. Rounding out the top five teams were youth from Hillsdale County: Kylie Weston, Lizzie Geerig, Levi Pohling and Kevin Kushma.
Allegan County won the Senior division. The winning team members were: Olivia Coffey, Shannon Good, Caleb Tucker and Katrina Tucker. The team was recognized as the first to win the Dr. Katherine Lee Memorial Award. Kathy Lee was an MSU Extension educator based in McBain and a long-time support of dairy quiz bowl and the dairy 4-H program at the state and national levels. She passed away in May and this new award was created in her honor. The plaque will be displayed at the MSU Pavilion and will be updated with the county name of the winning senior team from 2019 forward. A Clinton County team placed second with team members Miriam Cook, Ian Black, Kassidy Thelen and Carla Hicks. Coming in third were youth from Clinton and Allegan counites: Alex Morris, Lillie Decker, Jacob VanderMolen and Joshua Tripp. In fourth was the team from Isabella County with team members Katie Wilson, Drew Neyer, Emily Wilson andCristin Theisen. A second team from Clinton County took home fifth place with team members Madison Halfman, Adalee Thelen, Dakota Dershem and Keagan Long.
The winning senior teams earns an invitation to compete at the 2019 North American Invitational 4-H Dairy Quiz Bowl Contest. This contest takes place Nov. 8-9, 2019, during the North American International Livestock Exhibition (NAILE) in Louisville, Kentucky. Here the Michigan team will compete against other 4-H teams from across the country, seeking top national honors. This year the second-place team from Clinton County will representing the Great Lakes State on the national stage.
Congratulations to all 4-H members who competed this year and good luck to the Clinton County team competing at the national contest!