Allison Schafer is recipient of Studer Scholarship from the Michigan Dairy Memorial and Scholarship Foundation for 2018-19
Westphalia native chosen based on academics, extracurricular activities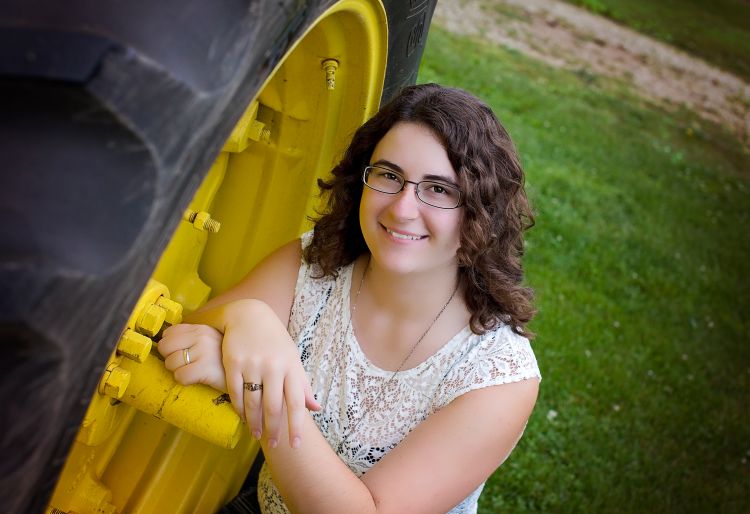 EAST LANSING, Mich. – Allison Schafer, of Westphalia, Mich., was selected as the 2018-19 recipient of the Archie Studer Scholarship through the Michigan Dairy Memorial Scholarship Foundation, Inc. (MDMSF) at Michigan State University (MSU). Schafer was selected based on her academic achievements, involvement in extracurricular activities and interest in pursuing a career in the dairy industry.
Schafer, the daughter of Leroy and Stephanie Schafer, is an agribusiness management major at MSU and plans to graduate in December 2019. At MSU, Schafer is a member of the MSU Dairy Club and Collegiate Farm Bureau, and competed as a member of the MSU Collegiate Dairy Cattle Judging Team. She served on the Spartan Spectacular Calf Sale committee and participated in the MSU Dairy Challenge. These experiences, along with serving as a 2016-17 Michigan Dairy Ambassador, have prepared her for her future career in the dairy industry.
"My passion for the dairy industry started on my family's 280-cow dairy located in Westphalia, Michigan," Schafer said. "My father is the sixth generation on the farm, and he and my mother have raised my brothers and me with the same passion for family tradition and the dairy industry."
Outside of school, Schafer works as the calf manager on her family's operation, JEM-LOT dairy, where she feeds calves, cleans pens, and manages registration paperwork. Schafer is also a team member at Tractor Supply Company, a role that has helped her gain customer service experience.
Schafer has had many dairy-related experiences in 4-H that have introduced her to the wide variety of potential careers within the industry. While she is currently undecided about what her future will hold, Schafer knows that dairy will be a part of it.
The Archie Studer Scholarship provides students with $4,000 in scholarship monies to be used toward education expenses. The scholarship was named after the late Archie Studer who owned and operated Kenowa Acres Dairy Farm for more than 35 years.
The Michigan Dairy Memorial and Scholarship Foundation awarded $100,000 in scholarships to 25 MSU students pursuing dairy industry-related programs of study for the 2018-19 academic year.
For information about making contributions to honor members of the dairy industry or to support student scholarships, please contact the MSU College of Agriculture and Natural Resources External Relations at 517-355-0284. To learn more about the MDMSF, contact Dr. Miriam Weber Nielsen in the MSU Department of Animal Science at 517-432-5443.