Alumni and Friends
The Department of Animal Science is truly defined by people who are not only part of the faculty and staff but who are also contributors to our research, outreach, and teaching endeavors.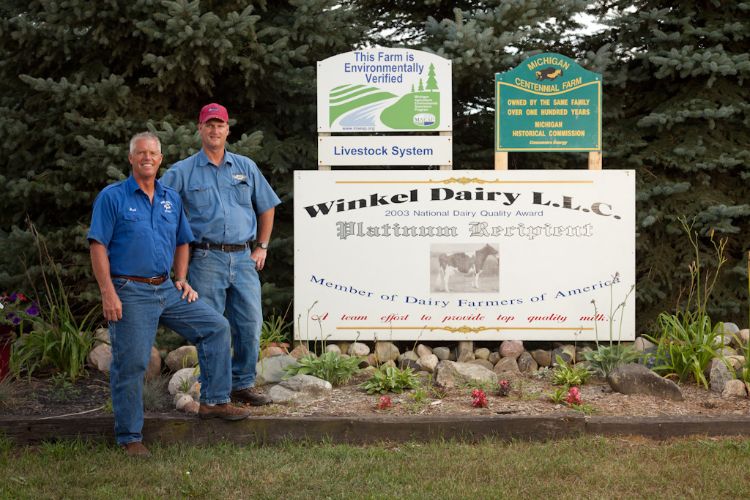 We hope to share on these pages the triumphs of our alumni and friends and to remember those who are no longer with us. As alumni, this can be a forum to share things about your life after graduation. Feel free to contact the department if you have a story to tell.
Dairy Farmer of the Year
The Dairy Farmer of the Year Award, presented by the Michigan State University Department of Animal Science, was awarded in February to Jim and Jack Winkel of McBain at the Great Lakes Regional Dairy Conference in Frankenmuth. "The award recognizes the recipients' ongoing efforts of managing an outstanding dairy operation and the role they play in strengthening their surrounding communities and the industry as a whole." To learn more about the Winkels and their family-operated Winkel Dairy LLC, visit the MSU Extension site for the award article.
Saddle and Sirloin Club Portrait Award
Dr. Maynard Hogberg was presented the 2016 Saddle and Sirloin Club Portrait Award, one of the highest awards of the livestock industry in the US. Dr. Hogberg was chair of the MSU Department of Animal Science from 1984 to 2002 and went on to become chair of the Iowa State University animal science department from 2003 to 2015. Read more about Dr. Maynard's accomplishments and awards in the Iowa State announcement.
Spartan Podcasts
The Spartan Podcast is produced by the MSU Alumni Association and features notable figures from MSU. You can listen to any number of conversations on topics ranging from water to pipelines, but of recent note is an "Ehmpressions of MSU" podcast with Dr. John Shelle, Professor Emeritus, Department of Animal Science.
Awards
Dr. Elizabeth Karcher, academic specialist-teaching in Michigan State's Department of Animal Science for eight years and who left in 2016 for a tenure track position at Purdue, received the Outstanding Young Teacher Award at the 2017 American Dairy Science Association (ADSA) and American Society of Animal Science (ASAS) Midwest meeting in March. Read more on the ASAS website.
Dr. Kasey Moyes, an alumna of the Department of Animal Science, received the 2016 Northeast Regional ADSA-ASAS Young Scientist Award for Research in July 2016.
Remembered
Although it has been just over a year, we want to remember a notable member of the Department of Animal Science, Dr. Harlan Ritchie, who passed away last April. Dr. Ritchie was a Distinguished Professor and legend in the cattle industry. Read more about Dr. Ritchie and his accomplishments in the April 26, 2016, edition of Michigan Farm News.
We also remember Dan Kiesling, who passed away after a battle with cancer. He was an Academic Specialist coordinating the livestock industries certificate program for the Institute of Agricultural Technology and coaching the MSU Livestock Judging Team. His story can be found on the CANR website.
Funding Animal Science
On a broader note, you may be interested to learn that MSU was recently awarded a National Science Foundation (NSF) grant "to educate students in fields including animal science, crop and soil sciences and other fields involving food production." Read more on the WKAR website.