Farm Focus
We will highlight centers in each newsletter. In this edition we look at the Dairy Cattle, Swine, and Sheep Teaching and Research Centers.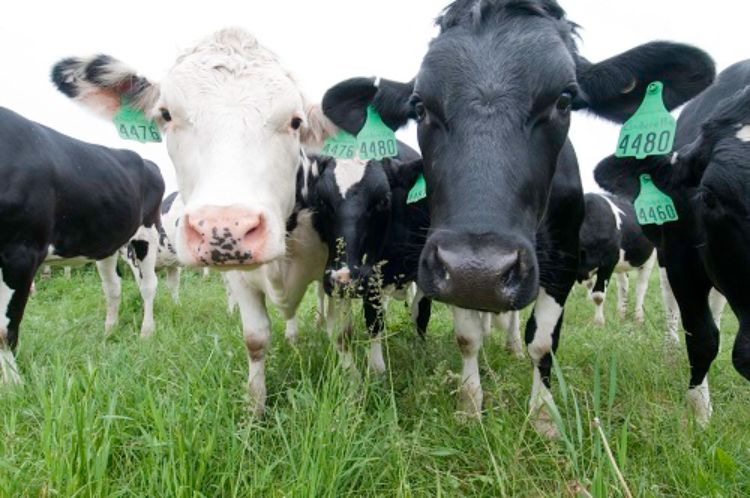 In the animal sciences, research does not just take place in laboratories housed in a building on a campus; the laboratory extends onto farms and other animal facilities. At MSU, the Department of Animal Science supports Teaching & Research Centers for beef cattle, dairy cattle, horses, poultry, sheep, and swine. As the name implies, not just research is supported by these facilities; students visit them as part of their courses or co-curricular activities, and outreach events make use of them throughout the year.
Dairy Cattle Teaching and Research Center
The Dairy Cattle Teaching and Research Center is located just south of campus on College Road. Research and teaching needs keep the staff busy and expand at the dairy. Main research areas of focus currently include Dr. Mike Allen's continued work on Hepatic Oxidation Theory, Dr. Adam Lock's continued work with fat and lipids, and Dr. Mike VandeHaar's continued work on the USDA genomic research into feed efficiency.
From a facilities standpoint, the latest major project was completed this summer when Medium Bunk was replaced, and the width of Big Bunk was reworked, giving it three new bunkers in which to store silage. This project was overdue, increased safety, decreased the width of the bunk to allow better feed quality, increased feed storage capacity, and widened the area between the bunks to make filling easier.
Joe Grulke was hired as the operations supervisor for the dairy. Joe was previously a labor employee that was shared between the dairy and the swine farms. Bringing Joe into the dairy full time allows some flexibility for the new incoming farm manager. Joe's old position will also be refilled as a shared position between the sheep and swine units.
Andrea Meade is the new manager of the Dairy Cattle Teaching and Research Center. Andrea was an MSU Animal Science dairy student and worked in different capacities at the dairy farm since 2013. She was a member of the Dairy Challenge Team, the Intercollegiate Dairy Judging Team, Dairy Club, and Block & Bridle Club, and she participated in our study aboard program to The Netherlands. She also completed a summer internship with NorthStar Cooperative. Her most recent employment was with the Michigan Milk Producers Association (MMPA) as a field representative covering Ohio and eastern Indiana, where she worked with dairy producers on milk quality and the certification of producers into the FARM (Farmers Assuring Responsible Management) animal care assurance program and with milk transport.
To read about the dairy and how to visit, go to the Dairy Cattle Teaching & Research Center page on the Department of Animal Science website.
Swine Teaching and Research Center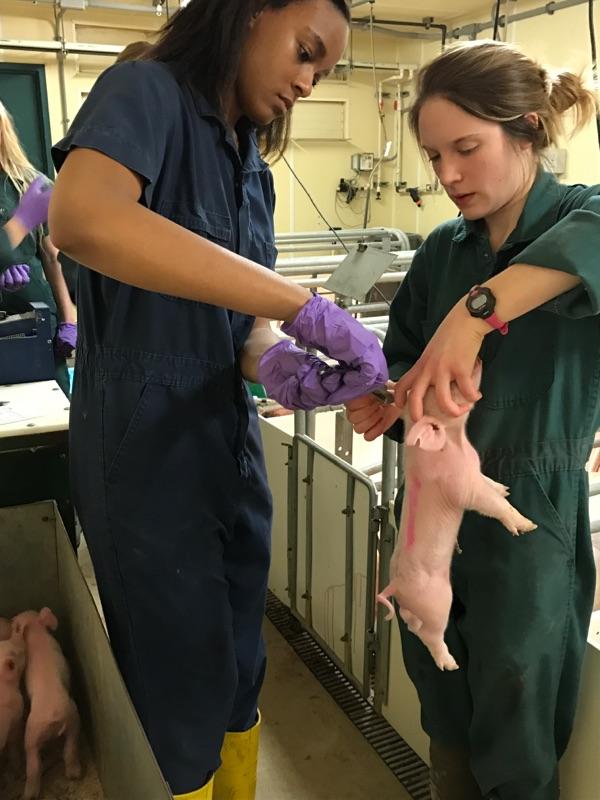 The MSU Swine Teaching and Research Center has had a very busy and productive 2016-17 school year. The Fall semester was highlighted by the graduation and placement of several of the farms student employees into related fields: Ashley Rogers joined Smithfield Foods Inc. as a sow farm manager in training, Caleb Wood joined Moyer Genetic Edge as a swine technician, Jay Sweet joined MPI Research Inc. as a large animal toxicology research technician, Cassey Glumm joined USDA as a county program technician, and Katie Haines is still seeking placement in a swine-related field but hopes to find employment with the Clemens Food Group at their new Coldwater, MI, plant.
In the past year, the farm has hosted several research projects, one of which was supported by funding from MSU's Be Spartan Green Project Fund and the Swine Research and Education Experience (SREE) Research Project of the National Pork Board. Dr. Dale Rozeboom and his undergraduate research team is supplementing nursery pigs with liquid sweet whey from the MSU Dairy Plant. The whey is a byproduct of cheese production, which historically was discarded as liquid waste. Joe Lutz (Sebewaing, MI) is the lead undergraduate researcher in this effort to optimize pig health and cut feed costs by adjusting dry feed formulation.
This research was the subject of a recent Be Spartan Green article, "Student research uncovers tangible savings for real farm operations," and excellent video, "Finding new purpose in feeding pigs," which both can be found on the Be Spartan Green news page.
Finally this year, farm staff had to tackle a nagging issue and improve the aging infrastructure of the farm. After nearly 20 years of separating manure liquids and solids, the unique scraper system was in critical need of major repair. Originally a custom built system, no old-stock or replacement parts existed. With help from other farms, the staff was able to custom build and retrofit twenty units in just under six months, revitalizing one of the most important systems at the facility.
To read about the swine center and how to visit, go to the Swine Teaching & Research Center page on the Department of Animal Science website.
Sheep Teaching and Research Center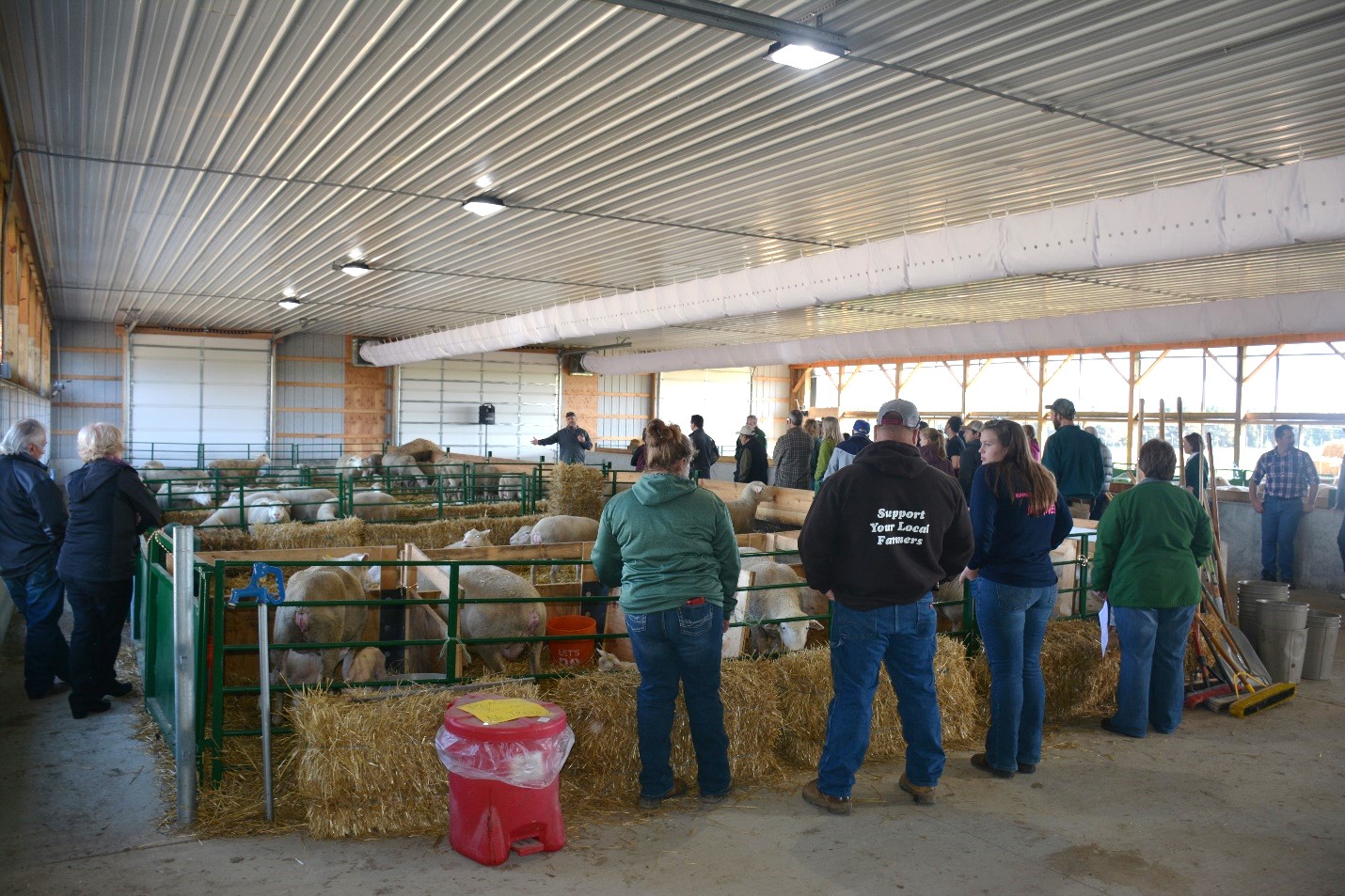 The MSU Sheep Teaching and Research Center has recently added a new building designed for lambing and to increase research, teaching and extension capacity. The major features of this new facility include improved ventilation, temperature-controlled housing, a new feeding system capable of providing a total mixed ration to the flock, and improved animal movement with penning flexibility allowing for extensive subdivision of pens, each with its own automatic waterer.
The new barn at MSU is designed to reduce labor, improve sheep comfort, and provide a better and less expensive diet. These are all keys to profitable sheep production. This facility will allow investigators to conduct research on better methods of managing sheep and allow us to teach students and producers using a modern facility with a mission focused on relevant needs of the industry.
The unit uses a combination of natural ventilation via large side wall curtains as well as mechanical ventilation via a positive pressure tunnel ventilation system. This feature will be highly beneficial in winter by allowing air exchange without cold drafts pummeling the ewes and young lambs. A set of two tunnel ventilation tubes runs the length of the insulated lambing barn to allow even distribution of fresh air throughout the unit without any drafts.
The new feed bunks contain a metal grate with 2 x 4 inch openings, which allows forage to be retained so that sheep need to work a bit to remove feed through the openings. This feature minimizes waste without compromising feed intake.
To read about the sheep center and how to visit, go to the Sheep Teaching & Research Center page on the Department of Animal Science website.
Other Centers
The Beef, Horse, and Poultry Teaching and Research Centers each have their own web page as well. In addition, you can read up on the Beef Cattle and Beef Cow-Calf Teaching and Research Centers on the Spartan Beef site.
Information about the Horse Teaching and Research Center is available on the website for the MSU Arabians breeding and education program.
Information about the Poultry Teaching and Research Center can be found on the Department of Animal Science website.
If you are interested in receiving the Meat Lab product email, contact Jennifer Dominguez, Meat Lab Manager. Contact information is available on the Meat Lab page.