Graduate Student Spotlight
While graduate students spend countless hours in the lab and in front of a computer screen, they, too, find time for activities that showcase their work or provide some creative outlet.
Statistically speaking, at the end of fall 2016, enrolled MS students numbered eight women and three men while enrolled PhD students numbered 12 women and 10 men. Four animal science MS students and three PhD students graduated in 2016.
Graduate Student Awards
The 2017 Department of Animal Science Graduate Student Award winners were recognized Friday, April 21, 2017. The Jacob A. Hoefer Award went to Deborah Velez, the Outstanding M.S. Student was Paige Stanley, the Outstanding Ph.D. Student was Kaitlyn Daza, and the Teaching Award was given to Martin Carrasquillo-Mangual.
The awards for the Outstanding Master's Student and Ph.D. Student are based on academic performance, scholarly activities, service to the department, college and university and service to the greater community. Students chosen for these awards are all-around exceptional students.
The outstanding teaching award is given to a student who has devoted significant time to the development and delivery of classroom material.
The Jacob A. Hoefer Award's purpose is to encourage competitiveness for future employment of Ph.D. candidates in Animal Science. Applicants must apply for a position in their area of interest and present an interview seminar to an Evaluation Committee.
International Recognition
PhD student Jonas de Souza, advised by Dr. Adam Lock, was awarded the global graduate student winner of the Alltech Young Scientist Competition. Jonas had already won the North American competition and then went to ONE: The Alltech Ideas Conference (ONE17) held May 21-24 in Lexington, KY, to present his research and compete with the other global regional winners. Alltech received 154 applications for the award from all over the world. Read the press release for more information. Along with the recognition Jonas also received $10,000 in prize money and a 2 year post doc funded by the company. The project that Jonas submitted his research on and then presented at the conference was funded by M-AAA.
National and Regional Awards
Graduate students are able to participate in the American Dairy Science Association (ADSA) annual meeting in June. The National Milk Producers Federation Paper Presentation Contest in Dairy Production resulted in third place for Rodrigo Albornoz in the PhD Division for his presentation "Energy intake and balance of cows in the early postpartum period is affected by diet starch content and fermentability." R. Albornoz and M. Allen, Michigan State University, Lansing, MI. The Purina Animal Nutrition Graduate Student Poster Contest in Dairy Production resulted in second place for Jonas de Souza in the PhD Division for his poster "Effects of timing of C16:0 supplementation on production and metabolic responses of early lactation dairy cows." J. de Souza and A. L. Lock, Michigan State University, East Lansing, MI.
Also in the recent graduate student spotlight is Meredith Frie (advisor: Dr. Paul Coussens), who placed first with her oral presentation in the American Association for Immunology graduate competition at the annual Conference for Research Workers in Animal Diseases. Her presentation was on recently completed work with Bovine Leukemia Virus and vaccine boosters. This work was accepted for publication in Veterinary Immunology and Immunopathology.
Also in the spotlight is Animal Science PhD student Katherine Kennedy (advisor: Dr.Mike Allen), who received a 2016 USDA Agriculture and Food Research Initiative (AFRI) Education and Literacy Initiative (ELI) Pre-doctoral Fellowship for her application titled "The effects of hepatic energy status on feeding behavior of ruminants."
Graduate students also are able to participate in the American Dairy Science Association (ADSA) and American Society of Animal Science (ASAS) Midwest meeting in March each year. This year, Yan Sun was named a Young Dairy Scholar and presented "Effects of dietary factors and rumen pH on rumen biohydrogenation pathways and risk of milk fat depression," by Y. Sun (MSU), M. Allen (MSU), A. Lock (MSU). Dr. Sun was a PhD student with Dr. Adam Lock and graduated in December 2016.
Graduate Research Forum and Rodeo
Locally, the 11th Annual Animal Science Graduate Research Forum took place October 27, 2016, in Anthony Hall. The forum is a venue for graduate students to present their research projects to the department, college, and university communities. Dr. Janice Swanson, Chair of the Department of Animal Science, welcomed the students in the morning, and Dr. Ron Hendrick, Dean of the College of Agriculture and Natural Resources, gave a short talk at lunch.
The forum is coordinated entirely by a committee of Animal Science graduate students and a faculty advisor; this year the committee and faculty advisor included Katherine Kennedy, Gabriela Maldini, Rachel Martin, and Dr. Michael Allen. Barb Sweeney, Graduate Student Coordinator, helped to coordinate the event.
The 2016 forum consisted of four poster and eighteen oral presentations given by MS and PhD students, and it was the first year to include a competition for the oral presentations. Drs. Gretchen Hill, Juan Steibel, and Almudena Veiga-Lopez served as judges. First place went to Matheus Capalari, second place to Rodrigo Albornoz, and third place to Rodrigo de Souza. This year's event was sponsored by the MSU Council of Graduate Students and Department of Animal Science. Visit the Animal Science Graduate Forum web page for more photos and information.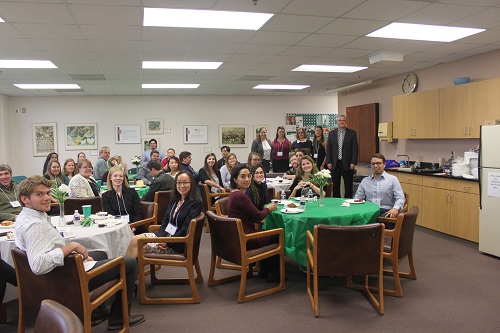 The Animal Science Graduate Student Association hosted the 2nd Annual Animal Science Graduate Research Rodeo March 7 in Anthony Hall. The rodeo featured graduate students and postdocs, who presented one-and-a-half to two-minute "elevator pitches" tailored for a family, scientist, or employer audience type. This event allows participants the chance to hone their communication skills and allows attendees an opportunity to learn about research programs in the Department of Animal Science at a rapid pace.