Animal Science teaching assistant receives CANR Graduate Student Teaching Award
William Poulos to receive 2020 CANR Graduate Student Teaching Award.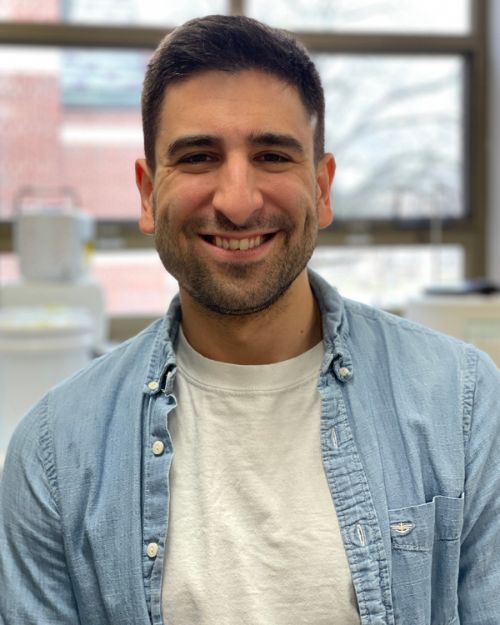 William (Billy) Poulos will receive the 2022 Michigan State University (MSU) College of Agriculture and Natural Resources (CANR) Graduate Student Teaching Award on April 21.
The CANR Graduate Student Teaching Award recognizes graduate students for their exceptional teaching skills, implementation of innovative techniques and their contributions to undergraduate programs and impact on students' careers and colleagues' teaching/advising practices.
Poulos is a Ph.D. student in the Department of Animal Science. He has also served as a teaching assistant since 2019, instructing over 800 students in several courses on cell and molecular biology, anatomy and physiology, reproduction and genetics.
As an instructor, Poulos wants his students to succeed, and he is always willing to go the extra mile to ensure that they do. One of his greatest compliments was when a student approached him after a class session and said that no other instructor had ever cared so much about their success in a course. He believes a crucial part of ensuring that all students feel motivated to succeed is obtaining feedback on their experience during a course and adjusting accordingly. With as many different learning styles as students, finding strategies that work in practice is an invaluable part of successful teaching. Learning is an active process and finding ways to engage students is almost as important as the content itself.
Poulos' own research focuses on the genetics of cloning, and he is currently working to identify novel mechanisms of reprogramming and cell dedifferentiation using zebrafish somatic cell nuclear transfer. He has a published paper in "Scientific Reports" and a published book chapter in Vertebrate Embryogenesis.
In addition to teaching, Poulos mentors several undergraduate students in his research group, instructing them on basic research skills, zebrafish reproductive methods and embryo manipulation. His patience and easy-going instruction style has allowed his undergraduate students to significantly expand their research skills and aid in many ongoing research projects. Poulos earned two bachelor's degrees from MSU, one in human biology and one in music. He also holds a master's in public health (MPH) from MSU.