Animations help in Bangladesh's fight against Fall Armyworm
Scientific Animations Without Borders uses animations to communicate timely information of emerging global problems that impact farmers locally.

Scientific Animations Without Borders (SAWBO), co-led by Michigan State University (MSU) faculty members Julia Bello-Bravo and Barry Pittendrigh, is a research and outreach program connecting global experts for on-the-ground local impact. Bello-Bravo's research program is focused on informal learning within the context of low-literate learners in rural areas in developing countries. SAWBO's unique approach uses animations to communicate timely information of emerging global problems that impact farmers locally – like the maize pest, the Fall Armyworm (FAW; Spodoptera frugiperda).
The Fall Armyworm is hungry. So hungry that since it was first recorded in West Africa in 2016 it is now present across all of Africa and much of Asia.
In late 2018, the caterpillar reached Bangladesh and began feasting on one of its favorite meals – maize. Bangladesh has been quick to combat this serious pest. The United States Agency for International Development (USAID) Cereal Systems Initiative for South Asia (CSISA) and MSU have partnered with the International Maize and Wheat Improvement Center (CIMMYT), which is leading the fight against FAW locally. In addition, the Borlaug Higher Education for Agricultural Research and Development Program (BHEARD), also based at MSU, joined the fight with funding to CIMMYT for the training of extensionist educators and farmers in Bangladesh.
CSISA has partnered with the Bangladesh Wheat and Maize Research Institute (BWMRI) and the Department of Agricultural Extension (DAE) to address this pest by educating farmers and providing them with the necessary communication materials.
One highly successful intervention is field scouting, which can be enhanced through educational animations.
Scouting is the weekly physical examination by farmers of their maize crop throughout the growing season looking for the presence of insect pests such as FAW. If sighted, specific actions are initiated based on the results of each inspection. This action of gathering information about the pest can be difficult to explain and that's where SAWBO comes into play.
SAWBO creates animations using local languages and likenesses to educate audiences on key issues. The SAWBO animation "How to Identify and Scout for Fall Armyworm" depicts the concept of scouting for farmers in an easy-to-understand, visual way. It has become an effective tool in farmer and community trainings throughout Bangladesh.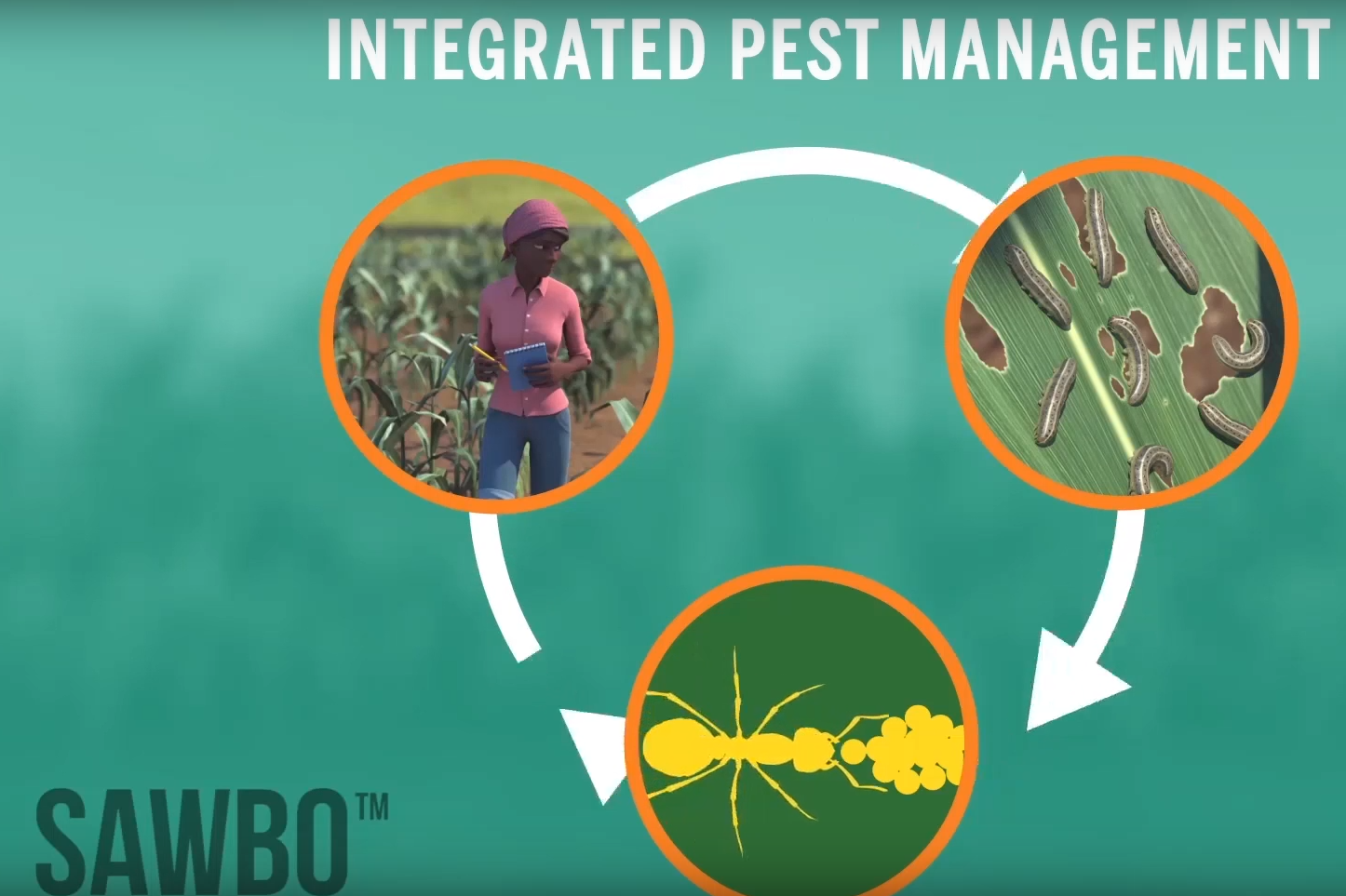 "SAWBO animations allow educators to break through cultural and language barriers to educate a hard-to-reach population. The videos speak to the viewers on a peer and community level, which really resonates with our audiences," said Bello-Bravo.
Harun-Ar-Rashid, executive director of the Agricultural Advisory Society (AAS), which focuses on farmer-to-farmer training and works as a bridging organization between farmers and partner groups in Bangladesh, is a long-time partner with CIMMYT and has worked over the last decade to arrange rural video shows reaching hundreds of thousands of farmers across Bangladesh. He agrees that video is key for enhancing learning and is using the SAWBO animation in his collaboration with CSISA and CIMMYT.
"Trained members of two teams, in collaboration with motivated community coordinators using community-based approaches, successfully implemented hundreds of well organized video show events of the SAWBO FAW animation with over 130,000 farmer audiences," said Harun-Ar-Rahid.
Community-based approaches in Bangladesh are key to reaching smallholder farmers, many of whom are low-literate and isolated from the mainstream media. Having an animation that mimics farmer likeness down to local dialects and nuances, helps with acceptance and adoption of the technique.
"Incorporating social values and respect in rural communities achieves high participation," said Harun-Ar-Rashid. "High participation rates among farmers are crucial." SAWBO videos are sensitive to local customs and norms, thus establishing a one-to-one personal connection and trust with viewers.
In addition to the ground battle AAS has launched, the Bangladesh government, extension and high-level officials have joined the fight.
"Currently with funding provided by the USAID Bangladesh mission and the BHEARD program at MSU, approximately 400 extension agents and private sector partners are receiving training on FAW scouting and integrated pest management approaches," said Timothy Krupnik, senior scientist and systems agronomist with CIMMYT in Bangladesh.
"We have shared the SAWBO video with the extension officers and have provided each of them with an USB stick containing the animation. Last year the video was placed on the main government website and is now featured on all 64 of Bangladesh's district sites. The video is starting to go viral. It seems that views are growing by almost 500 per day right now. We are very excited by this."
To date, the Bangla language version of the animation has been viewed over 126,000 times on YouTube.
"FAW cannot be eradicated. It is endemic and farmers have to learn to manage it," said Joe Huesing, USAID Independent Contractor and former Fall Armyworm Task Force lead scientist. Huesing explains that management of FAW consists of "knowledge, tools and policy."
The SAWBO animation is an important tool that provides the knowledge necessary to learn to adapt to living with this invasive pest.
The fight against FAW in Bangladesh has been a strategic collaboration between the private sector and governmental aid agencies, including CIMMYT, BWMRI, the Bangladesh Agricultural Research Council (BARC), DAE, USAID, BHEARD, and the Bill and Melinda Gates Foundation.
"It's the right time, right tool, right partners; this is such a fantastic example of group collaboration," said Regina Eddy, USAID Bureau for Food Security.
The SAWBO animation was originally created for use in Africa in 2018 after FAW was officially reported there in 2016. The original animation was a collaboration between SAWBO, the International Maize and Wheat Improvement Center (CIMMYT) (Prasanna M. Boddupalli), the International Institute for Tropical Agriculture (IITA) (Georg Goergen and Manuele Tamò), and USAID's Fall Armyworm task force team (Regina Eddy and Joseph Huesing), with funding provided by USAID.
It has since been translated into 30 languages and has been instrumental as a training tool in the fight against FAW in both Africa and Asia.