Aya Pickett receives North Central Section of The Wildlife Society's Outstanding Undergraduate Student Award
Ms. Aya Pickett, a senior Fisheries and Wildlife major at Michigan State University, was recognized for her participation in undergraduate research and her commitment to The Wildlife Society student chapter at MSU.
January 31, 2018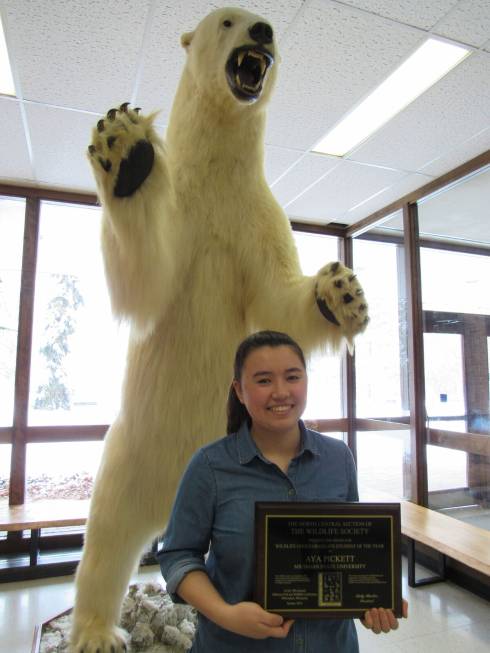 Aya is an undergraduate at Michigan State University, pursuing a Bachelor of Science degree in Fisheries and Wildlife, with a concentration in Wildlife Biology and Management. Aya has been active in research as an undergraduate, conducting crayfish surveys in the Upper Peninsula and studying terns in Maine. Aya has also worked at a bird banding station for several years during fall migration, becoming proficient at mist-netting techniques. Using samples collected at the banding station, Aya also completed an Undergraduate Independent Study on "Fruit Consumption of Fall Migrating Landbirds in Mid-Michigan" the results of which she presented at a research symposium.
Aya has demonstrated a commitment to The Wildlife Society during her studies, serving as Student Chapter President in 2017 as well as Outreach Committee Chair and as a member of the Habitat Committee. In addition, Aya is involved in other student organizations and served as the Treasurer of the MSU Birding Club.
Aya's future plans include attending graduate school to study the role of neotropical migrants in Latin American agricultural systems. She also intends to share her appreciation for natural resources with under-represented youth, and to help make the fisheries and wildlife conservation community more diverse and inclusive.