Bay County 4-H teams up with juvenile home residents to fight local hunger
Between May and July, the Bay County 4-H Youth Program and the Bay County Juvenile Home teamed up to help fight hunger in their county.
In yet another outstanding example of wide-reaching impact, between May and July, the Bay County 4-H Youth Program and the Bay County Juvenile Home teamed up to help fight hunger in their county. The Harvest for All program, sponsored by Bay County Farm Bureau and now in its fourth year, is unique in that it is both educational and it is a way for 4-H families to support families in need. What's new this year is the program's extension to the young people who reside in the juvenile home. This required the county's approval and according to Jodi Schulz, Bay County Extension 4-H educator, since it is extremely nontraditional for the youth residing in the home to raise chickens, "there were lots of questions" before approval was granted.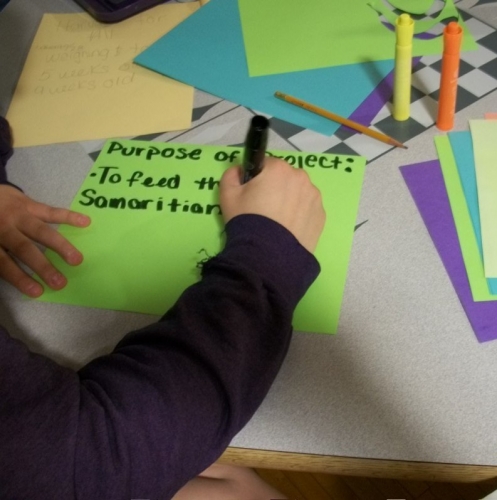 This year's program began when the Farm Bureau delivered 250 chicks - and the Hemlock Elevator donated the feed - to 4-H families across the county. While 240 chicks were raised by 4-H members, youth living in the home raised 10. In the weeks before the chicks were delivered to the juvenile home, Bay County Extension 4-H's 2 staff members, Jodi Schulz and Jodi Wrzesinski, educated the youth about both the Harvest for All project and about raising chickens. The young people enjoyed learning about the different body parts on the chickens, weighing and tagging live chickens, grading processed chickens, and creating educational displays (posters) about the knowledge they acquired. All the posters the Bay County students produced in the Harvest For All program will be displayed at the 2011 Bay County Fair and Youth Exposition. Once the chickens were processed for meat (900 pounds with each chicken providing about 6 pounds of meat), it was donated to feed residents living at the Good Samaritan Rescue Mission in Bay City. The meat helped the mission feed an increasing number of residents in the summer which is traditionally a downtime for donations.
The impacts of this project are as varied as those involved in it. For some individuals, the program kindled new interests and required a great deal of learning (and not just about chickens). Think about those who developed self-esteem, a sense of responsibility, leadership skills, strategic thinking and teamwork. For others, it meant giving or receiving an urgently needed donation, and a sense of community. While for others, the program allowed them to reach a new audience. Read all about this project and its impacts on the Bay County Web site and in the Bay City Times article on mlive.com.