Belize 4-H on the move, come let's join the groove
In 1968, Belize government requested Michigan 4-H's assistance in youth development programs. In 1972, Michigan 4-H youth traveled to Belize to encourage 4-H involvement and learn about the culture. This relationship is still strong after 49 years.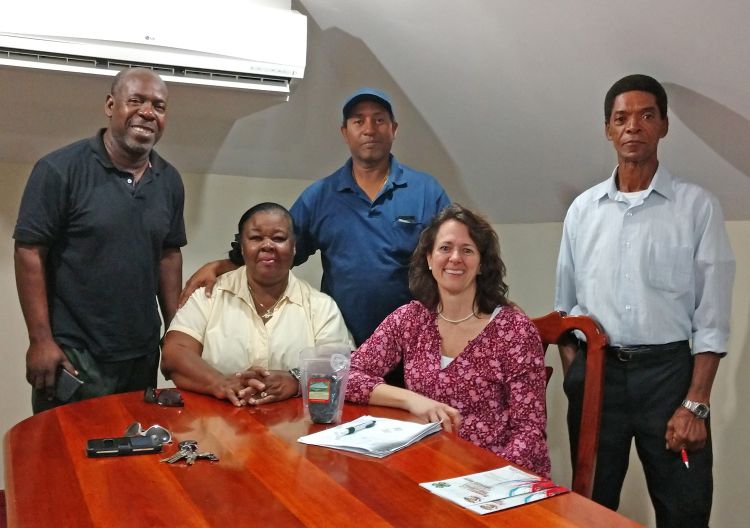 The New Year, 2018, brings new beginnings for Michigan and Belize international exchange partnership. This year will mark the 50th year Michigan has collaborated with Belize 4-H. This partnership has looked different over the years, but the relationship has remained supportive. Let us take a glance back over the 49 years and more importantly focus forward onto the future of the Michigan and Belize international connection.
In 1968, the Belize government requested Michigan 4-H assistance in youth development programs. Gordon Beckstrand, 4-H youth director, travelled to Belize to help formulate the program. Further planning by Jake Wamhoff continued. Roy Young, the assistant social development officer in Belize, visited Michigan for an intensive study of 4-H programs.
Michigan sent two Youth Development Program workers to Belize for 14 months in 1971 to build the 4-H program. In 1972, a second group of Youth Development Program workers arrived to help in the areas of food production, economics and personal growth. The first 4-H youth visited in 1972 traveling around the country, encouraging 4-H involvement and to be acquainted with the Belizean people and customs. Another group arrived in 1973 to develop new 4-H clubs and projects.
The first 4-H camp was held in 1974, conducted by a Michigan 4-H program assistant and 10 4-H youth. The travelling to and from Belize continued with club exchanges and projects developed.
Michigan county projects and partnerships that were developed in the early years are listed below:
Lenawee County 4-H clubs pledged to raise $1,000 to initiate a rabbit project.
Clinton County 4-H clubs have donated $100 to start gardening and poultry projects. This county sent volunteer leaders to Belize and two sewing machines.
Menominee County has raised money to purchase a chain saw for the 4-H center.
Ionia County 4-Hers provided two hand insecticide sprayers.
Jackson County raised funds to donate two honey extractors to aid the new beekeeping project.
Clinton County 4-H clubs donated 500 pounds of books for their exchange clubs.
Various other items were donated: yarn, needles, seeds, bulletins, crayons, a jeep, fencing equipment and milking equipment.
Michigan 4-Hers provided help constructing dormitories at the National 4-H Center in Belize.
On Nov. 28, 2017, a meeting was held in Belize to discuss the future planning and brainstorming. How has the partnership evolved over the past 49 years and where could we go for the next 50 years? Raymond Usher, president of National 4-H Foundation in Belize, shared his vision and goals for the future of Belize 4-H. Belize 4-H Foundation has just completed a strategic plan for the next several years and Michigan is part of their plan.
Luke Ramos, secretary/liaison officer for National 4-H Foundation in Belize, holds 30 years of history between Belize 4-H and Michigan 4-H. Ramos has traveled to Michigan and understands the true value of the exchange program first hand, not only for the Belizean youth but also for the adult chaperones. Myrna Willoughby, assistant treasurer, and Nelson Young, director, also expressed their support of the Michigan and Belize partnership.
What does the future partnership look like? Belize National 4-H Foundation's goals are for the 4-H organization to stand out as a first choice name brand organization for youth development in agriculture and to be a stronger and more vital force for good in Belize going into the year 2020. Belize's strategic plan is to enhance programming and increase opportunities to 4-H members to help improve the quality of their lives.
Below are 10 ways they hope to accomplish these goals.
Strengthen community cooperation and networking at local, district, national and international level in order to develop a caring environment through, participation, development and peace.
Develop and market a Rural Tropical Agricultural/Reforestation project.
Establish 4-H youth on the move radio/TV show to galvanize the general youth population's attention to issues affecting youth participation on development and peace.
Implement a national 4-H youth discovery week and festival to display the activities and produce among 4-H clubs along with an award convention.
Establish a 4-H youth pioneer corp to attract youth volunteer in advancing the work of the 4-H at the grass root level in the field of their choice as identified.
Reform skills in backyard, urban gardening and landscaping development, with a twist toward agricultural pursuit and entrepreneurial advancement, at the same time promoting toward semi botanical garden at the National 4-H Youth Development Center.
Work to introduce a "Farmers to Farmers" program as a training module alongside existing curriculum at the 4-H center in line with government agriculture policy.
Ensure a fuller emersion and strengthening of the partners of the Americas, youth exchange program to include potential youth in various field of development locally, nationally and internationally.
Reform and expand the 4-H campers program to include orientation research and project work experiences.
Upgrade the National 4-H Youth development center to an accredited youth agriculture academy to help springboard young people inclined to agriculture as a career advancing through to the University of Belize.
So where can Michigan 4-H clubs and International Exchange Program support our Belizean partners? Through our exchange program, we will refocus our efforts to be a "Farmer to Farmer" exchange with Michigan host families. Michigan could send Michigan State University Extension educators or specialists to Belize to teach our Belizean partners what we know about agriculture and reforestation.
Michigan 4-H clubs can support Belizean 4-H clubs in project areas like rabbits, gardening, nutrition, agricultural-processing, seedlings and raised bed vegetable growing. The ideas are endless. Where do you see your club developing an international relationship with Belize 4-H?
4-H grows international 4-H club partners. If you would like to learn more about international exchange programs in Michigan, visit Michigan 4-H International Exchange Programs or contact D'Ann Rohrer, international exchange state coordinator, leadership and civic engagement team, at drohrer@anr.msu.edu
To learn about the positive impact of Michigan 4-H youth leadership, citizenship and service and global and cultural education programs read our 2016 Impact Report: "Developing Civically Engaged Leaders." Additional impact reports, highlighting even more ways Michigan State University Extension and Michigan 4-H have positively impacted individuals and communities in 2016 can be downloaded from the MSU Extension website."