Breakfast on the Farm hosts are preparing to open their doors to the public in August and September
Michigan State University Extension Breakfast on the Farm (BOTF) hosts are getting ready to welcome visitors to the farm.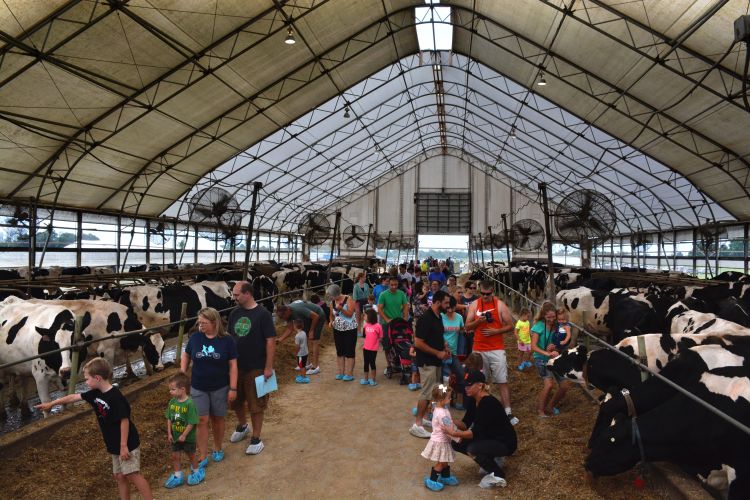 The MSU Extension Breakfast on the Farm program began in 2009 in an effort to show the non-farm public how farmers take care of their animals, how they protect the environment and how they produce safe, wholesome and nutritious food for Michigan consumers and beyond. In Michigan, over 85,000 BOTF visitors have enjoyed learning about modern agriculture first hand. The educational effort continues in 2018 with two opportunities for people to attend Breakfast on the Farm events.
On Saturday August 25, Tim Hood and his family will be welcoming visitors to their dairy farm between the hours of 9 a.m. - 1 p.m. The farm is located in the south west corner of Michigan in Van Buren County at 41488 County Rd. 358, Paw Paw. The Hood family is very familiar with the program as they hosted an event in 2015. According to Tim, his family is hosting again because they greatly enjoyed seeing the faces of the visitors as they learned how milk is produced. Visitors will be able to see every aspect of milk production from calves to cows and from the milking parlor to the milk truck.
In September, the MSU Beef Center will welcome visitors to the farm on Saturday, September 15 from 9 a.m. - 1 p.m. Located at 5226 Bennett Road in Lansing, the farm has been a site for research, Extension and teaching for more than 100 years. Educational stations will be set up throughout the farm so visitors can learn about cattle nutrition, genetics, how farmers select cattle and even what to look for in the meat case.
Both BOTF events are free to the public thanks to generous state and local sponsors. This year's state sponsors include: Corn Marketing Program of Michigan & Michigan Corn Growers Association; Dairy Farmers of America, Dairyland Seed; GreenStone Farm Credit Services, Michigan Farm Bureau, Michigan Farm Bureau Insurance, Michigan Foundation for Agriculture, Michigan Milk Producers Association, Michigan Soybean Promotion Committee, Michigan Wheat Program and the United Dairy Industry of Michigan. Each event is also financially supported by local businesses and organizations.
The events include a farm-cooked breakfast followed by a self-guided walking tour. Tickets are required to eat breakfast and will be available prior to each event at area businesses and organizations as well as on-line. For a listing of ticket locations visit www.breakfastonthefarm.com approximately one month prior to the event you are interested in attending.
For more information, visit www.breakfastonthefarm.com are contact Ashley Kuschel, BOTF program coordinator at (586)469-7616 or kuschela@anr.msu.edu or Mary Dunckel, agriculture literacy educator at (989) 354-9875 or dunckelm@anr.msu.edu. We hope to see you on the farm!