Breakfast on the Farm programs underway
Eight diverse farms from across Michigan were selected to host Breakfast on the Farm events in 2012.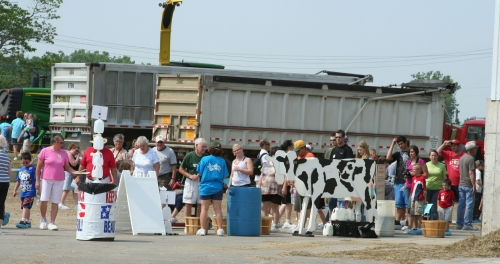 Photo: Consumers learn about modern dairy productions at Kalamazoo County Breakfast on the Farm at Myers Farms LLC.
The first event was held on June 16 at Myers Farms LLC located near Scotts in Kalamazoo County. This was the first time for a Breakfast on the Farm to be held in Southwest Michigan. Despite the hot weather, 2,430 attendees from 71 towns across Michigan and seven other states were welcomed to the farm. They took advantage of the opportunity to learn about modern agriculture and where their food comes from.
Breakfast on the Farm, a program of Michigan State University (MSU) Extension, gives consumers and farm neighbors a firsthand look at modern food production and the farm families who work hard to produce a safe, wholesome food supply for Michigan communities and the world.
Following a delicious breakfast of pancakes, sausage, blueberries, yogurt, juice, milk and coffee, the participants began a self-guided tour with stations staffed by farmers and agricultural professionals. Richard and Dawn Myers built their new dairy facility in 2008 and the farm layout allowed visitors to see everything from calves to crop irrigation, to cows being milked and more.
From animal wellbeing to nutrition to nutrient management, visitors could hear and view key messages and ask questions. Many enjoyed learning more about irrigation, how crops are grown and what the soil needs to produce healthy crops and protect the environment. The favorite of many participants was the milking parlor and seeing firsthand how milk starts its journey from the cow to the grocery store. Several comments from Facebook emphasized what some participants came away with.
One shared, "Now, when we eat or drink Prairie Farms brand dairy products, we know one of the producers." He went on to state, "there were many fact signs throughout the tour. One said the average cow today produces about 8 gallons of milk, compared to 2 gallons of milk per day in the 1940s."
Yes, today dairy farmers in the U.S. produce 1.6 times more milk with 16 million less cows, so 76 percent less manure is generated for each gallon of milk produced and 63 percent less carbon dioxide is given off for each gallon of milk produced. More milk with less impact per gallon shows the progress the dairy industry has made.
Other learning stations highlighted the dairy industry, including a demonstration on how a modern milk machine works, the maternity pen, dairy reproduction, hoof care, how a cow is a natural recycler and calves. A large farm equipment exhibit helped teach visitors about different aspects of crop production and how farmers use technology every day. Many of the kids participated in special fun activities and completed a Kids' Quiz as they toured the farm; they then received a prize when their quiz was completed.
Ice cream sandwiches topped off the visit. Adults were also surveyed and 48 percent of those who completed surveys stated this was the first time they had visited a working dairy farm in the past 20 years. Comments from visitors included, "wonderfully educational; awesome experience; we had a great time and learned why it is important to run a good operation; and very informative and fun."
The surveys also showed that participants had increased their knowledge and understanding about modern food production and how farmers care for the environment, care for their animals and produce a safe, wholesome food supply.
More than 220 volunteers from throughout southwest Michigan helped to organize and implement this educational and fun event. There were over 65 local sponsors and ten state sponsors who helped to make this program possible. Breakfast on the Farm is a statewide MSU Extension program. To learn more visit the Breakfast on the Farm website.