Bringing the world Food Code to Liberia
IFLR student Christine Blackledge uses USAID assignment to help educate African nation's agricultural leaders.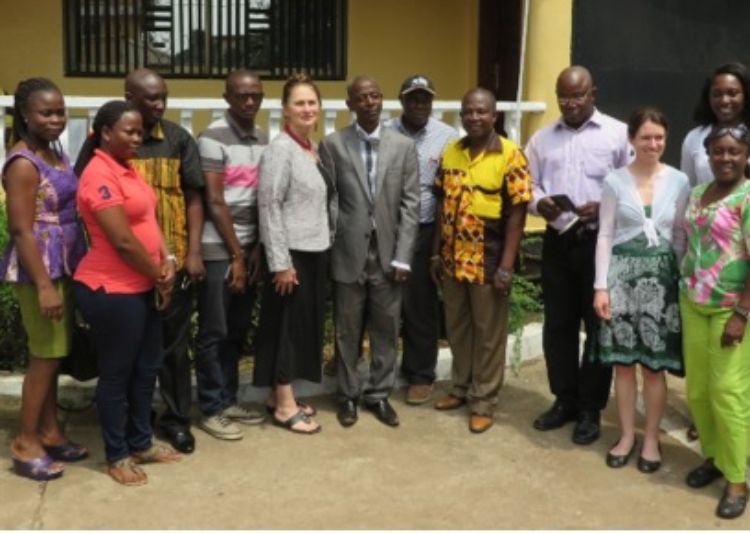 This is an inspirational account of how Christine Blackledge, a Michigan resident and MSU student in the Institute for Food Laws and Regulations (IFLR) certificate program, made a significant impact in assisting Liberia with more active participation in Codex Alimentarius.
Codex Alimentarius – the world Food Code – has 188 member countries and is administered jointly by the World Health Organization (WHO) and the Food and Agricultural Organization of the United Nations (FAO). It incorporates global applications of standards and guidelines on food hygiene, food additives, pesticide residues, food contaminants, veterinary drug residues and many other issues affecting global food safety and the fair trade of food.
IFLR has offered its Online Codex Alimentarius course since 1999. Participants are asked in assignments to apply the Codex course information to themselves, their company or government agency and/or to their country. Christine Blackledge was in Liberia on a U.S. Agency for International Development (USAID) assignment in January 2017. This is her success story as told in the USAID / Cultivating New Frontiers in Agriculture (CNFA) Certificate of Recognition, and in her words that follow: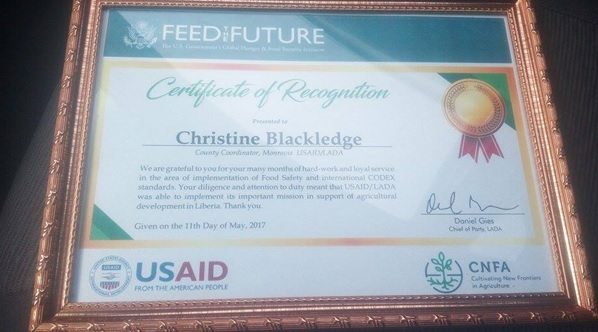 Liberia has is moving forward with a food law, and government leaders are participating in Codex Alimentarius both nationally and internationally. Liberia recently earned a national contract for the school feeding program for the Scottish Aid Program, and so much more.
I worked with the Assistant Minister of Commerce and Industry, the Codex contact point for Liberia. We enlarged the national Codex meetings to include food producers and processors. I worked with the Ministry of Health doing laboratory assessments. I arranged a conference attended by the Minister of Health, Minister of Agriculture and Minister of Commerce and Industry, farmers, food producers, processors, food exporters, NGOs, universities and consumers.
This was the first time they all sat in the one room to discuss how Codex Alimentarius related to Liberia.
I was brought into many conversations because of the knowledge I gained from the IFLR/MSU Codex course and its assignments directed to my Liberian applications. I was the one to inform that Liberia did not have the capacity in the national laboratory for the basic testing to allow food to be exported to the U.S., to implement food sanitation and Codex standards.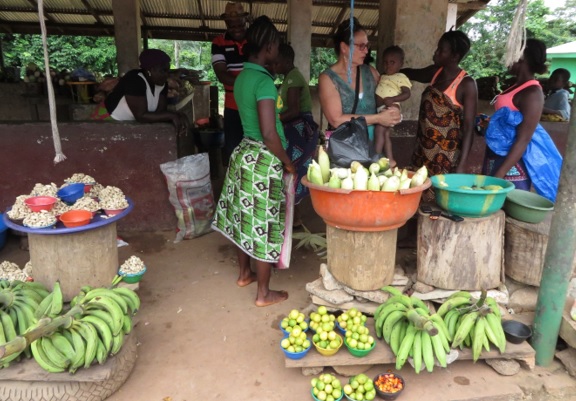 Christine Blackledge brings Codex Alimentarius to a Liberian food market.

The successful outcome of Christine's work is seen on the Codex Alimentarius website:
http://www.fao.org/fao-who-codexalimentarius/roster/detail/en/c/1052910
The following quotations reflect the impact of her work:
http://www.fao.org/fao-who-codexalimentarius/news-and-events/news-details/pt/c/1103428/
The work plan in Liberia will include which Codex committees to engage in, based on national priorities including hygiene, fruits and vegetables, pesticide residues and contaminants. (Codex Standards and Guidelines are relevant to these commodities and issues). Liberia continues to struggle with testing for the safety of import and export foods. They are a dumping site for rejected foods and their processors have limited trade possibilities without food laws, food testing, and food inspections.
IFLR/MSU is proud of Christine Blackledge's positive international impacts not only in Liberia but in many other countries in Africa.