"But I want…"
Talking with children about gifts, greed and gratitude this holiday season.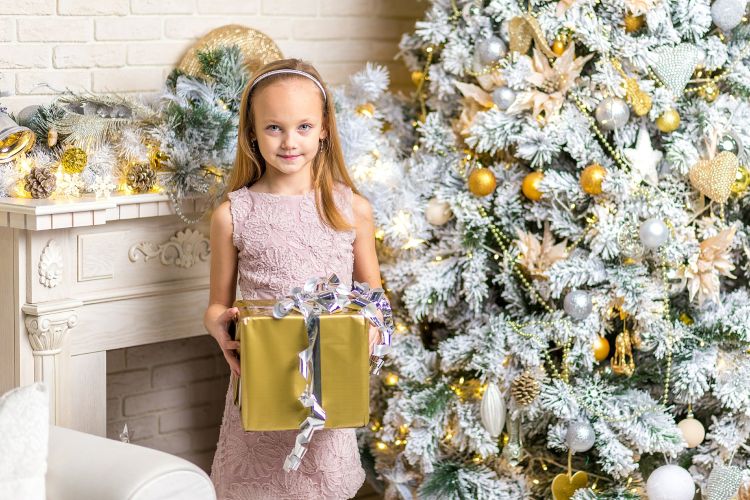 The holiday season is an exciting and often overwhelming time. A lot is expected of young children in these busy days. Children have a lot they are looking forward to as well! Holiday wish lists, Santa, holiday parties, visits from cousins and so much more.
With those high expectations is bound to come occasional disappointment. Often times that moment of disappointment can appear at the most inopportune times. Your child delightedly tears into a present, opens it up and looks at the item inside, tosses it aside and whines, "But I wanted a…" Grandma, Grandpa, Auntie or Uncle look on in shock and shake their head, also disappointed their gift was not appreciated. What can you as a parent or caregiver do ahead of time to avoid these moments in the midst of the busy holiday season?
Michigan State University Extension offers the following tips for a happier holiday experience for all!
Be mindful of your child
Holidays bring a lot of stress for parents, caregivers and children. As adults, it's easy to forget the whirlwind holiday season can be very overwhelming for children. Their routines are often disrupted by late nights and early mornings. People they haven't seen in a year or more reappear in their little lives, wanting kisses and hugs. Healthy foods and predictable snack times are replaced by candy and treats and late running family dinners.
If you know dinner will be running late, give your child a healthy, balanced snack ahead of time. If you have relatives coming from far away, remind the children ahead of time who they are, share pictures from her last visit or from social media sites. Help prepare your children for what's going on by walking them through the day, talking about the schedule and your expectations for their behavior. Avoid having gift exchanges run late into the evening when children are tired and less able to control their behavior.
Practice makes perfect
Give your child the language to say thank you when they are receiving a gift. "Thank you for the (fill in the blank). I am going to (fill in the blank) with it." Consider making this a game. Have children practice opening silly things, such as a roll of toilet paper, a single sock or a banana. Remind them of their prompts, "Thank you so much for this roll of toilet paper! I will keep it with me in the bathroom, I'm sure it will be very useful!" Kids find this game very silly, and it gives them the words to practice saying thank you when the gift from Grandma Gertrude isn't quite on target.
Remind your child ahead of time they might get something they already have or don't like, and that you will help them deal with that after the party, but at that time, it is still their responsibility to say, "Thank you," for the gift they received.
Teach and model gratitude
Teach thankfulness and gratitude in your family. How do you thank your child for the small gifts they give you? Do you hug them and thank them for the hand-picked flower, pretty rock or drawing? Model gratitude in your own actions and behavior; children learn through their parent's actions. Consider your reaction when you get a gift you did not care for. Do you complain about it in front of your child? If your child hears you complaining about gifts, you are modeling that action as an appropriate reaction for an unwanted gift.
Talk to children about the act of gift giving and why we exchange gifts to mark special occasions such as holidays, weddings, baby's births and birthdays. Include children in selecting gifts for their peers and family members when possible.
Involve your children in gift giving
Have your children participate in selecting and giving gifts to their siblings, cousins or teacher. When a child works hard on creating or selecting a gift, wraps it and gives it with their heart, they become more sensitive to the thought that goes into gifting. When talking with your children about receiving gifts, remind them of how hard they worked to create that special gift for their teacher, and how disappointed they would be if something was not well received.
Learning to be empathetic takes time, but you can support their development of empathy through learning experiences, books and other opportunities to step into another's perspective.
Write thank-you cards
For many people, thank-you cards are an antiquated custom; however, they are a great way to acknowledge someone's thought and effort. Include your child in writing or creating thank-you notes. Toddlers and preschool children can paint paper that is cut down to cards or draw pictures on their cards. Children who can write their names inside where a note should do so. Consider taking pictures of the child playing with their gift or with the person who gave them the gift.
With a little forethought and planning, you can help your child learn to be grateful for the gifts they receive and work towards elimination of the complaints. The holiday season is a wonderful time to help your child learn more about the purpose and meaning of gift exchanges, and to learn to offer a sincere, "thank you" when they receive a gift.
Learn more about teaching your children gratitude, empathy and other social and emotional skills at the MSU Extension website.
To learn about the positive impact children and families experience due to MSU Extension programs, read our 2016 impact report: "Preparing young children for success" and "Preparing the future generation for success." Additional impact reports, highlighting even more ways Michigan 4-H and MSU Extension positively impacted individuals and communities in 2016, can be downloaded from the Michigan 4-H website.0