Make sure to calibrate your yield monitor prior to harvest
The last Field Crops Virtual Breakfast for the 2019 season on Sept. 5 will focus on the importance of and methods to calibrate combine yield monitors.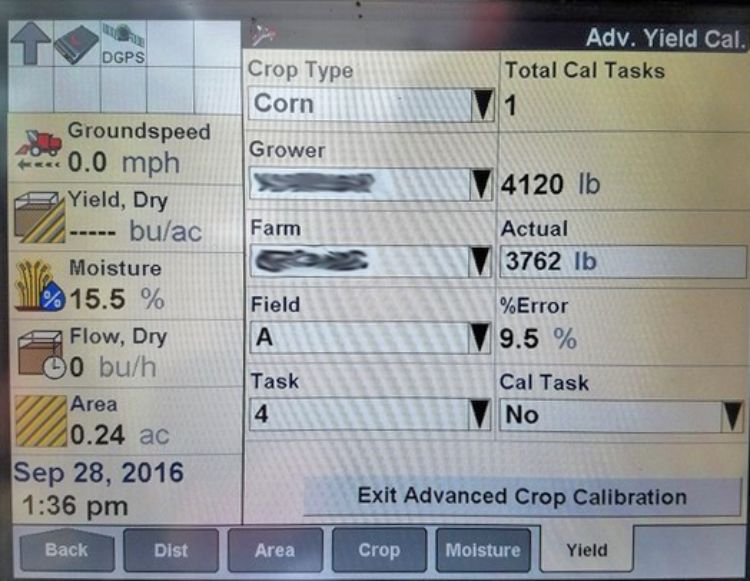 Many farms now have yield monitors. Yield monitor data is increasingly being used in precision agriculture to develop precision for fertilization, spraying and variable rate planting. The data collected from a yield monitor can be very informative when determining management operations on each field. However, in order to make good decisions, you need to have good data to work with. Below are six important steps in properly calibrating a yield monitor:
Mass flow sensor
Moisture sensor
Lag time setting
Header position setting
Distance traveled measurement
Header cut width setting
Consult your operator's manual for exact directions on how to accomplish each step. Michigan State University Extension specialist Dennis Pennington will cover what each component does and how it contributes to an accurate measurement of yield during the last Field Crops Virtual Breakfast session of the season at 7 a.m. on Sept. 5, 2019.
For more information on calibrating your yield monitor, see these MSU Extension news articles, "Yield monitor calibration procedure" and "Collecting accurate yield monitor data."
Participating is easy!
You can join using your computer or mobile device (audio and visual) following the Zoom link: https://msu.zoom.us/j/552324349. Or, call in from your phone (audio only) by dialing 669-900-6833 and enter meeting ID 552-324-349.
To receive a weekly email reminder of the Virtual Breakfast, sign up at http://eepurl.com/gm-PIv. Participants receiving emails can opt in or out at any time.
Can't make it Thursday morning? Watch the recording!
For those who cannot join on Thursdays at 7 a.m., the Virtual Breakfast sessions will be recorded for later viewing with closed-captioning on the Field Crops Virtual Breakfast webpage. Podcasts are also available on the following platforms: iTunes and Spotify.
Don't forget to follow us on social media. Stay up-to-date on what is happening in Michigan field crops by liking the MSU Extension Field Crops Facebook page or following @MSUEFieldCrops on Twitter.