Can post-bloom ReTain applications increase yield in Bartlett pear orchards?
Research funds from Gerber/Nestle provide new information on post-bloom ReTain applications to established Bartlett pears in Michigan.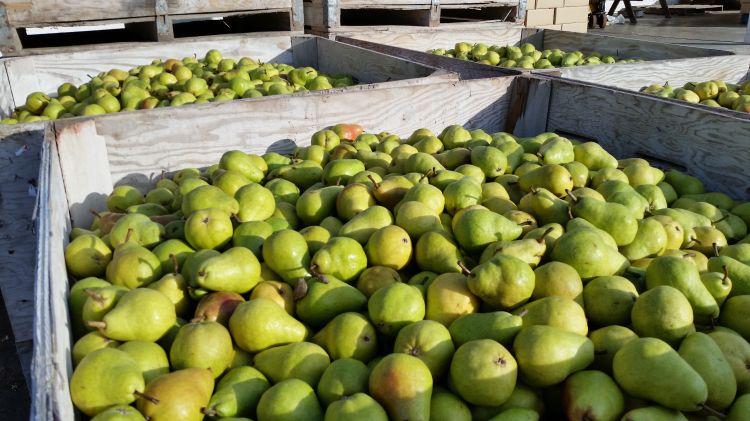 Background
ReTain is a plant growth regulator product manufactured by Valent Crop Sciences Company that is used by tree fruit growers to reduce fruit drop, delay harvest, improve fruit firmness and prolong longevity of flowers. ReTain works by inhibiting the biosynthesis of ethylene, delaying ripening and senescence. While this product is widely used by apple and sweet cherry growers in Michigan, the product has not historically been used by the Michigan pear industry. Michigan's pear industry is primarily Bartlett pear used for processing. Most pear orchards in Michigan are 40 or more years old, and poor flower efficiency is a perennial frustration for growers who manage these trees. Growers are actively looking for strategies to increase the productivity of their existing acreage to help make future pear ventures more profitable.
Previous work by Todd Einhorn at Oregon State University has shown that ReTain applied at a rate of 1 pouch per acre at 10 days post-bloom can significantly increase fruit set of D'Anjou pear. These findings provided a template for experiments in Michigan, but this approach had not been applied to Bartlett pear under Michigan spring conditions. Michigan State University Extension and Gerber/Nestle worked on multi-site farm trials in 2018 to further explore the possibility of using this same strategy to increase yield on shy-bearing Bartlett orchards.
Methods
Two treatment blocks of 50 trees in two separate Bartlett pear orchards were sprayed with ReTain at 1 pouch per acre at 10 days post-bloom in May of 2018. Two untreated blocks of at least 50 trees were left at each orchard to serve as controls. Several rows of trees were left in between the treatment and control blocks in the orchard to ensure drift would not be a factor.
A single branch was selected from 30 representative trees in each of the eight blocks prior to bloom. Total blossoms were counted on all selected branches during bloom. The fruits on these same branches were counted in mid-August 2018. The number of fruits per branch counted in August was divided by the total number of flowers that had been counted the same branch in May in order to calculate the flower efficiency. A one-way ANOVA and pairwise tests were conducted across the means of each treatment to determine any significant differences between treatments.
Results
One pouch of ReTain sprayed 10 days after bloom significantly increased fruit set at site A (p<0.05). This same treatment did not significantly increase yield at site B, but it did not significantly reduce it either. Fruit set in the ReTain treatments at site A and B was higher than the control treatment at site A (p<0.05) and not significantly different from the control treatment at site B (p>0.05). In summary, these data indicate that ReTain significantly increased fruit set at one site and had no significant effect at the other.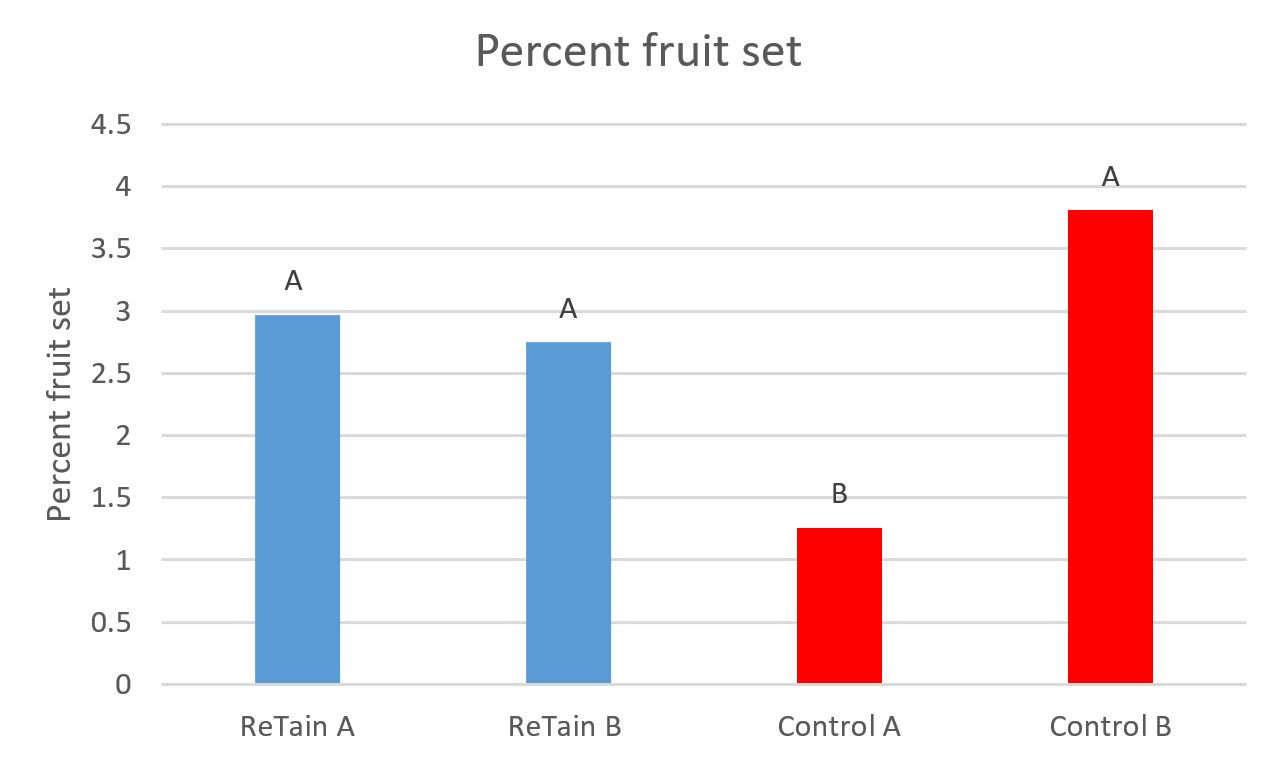 Discussion
This work provides a foundation for future work with ReTain in Michigan Bartlett pear orchards. We recorded over three times the flower efficiency at site A with the 10-day post-bloom treatment than in the untreated control. Although no affect was seen at the second site, this kind of result is not uncommon when working with plant growth regulator products in Michigan.
If orchards treated with ReTain consistently experienced the kind of increase in fruit set that we noted at site A, this practice would a sound financial investment by any Michigan farmer growing Bartlett pear. It is possible further work will further optimize the timing of the ReTain application to provide a more consistent increase in yields in Michigan Bartlett pear systems. This work will be expanded in 2019 and beyond to further examine this practice.