Cane burial: Buried (to stay) alive in southwest Michigan
A down-to-earth viticulture practice known as cane burial enables wine grape fruiting potential.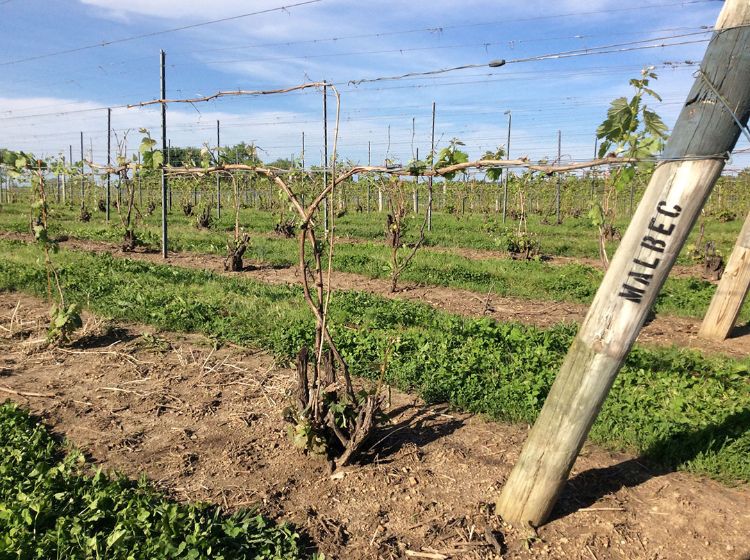 The viticulture practice of cane burial enables some of the most valuable, cold-tender ,wine grape cultivars to avoid complete vine die back and maintain fruiting potential, after widespread and severe grapevine winter injury in Southwest Michigan.
Across the state of Michigan, late January and early February 2019 brought very cold minimum temperatures. The Southwest region (Fennville and Lake Michigan Shore American Viticulture Areas) received the coldest statewide temperatures where a large portion of the state's cold tender wine grape production is grown. As a result, an estimated 90% of Vitis vinifera acreage was damaged to the trunk base with a smaller portion of acreage completely dead.
Fortunately, Wally Maurer, a knowledgeable and passionate grape producer of 'Domaine Berrien Cellars,' implemented cane burial last growing season as a method to protect his grapevines from winter injury, and ensure yearly fruiting potential. His efforts succeeded in protecting his crop and we were able to discuss the methodology of cane burial.
What type of grapevine winter injury has been observed in southwest, Michigan?
There are three distinct categories of winter injury and corresponding recovery processes required to resume pre-damage crop production of cold tender V. vinifera grapevines:
Where vines were fatally damaged, 0% normal crop production is expected this season, replanting and a 3- to 4-year vine-training period is required.
Where vines were severely damaged but still alive with shoots growing from the trunk base, 0-10% normal crop production is expected this season, and a 2- to 3-year vineyard recovery process is required, depending upon many factors. The majority of cold tender wine grape vineyards in southwest Michigan are in this category.
Where cane burial was implemented, 60-80% of normal crop is expected this season, and a 1-year vineyard recovery process is required.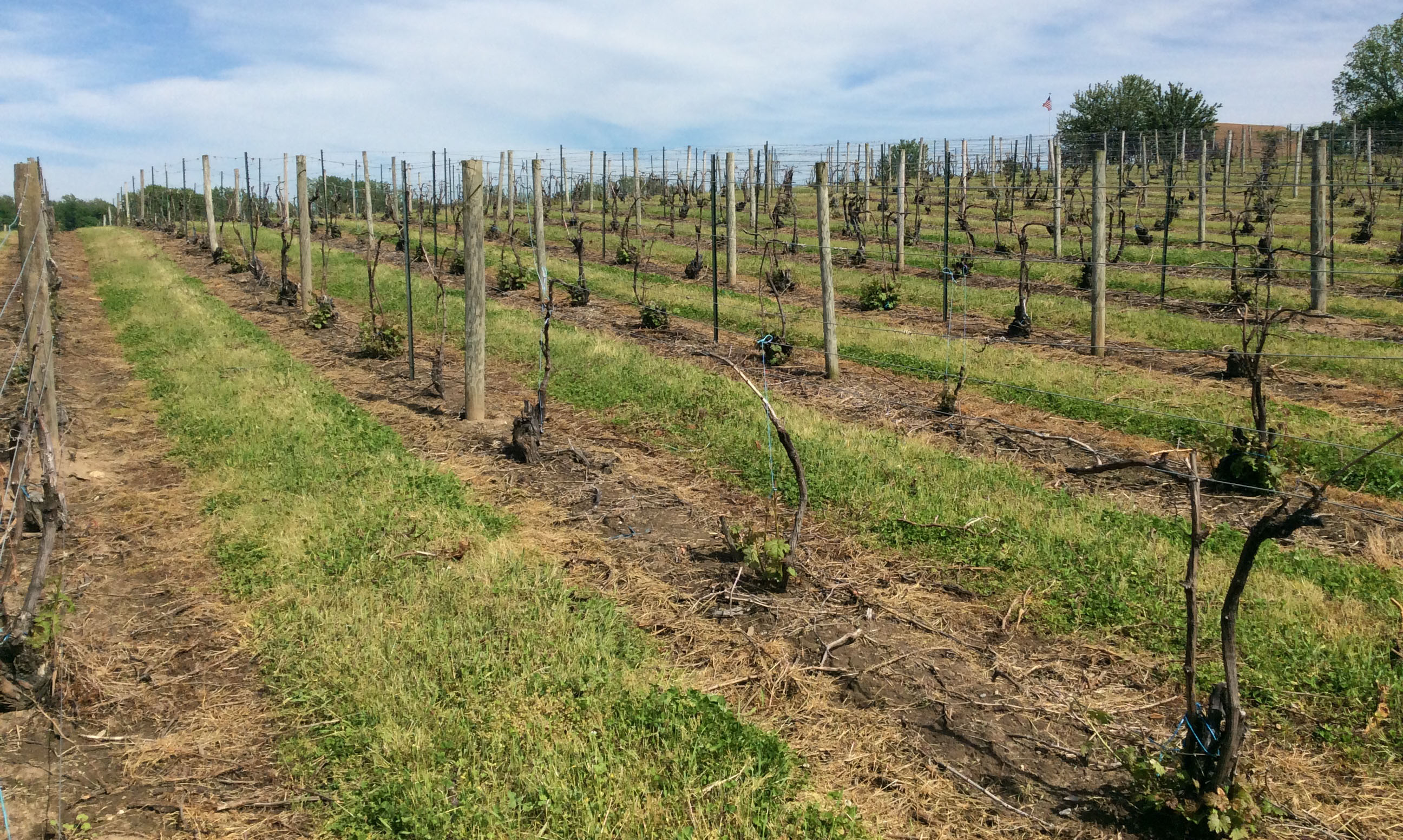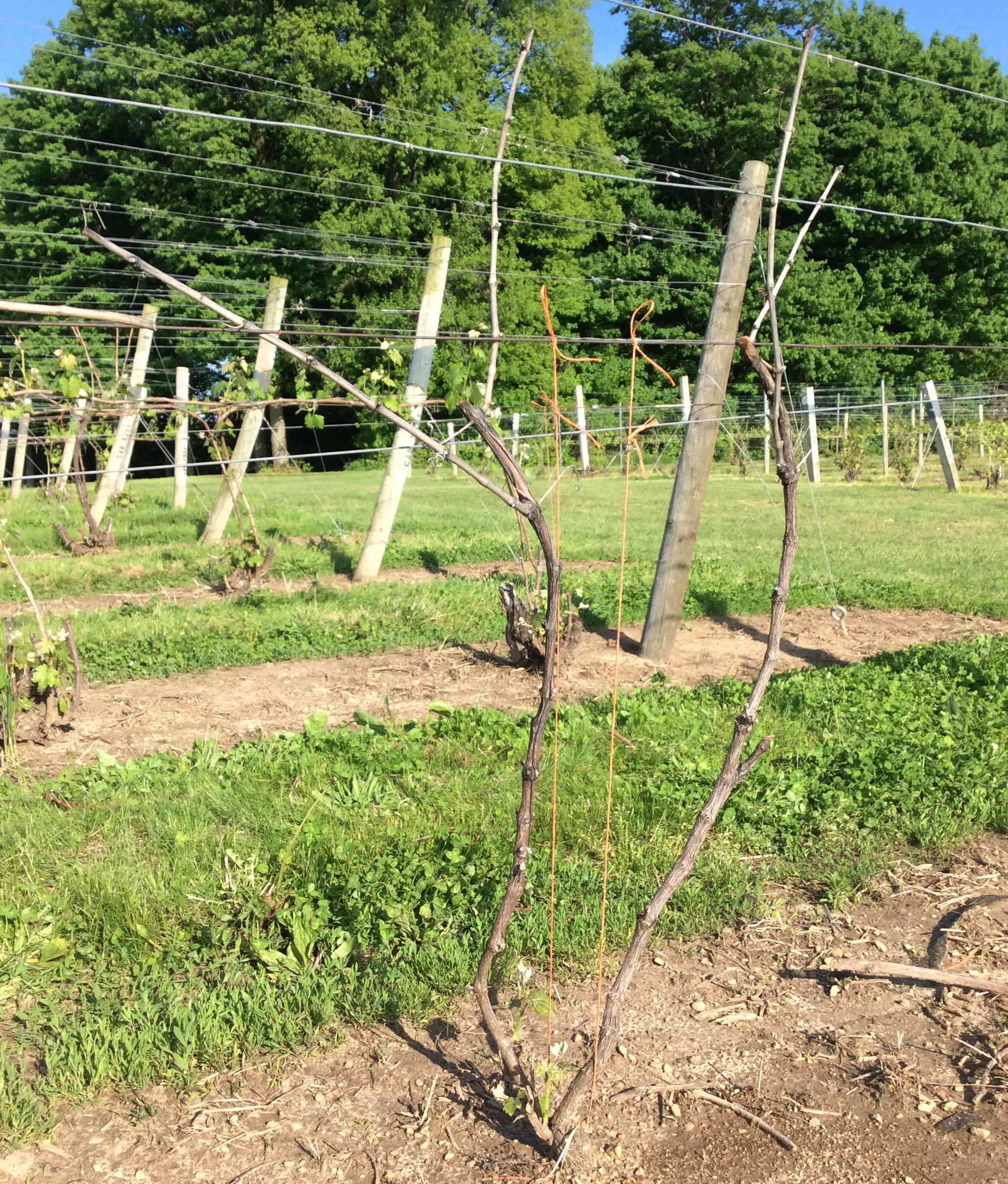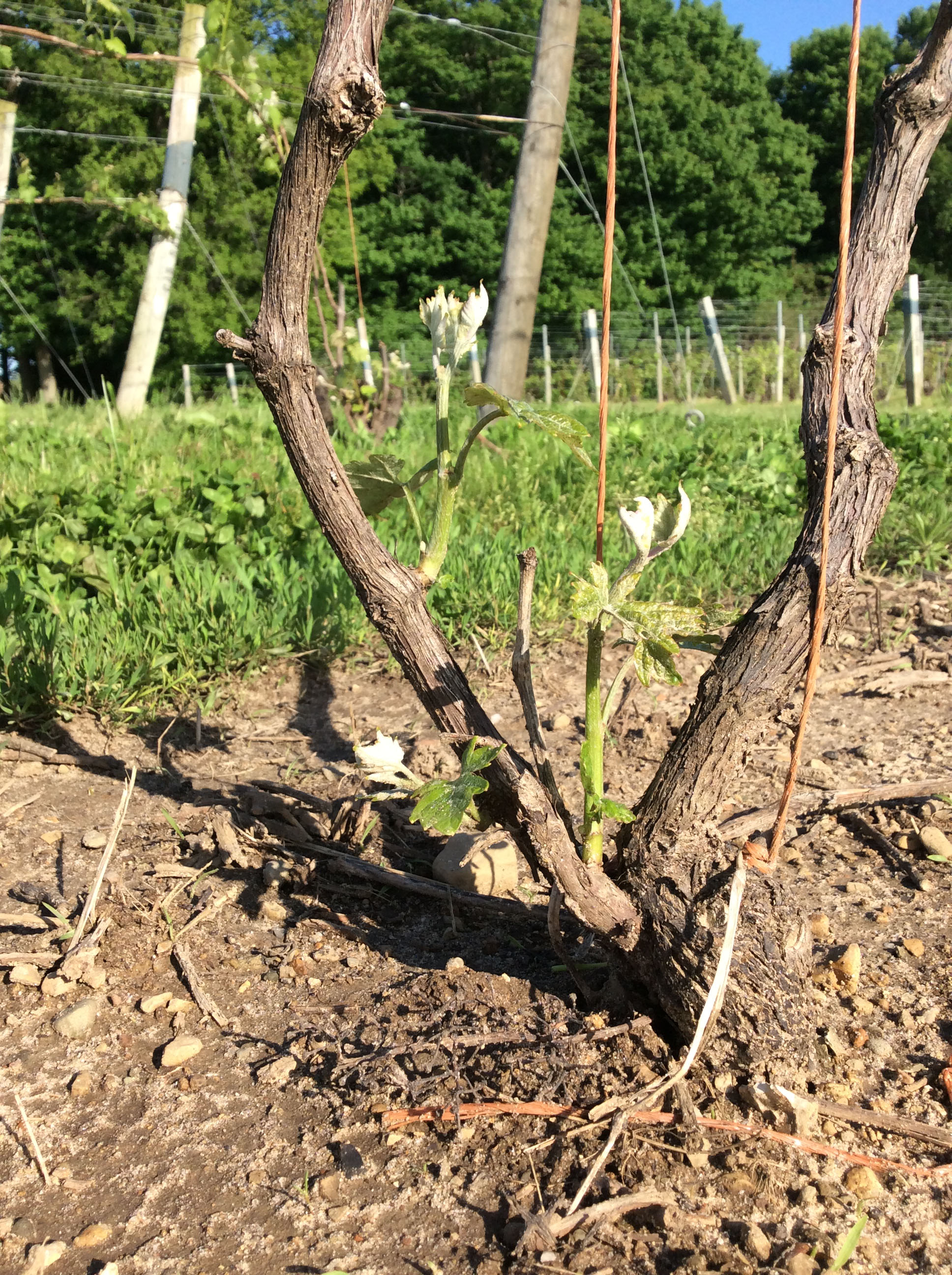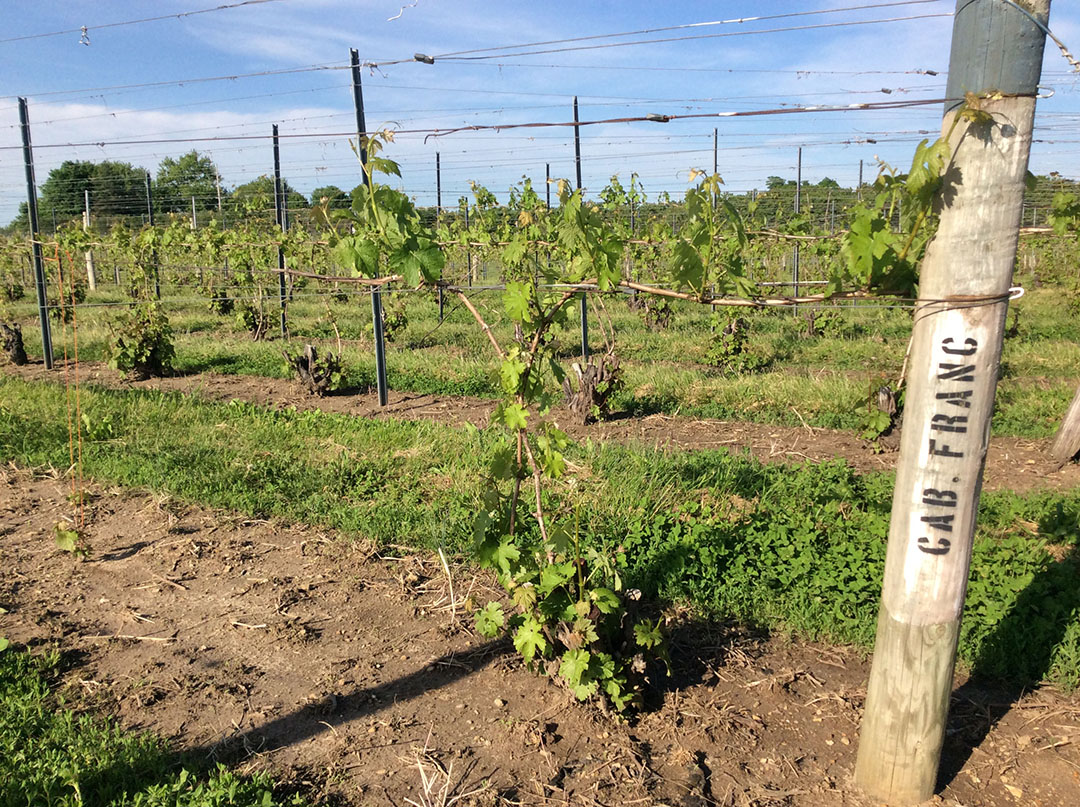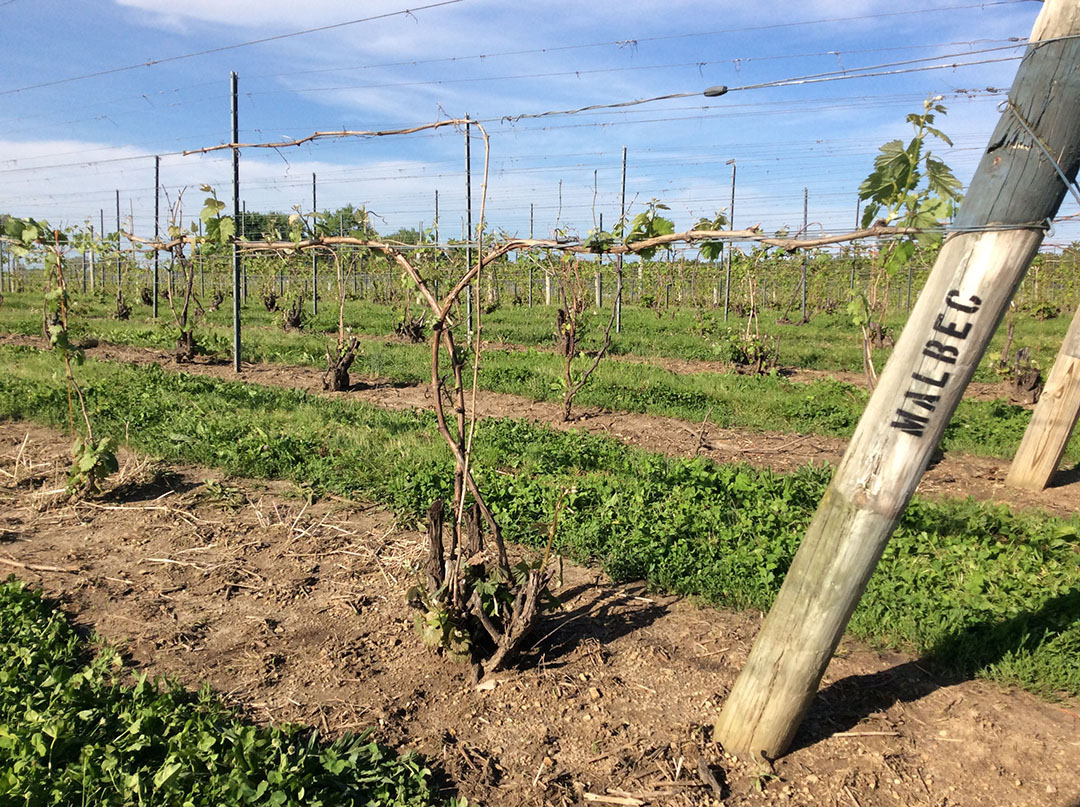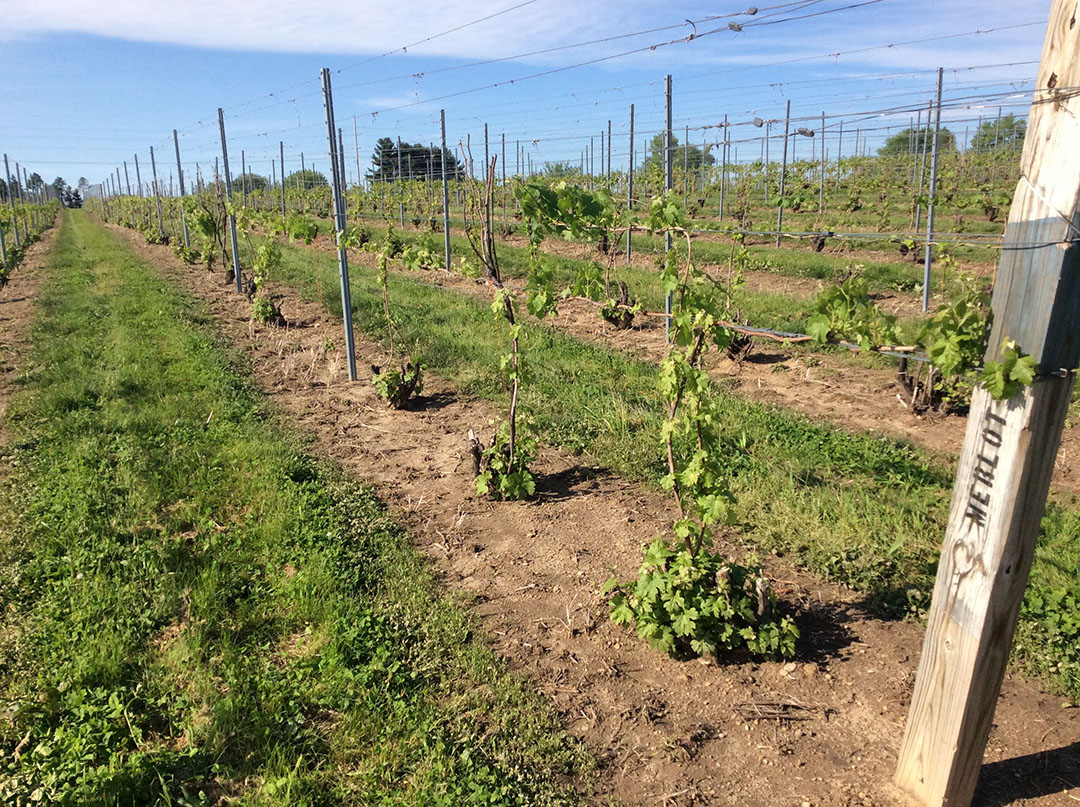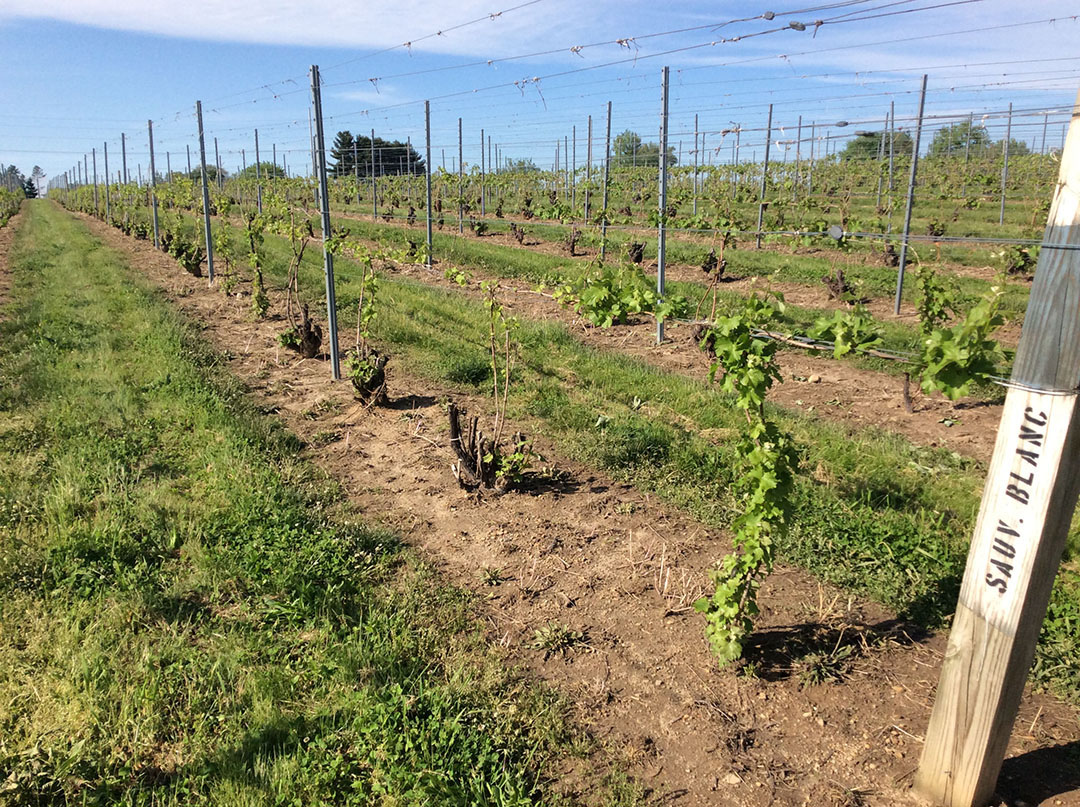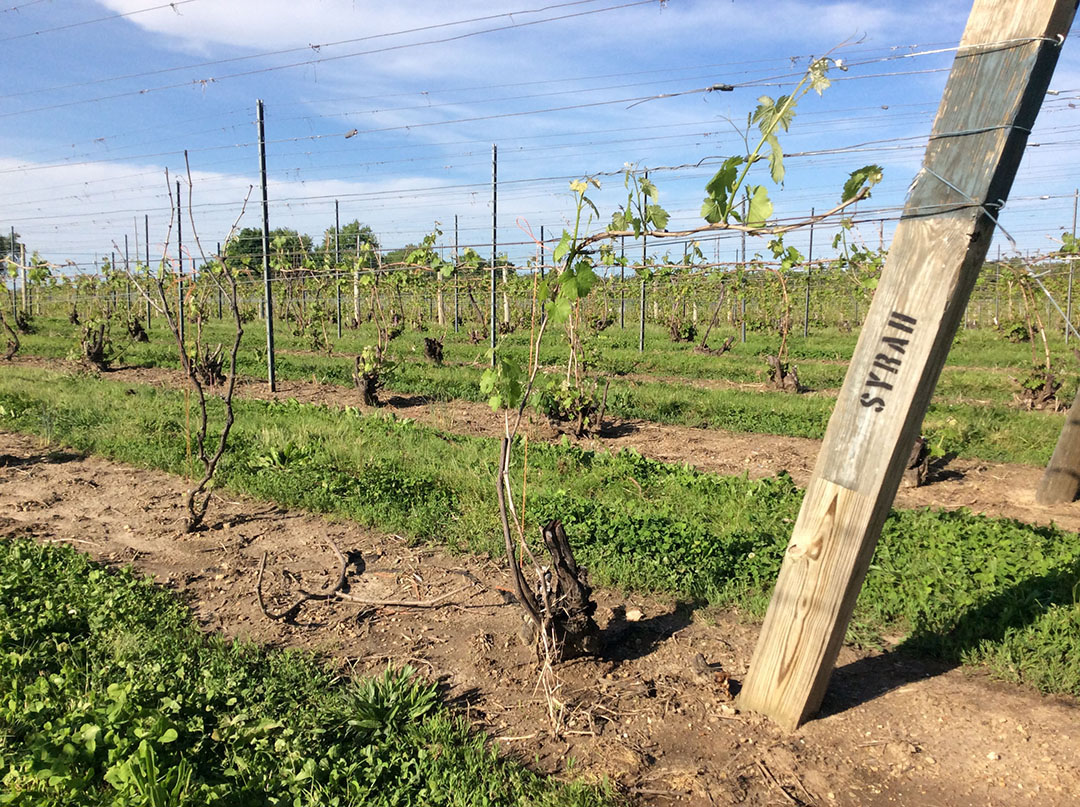 What is cane burial?
"The most important protective practice to avoid winter injury." – Wally Maurer
Cane burial is the practice of retaining extra canes originating from the trunk base and then burying the canes using an insulating material.
Why should a grower consider cane burial?
"To continue to produce estate grown grapes and wine, no matter what Mother Nature throws at us." – Wally Maurer
The grower should consider cane burial if the vineyard is located in a region that sustains winter injury once every three to four years, which includes the entire state of Michigan and other states in the Midwest. It more likely ensures vine survival and normal, yearly crop production even following severely cold and damaging winters. Buried canes avoid the freeze injury sustained by non-buried canes by trapping the earth's naturally radiating heat in the insulation material used. Also, buried canes have been demonstrated to express delayed bud and shoot emergence compared to not buried canes, which can keep the grapevine dormant until the frost threat has past.
How and when to do it?
"Select shoots in early spring, train shoots in the summer- keeping shoots outside the catch wires, fix canes to vineyard floor after fall harvest, and plow snow from the row middle onto the grapevine throughout the winter." – Wally Maurer
Cane burial is typically conducted by vertically training 2 shoots per vine during the spring and summer that originate from the trunk base, which then become canes in the fall.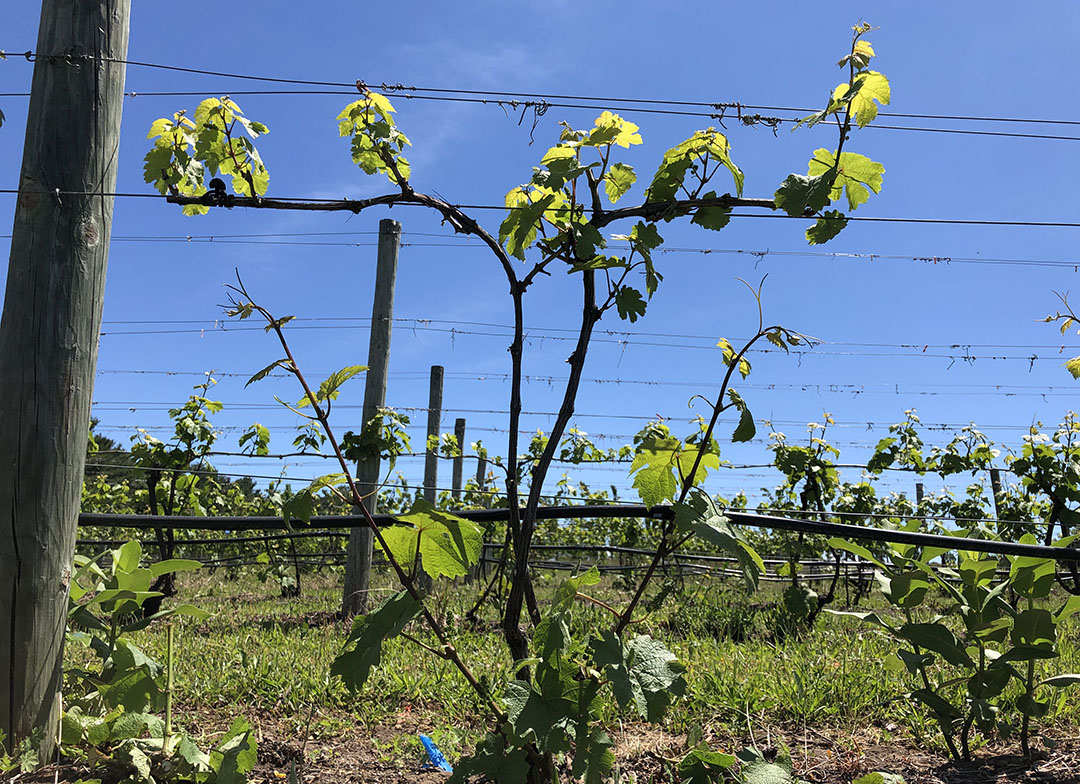 Immediately following harvest, the canes are laid down or fixed to the vineyard floor.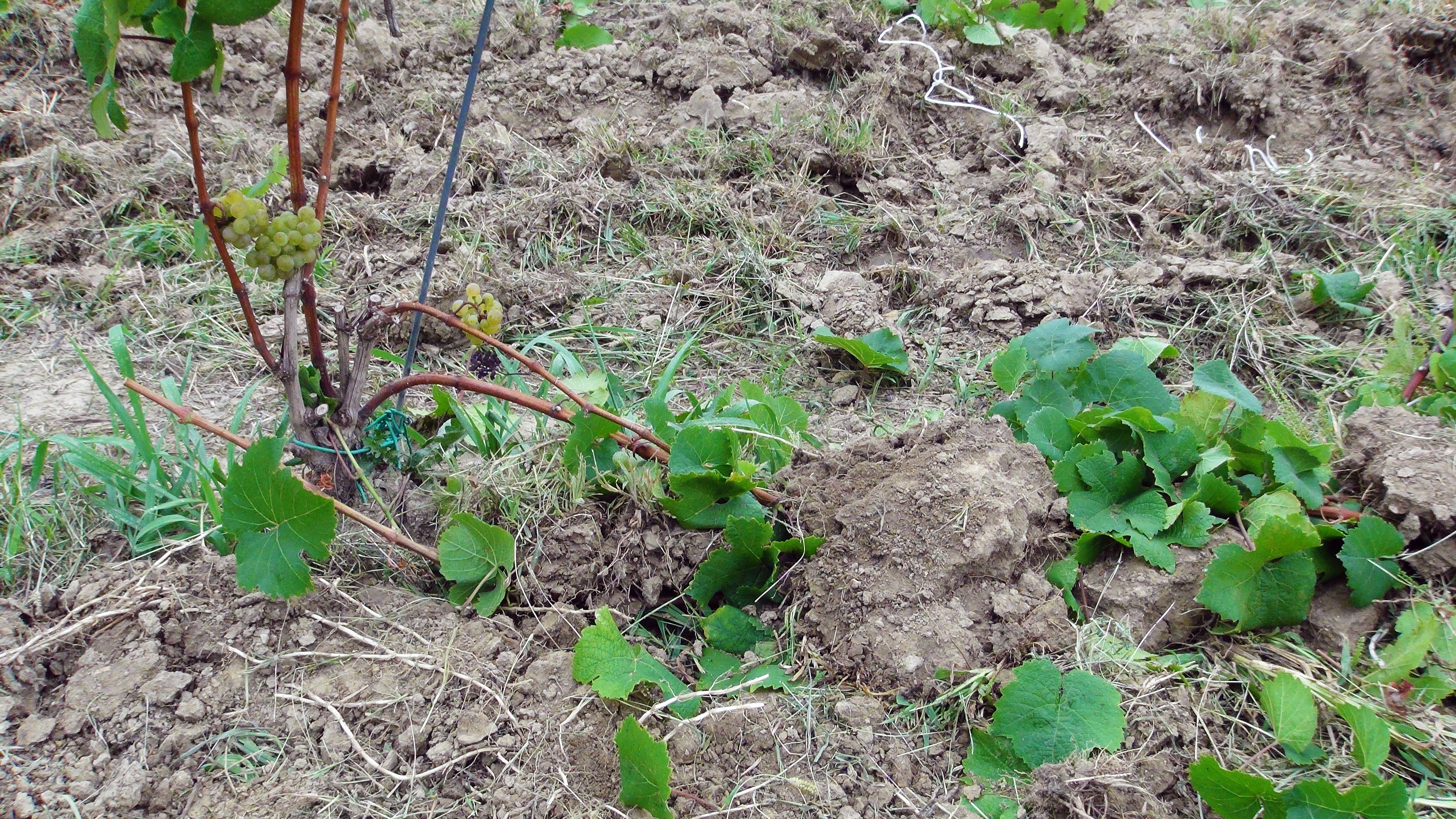 After canes are laid down, they are either completely buried or hilled up with soil, snow, straw, hay or a combination.
What are the main limitations of cane burial?
Ideally, naturally occurring snow is the least expensive type of vine protection.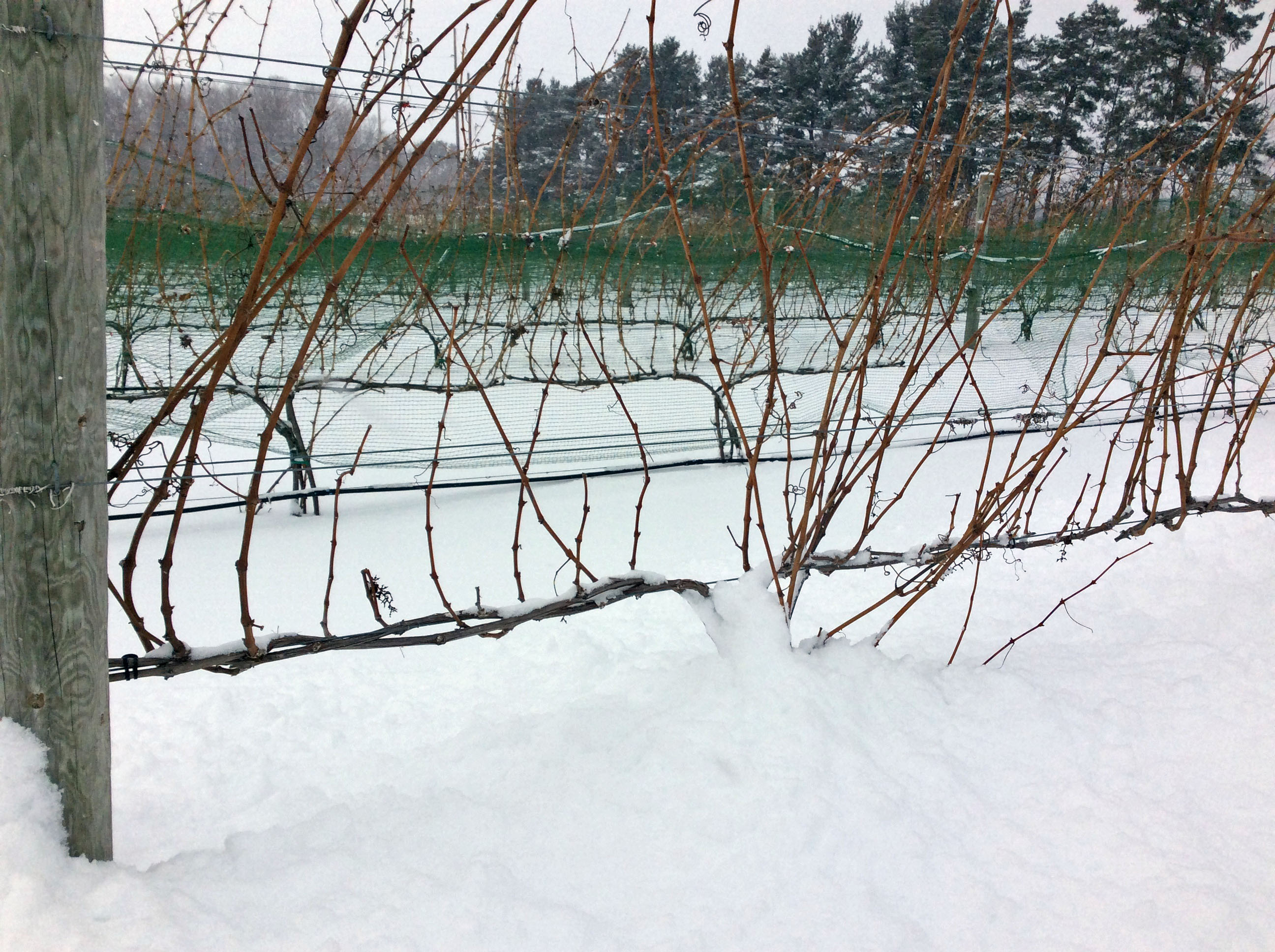 However, some areas may not have enough reliable snow cover to facilitate cane burial using only snow so soil, straw, hay or a combination can be used. Although soil is "free" to use in the vineyard, burying canes using soil, often called "hilling-up," is a relatively more invasive practice than all other options as it disturbs the ecosystem below the soil and may increase erosion.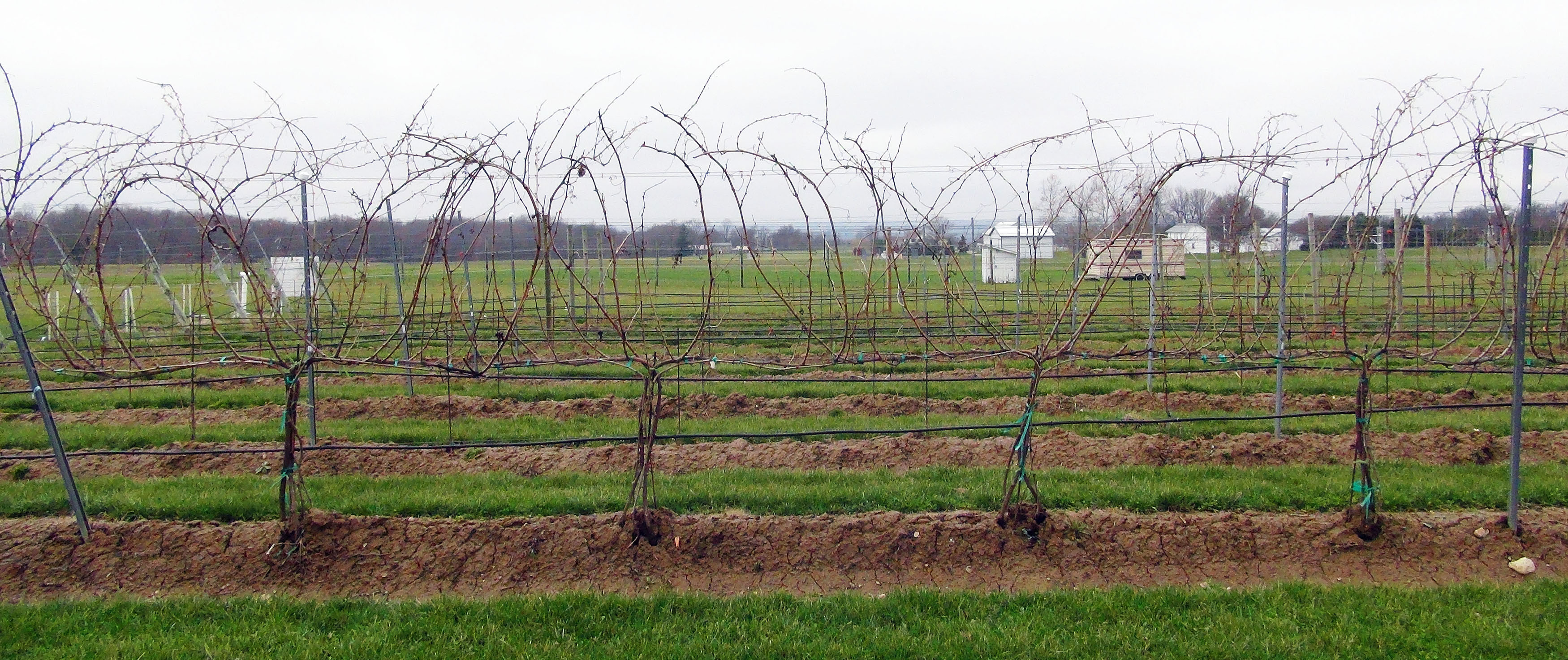 Straw or hay application is not as invasive as soil hilling, but has additional costs that need to be evaluated by the grower. As for the impact on the grapevines, buds on buried canes may show "blind nodes" (buds that do not produce a shoot) and can be less productive with fewer clusters compared to buds on not buried canes. Cost is a limitation with typical extra costs per acre for cane burial being $400 to $500 (reported in the Finger Lakes Region).
Summary
For those interested in conducting cane burial, now is the time to maintain two shoots per vine located low on the trunk base. Cane burial is a practice that requires shoot selection in the spring; shoot training in the summer, cane placement and burial in the fall, coverage maintenance throughout the winter, and cane removal the following spring. This year-long practice can be expensive and time consuming, but with three of the last six winters bringing damaging winter temperatures, cane burial may, by necessity, be a practice Michigan growers can rely on to avoid replanting and retraining costs, and maintain consistent yields.