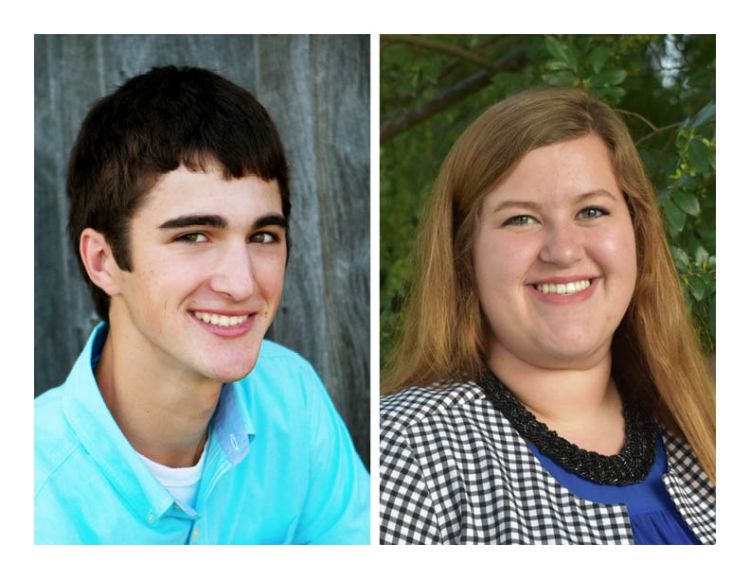 EAST LANSING, Mich. – Two Michigan State University (MSU) students have been selected as the 2018-19 recipients of John and Barbara Dilland Scholarships awarded through the Michigan Dairy Memorial and Scholarship Foundation, Inc. (MDMSF) at MSU. Lauren Heberling, of Carsonville, Mich., and Darren Kulicamp, of Coopersville, Mich., were chosen based on their academic achievements, involvement in extracurricular activities and interest in pursuing a career in the dairy industry.
Heberling currently works as the editor of Creed Magazine for the Michigan Future Farmers of America (FFA), and she worked previously at Gar-A-Mark Dairy Farm as calf manager. Most recently, Heberling was a marketing intern at the Michigan Milk Producers Association's (MMPA) cheese plant in Middlebury, Indiana. Her outstanding accomplishments include serving as Michigan FFA State Reporter in 2016, being selected as the Michigan Sugar Queen First Runner-Up in 2017, and participating in the National Collegiate Farm Bureau Discussion Meet Final Four in 2018. At MSU, she stays busy with her involvement in the MSU Dairy Club, Collegiate Farm Bureau, and Sigma Alpha.
"Looking forward to life after college, I am extremely hopeful that my career will include both marketing and dairy," Heberling said about pursuing her passion to create solutions for the many challenges facing dairy producers today. "I know that while my future will most likely not include going back to my family's farm, it will definitely include involvement in the dairy industry, whether it be through sales, marketing, or one of the many other careers our dairy industry has to offer."
Kulicamp is entering his second year at MSU, where he is involved with the MSU Dairy Club, Block & Bridle Club, and Collegiate Farm Bureau. Kulicamp has spent time working at Dream Winds Dairy, L.L.C. and K&H Grain, L.L.C. to gain more experience in the industry. In the future, he plans on pursuing a career in dairy sales and aspires to run a part-time farming operation with his family.
"I would like for my career to focus on the dairy side of things, not only because it is a keen interest of mine or that it would keep me busy close to home, but more importantly, I see a great potential for growth in Michigan's dairy industry," Kulicamp said. "Personally, I see the most potential for growth in the 21st century in technology, such as robots."
The $4,000 John and Barbara Dilland Scholarship is named in honor of John Dilland, former controller, director of finance, and general manager for the Michigan Milk Producers Association (MMPA), and his wife, Barbara. Over the course of John's 35 years of service and leadership, he represented the Michigan dairy industry on several national organizations: National Council of Farmer Cooperatives, the National Milk Producers Federation and the Innovation Center for U.S. Dairy. In Michigan, he serves on the board of directors for the Michigan FFA Foundation and the MDMSF. The award is presented to an MSU sophomore, junior, or senior student majoring in the field of agribusiness management.
The Michigan Dairy Memorial and Scholarship Foundation awarded $100,000 in scholarships to 25 MSU students pursuing dairy industry-related programs of study for the 2018-19 academic year.
For information about making contributions to honor members of the dairy industry or to support student scholarships, please contact the MSU College of Agriculture and Natural Resources External Relations at 517-355-0284. To learn more about the MDMSF, contact Dr. Miriam Weber Nielsen in the MSU Department of Animal Science at 517-432-5443.