Central Michigan field crop regional report – May 2, 2013
Favorable soil conditions in central Michigan set the stage for optimal yields.
Weather
Areas of the region received up to 1 inch of rain over the past week further delaying planting. Soil temperatures are improving with mid-day readings in the mid- to upper 50s on untilled soils. Growing degree day accumulation is about 10 days behind normal.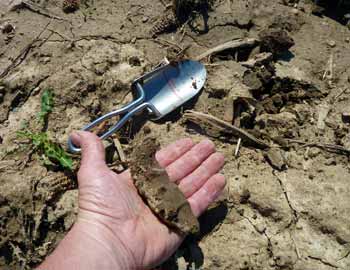 The excessively wet conditions so far this spring has many growers concerned about timely planting in good soil conditions. Preparing a good seedbed is the first step in optimal yields. If you are looking to test soil conditions, take a trowel and dig into the soil 2 to 4 inches. Take a handful of this soil and squeeze it into a ball. If a ball is formed rather than crumbling, soil moisture is too high. You could also squeeze the soil between your thumb and forefinger. Soil should crumble between your fingers. If it forms a ribbon, it' too wet for tillage.
Planting before soil conditions are more favorable can cause sidewall compaction and uneven emergence. Corn and soybean roots do not develop and have a difficult time penetrating compacted soils. When roots are unable to penetrate the soil, nutrient and water uptake are limited, thus limiting yield potential. We are still within the planting window for good yields.
Commodity reports
Wheat is in Feekes 3-5 with fields greening up quickly with the warmer weather this week. The warmer weather and good growth will allow the opportunity to better assess the stands. There are a number of fields that have large areas that have drowned out. It appears that the earlier planted fields have been able to handle the adverse conditions than the later planted fields. Weeds are growing rapidly, so scout fields and plan for timely herbicide applications. We expect some fields to be abandoned and planted to a row crop.
Alfalfa is experiencing rapid growth and is 4 to 6 inches. The crop had very little winterkill, but low lying areas that were under water have been drowned out. There has been some planting of oats and alfalfa seedings on well-drained soils. Planting will proceed as field conditions allow.
There have been a few acres of corn and soybeans planted on sandy, well-drained soils. Waiting for more favorable planting conditions will improve your chances for optimum emergence and plant populations. These are all necessary for optimum yields.
Follow crop progress and pest updates throughout the growing season from Michigan State University Extension.
Other Michigan State University Extension field crop regional reports from this week:
Photo credit: Paul Gross, MSU Extension