Central Michigan vegetable regional report – July 15, 2015
Rain showers maintain adequate moisture throughout the region.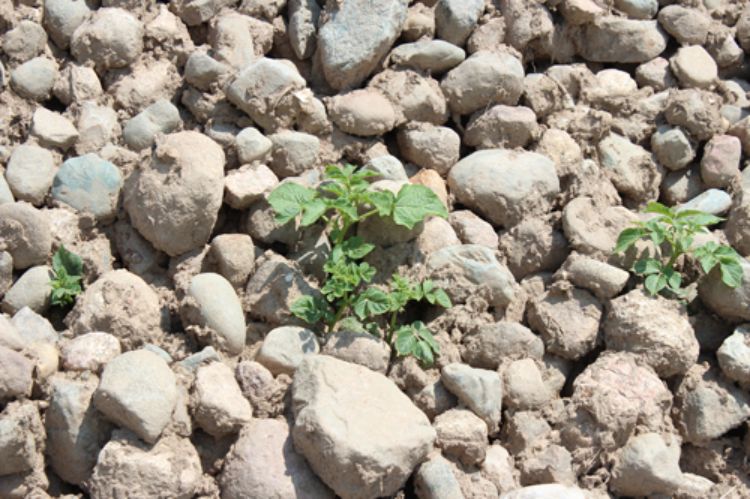 Weather
Air temperatures are seasonable for July with highs in the upper 70s to low 80s in Entrican, Michigan. Low temperatures ranged from 53.1 to 62.6 degrees Fahrenheit for the week. Average relative humidity levels have been ranging from the low 70 percentages to the upper 80 percentages. Rainfall totals for the week were variable with most areas receiving an inch or more.
Crops
Potatoes are variable in growth stage depending on planting date. Hilling and cultivation is generally complete. Early harvest of table stock potatoes has begun on a limited basis for farm market sales. Early harvest of chipping potatoes is not expected until early August. Fungicide applications are being made by growers on a seven-day schedule for the prevention of late blight. Volunteer potatoes continue to be a concern as are potatoes emerging from rock piles.
Tomatoes continue to set fruit. Early blight symptoms have been observed in some plantings. Growers of all field sizes should be applying preventative fungicides to tomatoes. Even though we have not found late blight in Michigan as of July 15, weather conditions are favorable and the risk is elevated this season due to the prevalence of the disease last season and the number of volunteer potatoes in the area.
Monitoring the nitrogen status of sweet corn continues to be important given the weather conditions of the previous few weeks and the potential to have lost nitrogen. If tissue sampling, it is important to sample the ear leaf before pollination begins.
Planting of pickling cucumber is ongoing. Downey mildew is the largest concern currently in pickling cucumber. All growers in the area should be on a preventative fungicide spray schedule. See Michigan State University Extension plant pathologist Mary Hausbeck's recent article, "Downy mildew on cucumbers detected in key areas of Michigan."
Root rots are notable in many snap bean and dry edible bean fields this season. Manage fields with significant root rot to promote growth of the lateral root systems. This includes improving drainage where necessary and using extra caution in scheduling irrigation to provide adequate yet not excessive moisture later this season. Also, limit cultivation between rows so as to not prune the lateral roots.
Summer squash harvest (yellow neck and zucchini) is ongoing with good yields reported.
Insects
Colorado potato beetles can be found in all life stages. Summer adults are beginning to emerge. Potato leafhopper adults and nymphs are present in many susceptible crops, but generally in low numbers. Japanese beetle adults continue to emerge.
Western bean cutworm flight has begun with low numbers of moths being caught in several traps this week. This will be a concern for sweet corn growers in central and west Michigan in particular.