Cereal rye varieties grown in Michigan show substantial differences in growth habit, yield and quality for distilled spirits
Growers and distillers can use this information to select the best rye varieties for Michigan.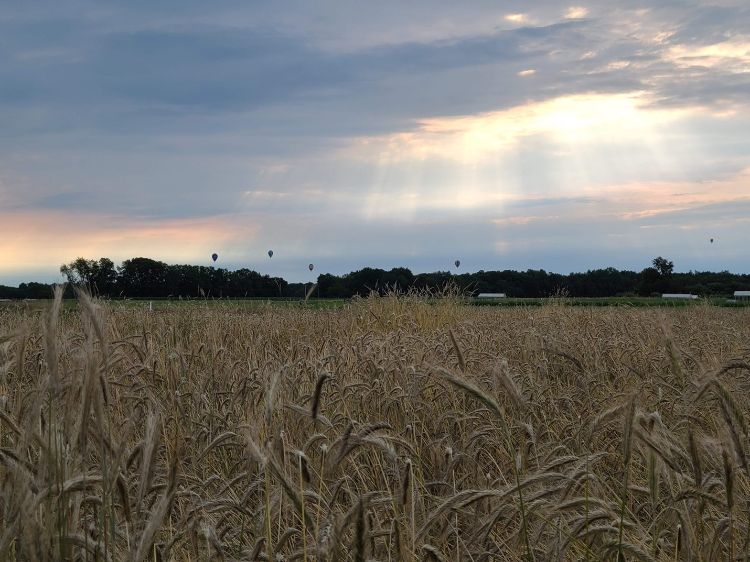 A team of scientists at Michigan State University has been evaluating over 20 cereal rye varieties at three different locations since the fall of 2019 to determine what varieties are best suited for end use in distilled spirits. The Michigan Craft Beverage Council provided funding for the project, and distilling partners across the state provided priceless support through advice on trends and information needed within the industry. A report is now available summarizing two years of trials, including data collected on in-field characteristics such as heading date, lodging, height and biomass yield, as well as grain yield and quality metrics important to the distilling industry. These quality parameters included test weight, percent protein, spirit yield and flavor markers in the raw grain (ferulic acid) and distilled spirit (4-vinyl guaiacol, or 4-VG). The two videos below were produced during the project period to highlight this research.
In all years and locations, there was at least a three-fold difference in grain yield between the highest and lowest yielding varieties. Hybrid rye varieties produced and marketed by KWS typically produced the highest yields while open pollinated varieties typically marketed for cover crop purposes (e.g., Wheeler) produced the lowest yields. Other open pollinated varieties such as AC Hazlet and ND Dylan marketed for dual purpose produced yields that were close to the average of all varieties. A couple of varieties (FL 401 and Merced) sourced from southern locations did not survive winters in the Upper Peninsula and exhibited different growth characteristics that resulted in earlier spring emergence and heading dates, but typically low yields compared to most other varieties.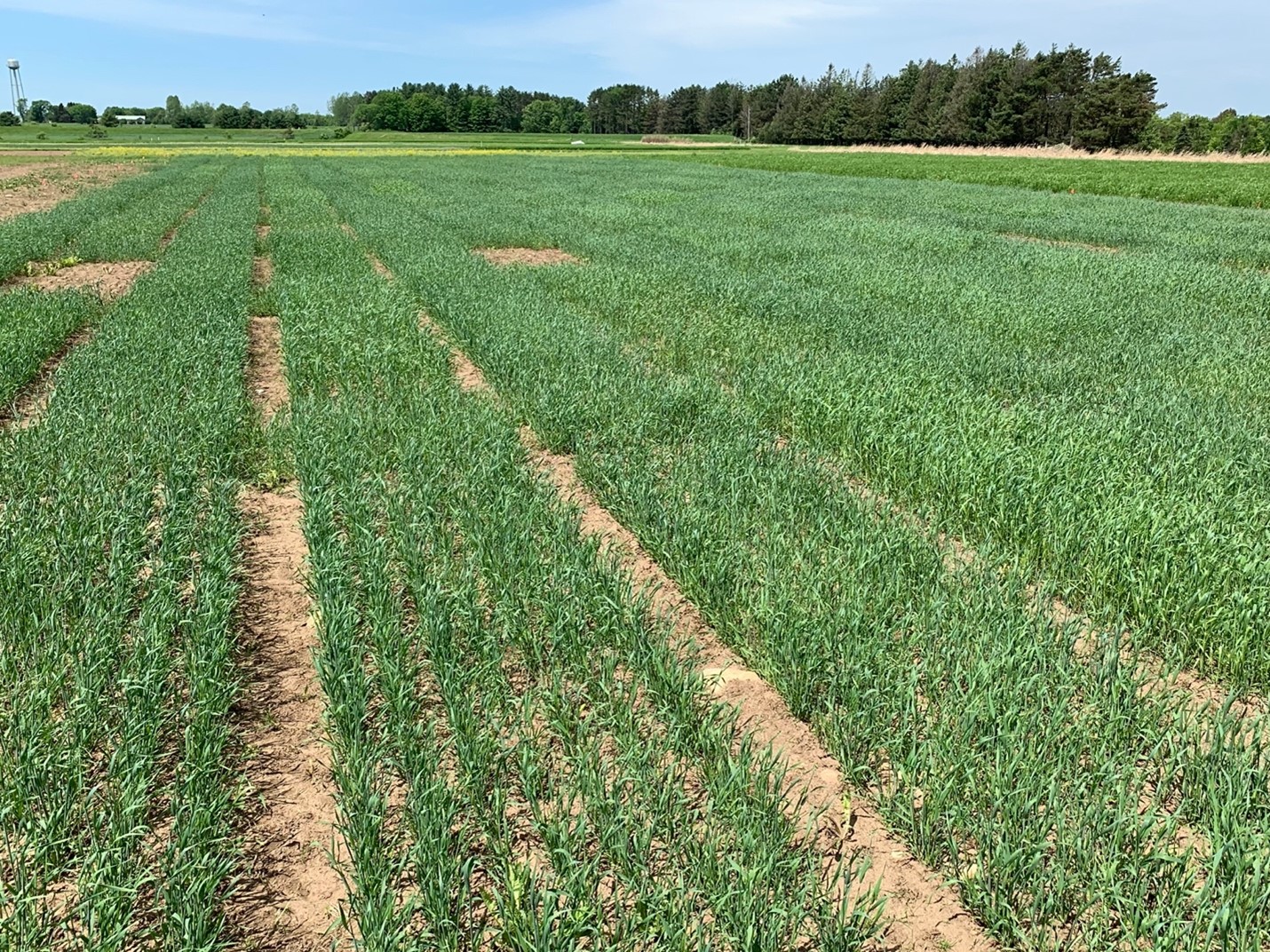 In distilled spirits, rye grain quality is crucial for spirit yield and flavor. Spirit yield from individual variety/locations ranged from 327 to 387 LAA/tonne, with higher yielding varieties tending to also have higher spirit yield during distillation. Spirit yield was negatively correlated with grain protein content, which resulted in a wide range across varieties within locations (e.g., 8.2% to 15.1% protein in 2021 at the Upper Peninsula site). Flavor compounds such as 4-VG varied across varieties, locations and years, which lends evidence to the terroir hypothesis that varieties, locations and weather all play a role in grain/spirit flavor.
A positive correlation between ferulic acid and 4-VG was also observed in the 2021 dataset (r2=0.67). Wheeler was consistently at or near the top of the variety list for 4-VG concentration at all locations in both years, indicating that Wheeler may be a good choice for spirit producers looking for a variety that produces a spicy character in the finished product.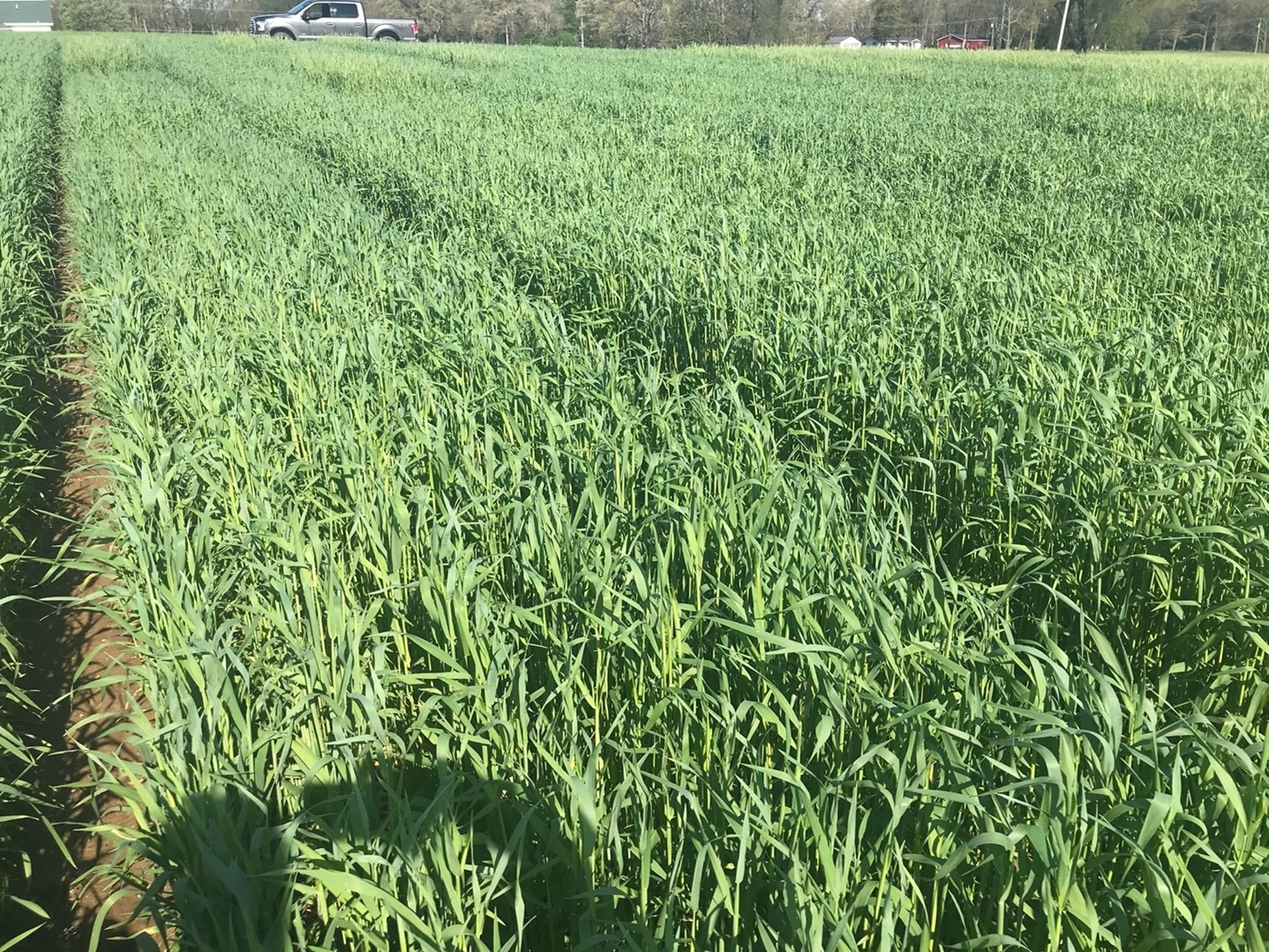 Avoiding mycotoxins resulting from Fusarium spp. (vomitoxin) or Claviceps purpurea (ergot alkaloid) infection is also a priority for rye grain production. We did not observe substantial contamination from mycotoxins at any of trial locations, and thus were not able to determine if some varieties exhibit more resistance than others.
Heading date and total plant biomass are important traits when considering planting these varieties as cover crops or for forage harvest. Aroostook is a variety that is commonly marketed as early to head, and thus able to be terminated using mowing or roller crimping earlier than other varieties. Our trials confirmed this trait for Aroostook, but also observed similar early heading dates for FL 401, Merced, ND Gardner, Maton, Elbon and Wrens Abruzzi. Aroostook was also near the top in total biomass production, but ND Gardner was the top biomass producer in both the Upper and Lower Peninsula in the 2021 trials.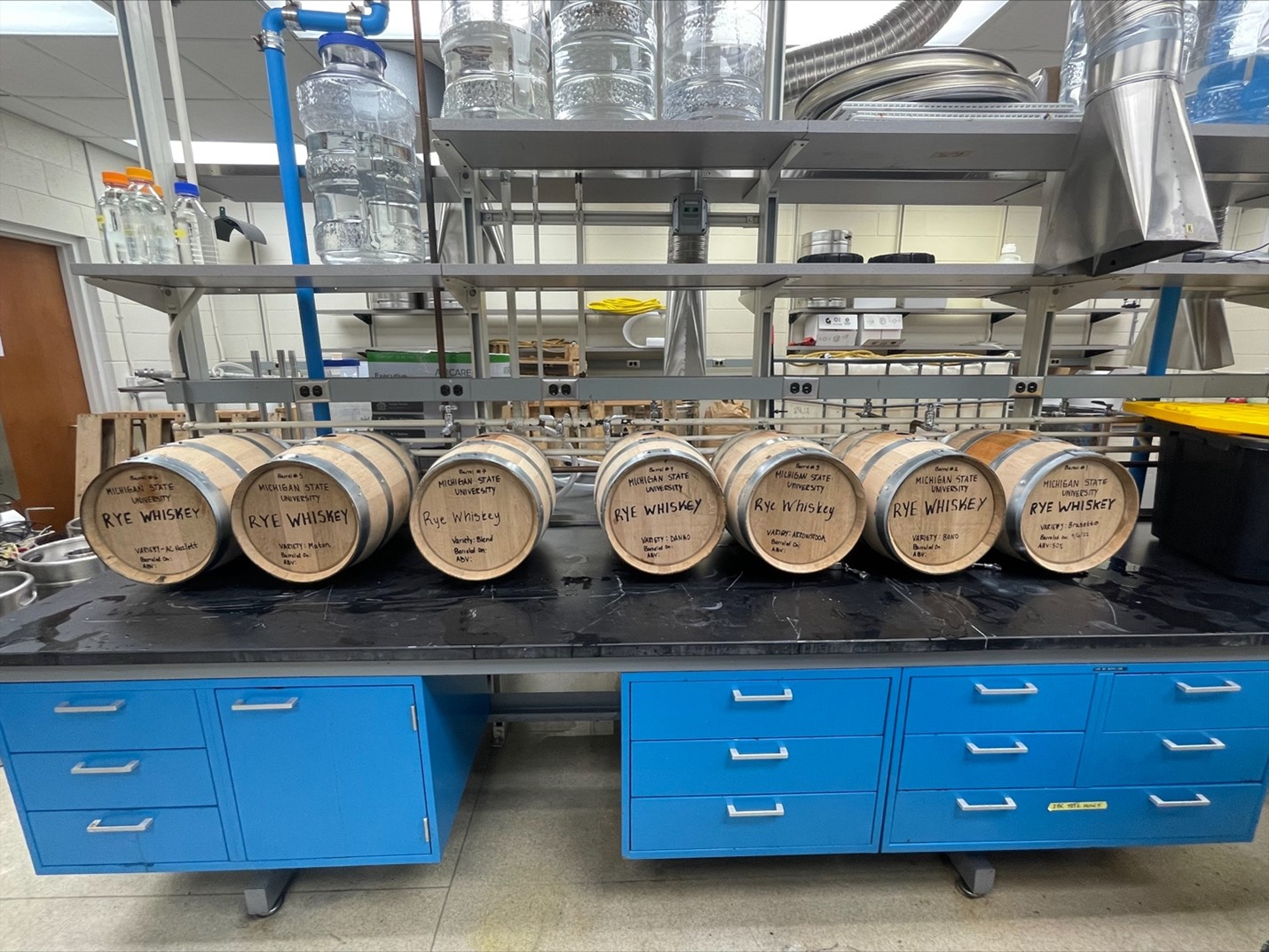 The next steps in this project are to produce a subset of these rye varieties in larger quantities at multiple locations to facilitate higher volume spirit production. That will allow professionally trained tasting panels to evaluate specific flavor profiles of unique varieties grown in different locations. The research team is very appreciative of support from the industry and is excited to share those findings once available and encourages interested stakeholders to reach out with any questions about the project.