Changing climate in Bering Sea makes policies more urgent, complicated
Arctic climate changes are affecting the gateway between the Arctic Ocean and the Bering Sea, setting up scenarios for conflicts between people and wildlife.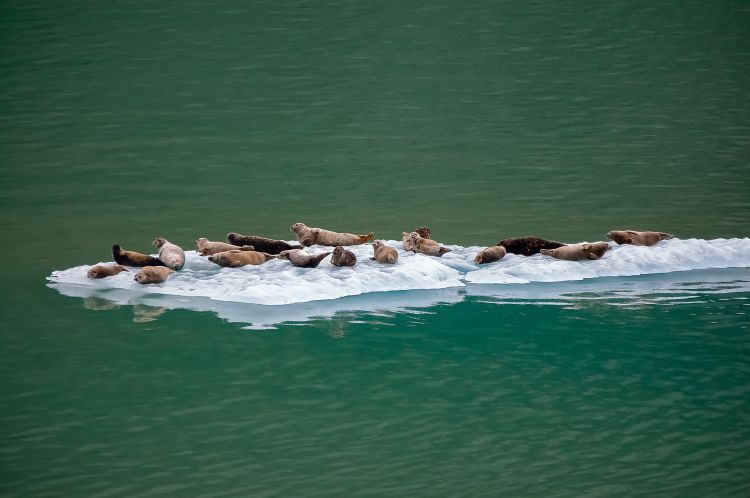 The edge of a northernmost global gateway is a front row seat to epic change. The people who live near the Bering Strait or cruise through on ships, and the wildlife there, will shoulder climate change together.
For better or worse.
Scientists at Michigan State University's Center for Systems Integration and Sustainability (CSIS) and the University of Alaska in Anchorage and Fairbanks explore the changes climate is bringing to the Bering Strait region. Their work "Global Gateways as Telecoupled Human and Natural Systems: The Emerging Case of the Bering Strait" is published in this month's Ambio, the journal of the Royal Swedish Academy of Sciences.
Sea ice that once covered the passageway between the Arctic Ocean and the Bering Sea from October to May now appears as late as mid-December. That ice shapes the movement of vessels carrying traded goods, tourists, and hunters, as well as the movements of marine animals such as walruses, seals, whales, and polar bears. Not only does the area hold strong value for both people and wildlife, but its changes can also upset balances which can lead to human-wildlife conflicts, such as vessels striking marine mammals or disrupting migration or breeding patterns.
"As our planet changes, the impacts will be felt near and far," said Jianguo "Jack" Liu, MSU Rachel Carson Chair in Sustainability and CSIS director. "Analyzing global gateways as telecoupled human and natural systems will be critical to help shape sustainability policies addressing global challenges and opportunities."
The Bering Strait, like many Arctic regions, faces a multitude of challenges – costly management and development, geopolitical tensions, harsh climate conditions, jurisdictional conflicts, lack of infrastructure such as deep-water ports, limited search and rescue operations and shallow waters. Key findings of the paper:
Even though total vessel activity in the Bering Strait region is relatively modest, current levels of shipping are still having noticeable effects on the Indigenous communities and marine mammals in that area.
Preventative measures, such as managing where marine traffic activities take place and real-time vessel monitoring, have the potential to help avoid or mitigate the negative effects of increased traffic in the Bering Strait region.
Ensuring balance between managing the livelihoods of Indigenous communities, sustainability of marine ecosystems, and economic development creates complex layers to governance and policy.
Currently, there are many bilateral and international agreements between agents in the Bering Strait region. These agreements have varying purposes - deter pollution, increase navigational safety, protect threatened or endangered species, or involve Indigenous views and management methods. However, Indigenous voices and traditional knowledge are still largely lacking from the creation of many of these policies.
"With the dynamic state of the world's ecological, geopolitical, and socioeconomic realms, it is important to consider their components and interconnections when determining where impacts are originating, or how they are possibly being amplified by distant causes," said first author Sydney Waloven, a PhD student in MSU-CSIS.
In addition to Liu and Waloven, the paper was written by Kelly Kapsar and Andrés Viña of MSU, Jennifer Schmidt and Matthew Berman at University of Alaska Anchorage, and Tobias Schwoerer at University of Alaska Fairbanks.
The work was supported by the National Science Foundation Grant No. 2033507 and MSU AgBioResearch.