Chemical spills: Build a simple spill kit at home
Being prepared before a spill occurs protects you, your family and helps safeguard Michigan's water resources.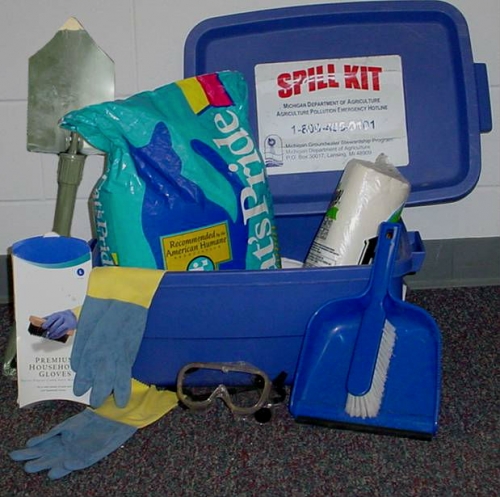 Do you store hazardous chemicals (e.g. pesticides, fertilizers, etc.) somewhere in your home or outbuildings? If you do, you should be ready in case you ever face a spill. A spill kit is a must-have around the home so you are ready to act quickly to control, contain and clean up a chemical leak or spill.
A spill kit contains items that are easy to find, and when assembled together in one place, can assist in the safe clean-up of dry or wet spills. Here are the key components that make up a spill kit:
Plastic storage tote
Conveniently holds and stores spill kit materials in one spot. Clearly label the outside of the kit, "Spill Kit" so that you can easily find it if you need it.
Safety goggles
Protects eyes, one of the most sensitive areas of the human body, from chemical exposure.
Unlined, chemical-resistant gloves
Be sure these gloves are made out of nitrile to ensure maximum protection against chemicals. Kitchen gloves often used when washing dishes are not chemical-resistant, nor are work gloves made out of leather. Gloves should not be lined to prevent chemicals getting trapped inside the lining, potentially allowing the substance to be in direct contact with skill causing serious injury.
Broom and dustpan
Can be used to easily sweep up dry spills.
Garbage bags
To easily handle leaky or spilled material.
Absorbent material such as cat litter, oil absorbent, activated charcoal or sawdust.
These materials help soak up liquid spills so they can be swept up and disposed of properly.
Emergency telephone numbers
Depending on the type and extent of the spill, you may not be able to deal with the spill safely. Have emergency numbers readily available if needed.
For more information on preventing environmental contamination risks in and around the home, an excellent resource is the Home*A*Syst Guide (WQ-51), available through the Michigan State University (MSU) Extension Bookstore.
Should a spill occur, see the article "Chemical spills: Take quick action to avoid injury" for information on how to effectively put your spill kit to use.