Choosing pictures to be included in a portfolio
Including photos in your portfolio can visually demonstrate your skills. Check out these ten tips for helping youth select pictures for an employment or career portfolio.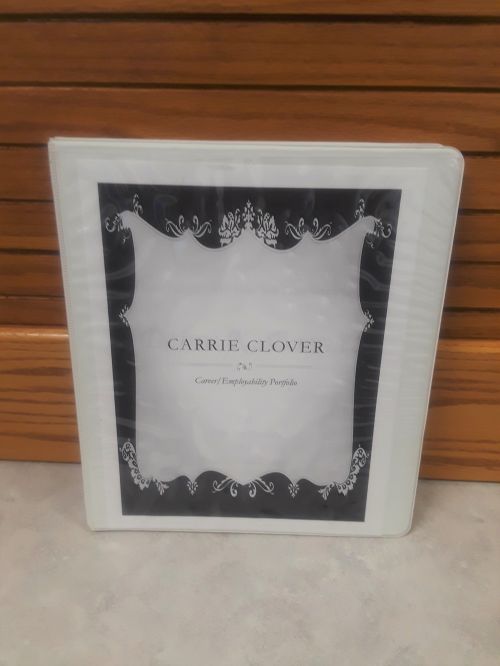 An employability or career portfolio is a collection of exhibits that demonstrate your skills and achievements. In Michigan, you will also see the term talent portfolio. A portfolio is a valuable tool in your job hunt toolbox to show potential employers some of your skills and accomplishments. For Michigan students, the Michigan Department of Education's Career Development Model, revised and released in December of 2018, includes the expectation of a portfolio as one of the K-12 mandates. Whether presented in a tangible three-ring binder or online, it is important to think about what you include, such as the pictures.
Although pictures are part of a portfolio, a portfolio should never be confused with a picture album or scrapbook. Albums and scrapbooks hold memories. Portfolios are used as a tool to help you land a job or build a career path. People in the U.S. have used the phrase "a picture is worth a thousand words." As you think about using and choosing pictures for a portfolio, consider how each picture will represent the right words and image of you. These ten tips may help:
Know your goal. What is the purpose of your portfolio? How will the portfolio be used? What sort of job, career or educational experience do you plan to pursue with the creation of your portfolio?
This might sound silly, but make sure you are in the pictures. Do not select photos that only show your projects, people you traveled with, or your teammates.
Use high quality photos. A blurry or distorted picture will reflect negatively on you.
Make sure all individuals in the pictures you choose are appropriately dressed for the purpose of your portfolio. If in doubt, check our 4-H dress code.
Make sure that anyone photographed is a "whole" person. There is nothing worse than selecting a sports team photo or 4-H club membership photo and some of your team is missing their heads!
Organize your photo exhibits based on whether it demonstrates an academic, personal management or teamwork skill. See the "Assist Youth in Creating a Portfolio for Future Use" article to learn more.
Use a consistent photo size and orientation for a professional, business look.
Explain the photo and what it represents. Identify the picture and the skill(s) it demonstrates.
Have your portfolio reviewed before you use it in the job world. 4-H leaders, teachers, counselors and 4-H youth staff would be great people to review your work.
Need more pictures with you in them? Ask your fellow 4-H members or leaders to help photograph you in the act of 4-H. Some opportunities to photograph are you with your projects, as a teen leader helping others, in the middle of a service project, etc. The opportunities are endless if you plan ahead.
The national 4-H curriculum Build Your Future: Choices…Connections…Careers, provides resources for volunteers to teach young people about portfolios. Michigan State University Extension and Michigan 4-H Youth Development helps to prepare young people for successful futures. For more information or resources on career exploration, workforce preparation, financial education, or entrepreneurship, email us at 4-HCareerPrep@anr.msu.edu.