Clinton County 4-H youth represent Michigan at the 2018 North American Invitational 4-H Dairy Quiz Bowl Contest
Five 4-H members from Clinton County represented Michigan at the 39th annual North American Invitational 4-H Dairy Quiz Bowl contest on Nov. 2 and 3.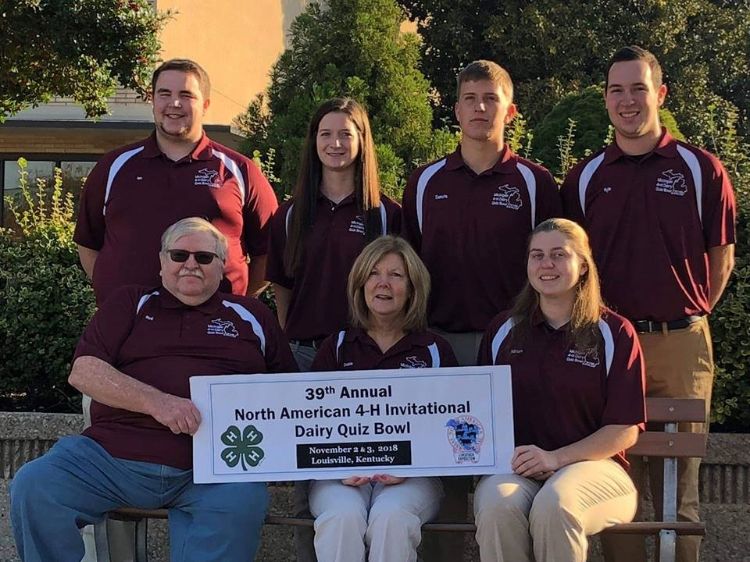 Five 4‑H members from Clinton County represented Michigan at the 39th annual North American Invitational 4‑H Dairy Quiz Bowl contest on Nov. 2 and 3. The event was held in Louisville, Kentucky, as part of the North American International Livestock Exposition (NAILE).
The team members are Ian Black of Eagle, Amanda Hicks of St. Johns, Dakota Dershem of St. Johns, Kyle Schafer of Westphalia, and Miriam Cook of Pewamo. They won the state dairy quiz bowl contest during Michigan 4‑H Youth Dairy Day this past summer, thus earning the chance to compete against 17 other elite 4-H teams at the invitational. Coaches and Michigan 4‑H volunteer leaders Rodney Pennock and Susie Green worked with the team throughout the fall to prepare them for the NAILE contest.
"The kids worked hard for this contest," said Coach Pennock. "They met once or twice a week for the last two months. They were fun to work with as they were soaking up as much information as possible. I am very proud of these five young people, who worked very well together as a team."
The two-day contest includes an individual written exam and a team quiz bowl competition. Composite scores from the exam on the first day were used to create the double-elimination bracket for the team quiz bowl on Nov. 3.
During the quiz bowl, participants buzzed in to answer questions about a range of dairy-related topics, such as nutrition, reproduction, farm management, and cattle health. At the end of each round, the winning team advanced and the losing team dropped into the consolation bracket.
The Michigan team started out strong, winning their first two rounds against 4‑H teams from North Carolina and Ohio. They lost their next two rounds to New York and Illinois 4‑H teams, finishing with an honorable mention placing. In addition, team members Cook and Hicks placed in the top 10 on the written exam.
"The team did a fine job representing Michigan," said Coach Green. "I had such a great time helping these hardworking young people prepare and I think I'm the one that learned the most! They are so fun to be with and along with their coaches, they put in long hours getting ready for this competition."
Team member Kyle Schafer was grateful for the chance to compete in Kentucky and interact with other 4‑H'ers from across the country.
"This was a great opportunity to compete against and meet other youth from across the county," said Schafer. "I'm going to miss attending these competitions because I have so much in common with the other 4‑H members: the dairy industry. I enjoyed hearing about other people's dairy farms and their future plans. I also know these 4‑H members are my peers who I will be working with in the dairy industry in the future."
Though the competition is over, Coach Green knows it was just the beginning for the 4‑H'ers who entered the contest: "I had them all as novices and it was exciting to see just how far they've come. I am confident they are going to do great things in life!"
Michigan 4‑H is the youth development program of Michigan State University Extension. It is open to all young people ages 5 to 19. For more information or to join a 4‑H club or group, check out Michigan 4‑H online.