CNC training right at your doorstep!
New mobile CNC manufacturing training lab rolls into northern Michigan.
The exciting collaborative regional project to provide a critical resource to the manufacturing business community is about to become a reality! The new mobile digital CNC fabrication lab to be known as the "Fab Lab" is being built in southeastern Michigan and will be delivered to northern Michigan in February.
CNC is short for "computer numeric control" and you would be hard pressed to visit any manufacturing facility that does not use this technology. Once programmed, the computer controls the cuts that the equipment makes, whether it is cutting, grinding, milling, etc.
People with the skills to operate this equipment are in great demand and although these jobs are well-paying there is a shortage of training facilities. Over time, most high school programs have eliminated what used to be known as vocational training (wood shop, metal shop, auto shop, etc.). There just aren't enough people with these high-tech skills to meet work force demand.
This mobile CNC lab will address both the short-term and long-term training needs. Short-term, it will serve as a traveling training center with state-of the art equipment that can train up to 12 people at the same time. The trailer comes with an instructor and can be set up right in the parking lot of a manufacturing plant. Employees can simply rotate through and the training program is jointly agreed upon based on the specific needs of the company.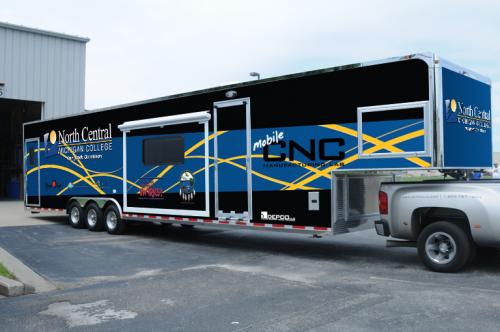 Photo: New mobile CNC lab in northern Michigan.
Longer term, the CharEm Intermediate Schools Vocational Training Program has arranged for the mobile lab to operate at various schools throughout the region that want to offer vocational training, but do not have the facility, equipment or instructor. The lab will rotate between schools providing one day of "lab time" while the rest of the week the students will attend classes that support this career choice.
Michigan State University Extension partner, Northern Lakes Economic Alliance (NLEA), brought this idea to the region in response to area manufacturer's inability to find skilled people to fill ever increasingly more technical manufacturing skills. The NLEA immediately assembled a collaborative group of partners, in order to make this project a reality. These partners included: Northern Lakes Economic Alliance, North Central Michigan College (NCMC), Precision Edge Surgical Products , Michigan Economic Development Corporation (MEDC), Char-Em Intermediate Schools, Northwest Michigan Council of Governments, Little Traverse Band of Odawa Indians, , Charlevoix County, ACAT Global LLC, Moeller Aerospace Technology Inc., Industrial Magnetics, Inc, EJ, Honeywell, DE-STA-CO, Boyne City Public Schools, Pellston Public Schools, East Jordan Public Schools, Central Lake Public Schools…and the list of supporters continues to grow.
North Central Michigan College will officially "own and operate" the mobile lab with funding to build the unit coming from the Michigan Economic Development Corporation through a grant to Boyne City-based manufacturer Precision Edge Surgical Equipment (which pledged to create jobs as a result of this training being available).
Other groups using the unit, including NCMC students, area high schools and local manufacturers will pay an hourly rate for the training. This cost is much less expensive than having to send students and employees long distances to obtain such training. Area Michigan Works staff can work with companies to determine if training grants to pay for employee training are available.
Once the "Fab Lab" arrives in February, it will travel throughout Northern Lakes Economic Alliance four County region, showcasing high-tech manufacturing careers and providing CNC training, from entry-level to advanced training. This project is the result of a collaborative effort by business, education, communities and government, unmatched in any other part of Michigan. A Manufacturing Advisory Team will guide the operation and use of the "Fab Lab"
For information about the "Fab Lab" or to see how your organization might benefit from the training provided by the mobile lab, contact the Northern Lakes Economic Alliance (231-582-6482) or visit http://www.northernlakes.net for additional information about the progress of this exciting project.
Michigan State University Extension has had a unique partnership relationship with the regional economic development organization Northern Lakes Economic Alliance (NLEA) for more than 20 years. Recognizing the strength of combining resources, this partnership focuses on economic development, entrepreneurship growth and community infrastructure throughout a four-county region in the northwest Lower Peninsula, specifically Antrim, Charlevoix, Cheboygan and Emmet counties. As a result, the NLEA utilizes resources offered through MSU Extension as it provides leadership to state-wide programs sponsored by MSU Extension.