Community volunteers bring maple sugaring science and history to life
Participants celebrated the 2016 maple syrup season during the Maple Tapping and Pancake Feast at the Tollage Farm and Education Center.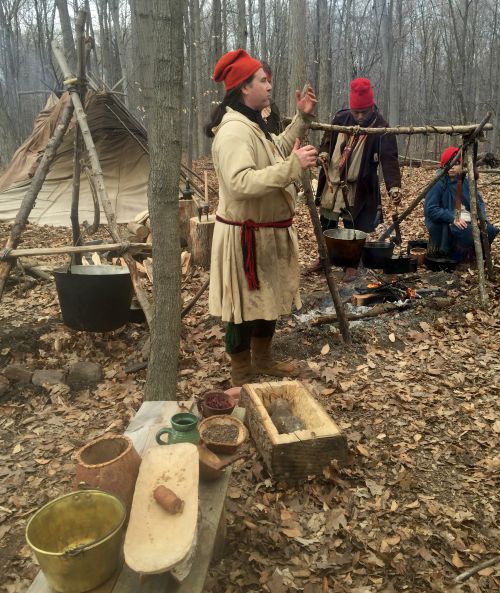 Michigan State University Extension's Tollgate Farm and Education Center recently hosted its annual Maple Tapping and Pancake Feast weekend, inviting the community to take part in an exciting 2016 maple syrup season. "Highly recommend it. Beautiful setting. Great staff and volunteers!" shared an event participant on our Facebook page. "Far exceeded our expectations," another visitor shared after experiencing what was a unique family outing and a rich, fun exploration of the history, art and science of maple sugaring.
Celebrating the sugaring season at Tollgate's Maple Tapping and Pancake Feast began with a robust pancake breakfast in Tollgate's 1860s-era barn, featuring a number of tasty pancake varieties such as buttermilk, whole wheat and gluten-free, sausage and, of course, as much warm maple syrup as one could wish for. Community volunteers prepared and served over 400 guests during the two-day event.
"I really feel like this is something special," said Chris Brandt, a chef by training who volunteered his time and talents to lead the cooking crew. "What a great weekend outing for a family and friends to experience a hidden gem." We thank Chris and a number of other dedicated and hard-working volunteers who helped out in a variety of hospitality roles in the barn and conference center as visitors dined and children explored the educational activities that lined the barn. The event could not have been a success without them.
Following a tasty meal, participants were split into groups that rode the wagons out to experience the sugaring operation first-hand. Greeted by a team of experienced educational staff and volunteers, visitors experienced two hours of a well-rounded tour of the full process of maple sugaring throughout time. New this year, visitors experienced an 18th century Colonial sugaring camp. Thanks to Jeff Pavlik of Sunflour Bakehaus in Downtown Farmington, Michigan, and fellow reenactors Ed, Crane, Zach and Hank. The sugaring camp reenactment highlighted the historical uses of maple sugar as an integral part of sustaining cultures through food-scarce seasons. In period clothing and, at times, with Native American and French dialects, the highly experienced reenactors captivated adults and children alike with their interpretation of the history of maple sugaring.
Educational staff led the hands-on portion of the program as they trekked with their groups into the sugar bush where tree tapping and sap collection serve as the beginning steps of producing the tasty treat. Young and old alike learned about maple tree identification and why and how trees make sap. Conditions were just right to see the sap flowing, and participants were even able to try their hand at drilling and tapping a tree!
At the other end of the historic continuum is our modern day sugar concentration process at Tollgate. Dedicated and knowledgeable sugar shack volunteers shared the story of the evaporation process during which visitors learned that no two maple sugaring seasons are alike. John McGinnis has been sugaring at Tollgate for years. "After a woodlot management course at Tollgate 25 years ago, [farm manager] Roy Prentice asked me if I wanted to start a maple sugaring demonstration, and thousands of gallons of syrup later, we have over 250 trees tapped and can show people how syrup is made." Roy, John and the hardy crew of sugaring volunteers are the very heart of Tollgate's maple sugaring program.
The visitors to Tollgate had an unforgettable experience at Maple Tapping and Pancake Feast. Some even hope to put their newfound interest in maple tapping to work as they try out maple sugaring at home. We applaud and thank the many volunteers, without whom this special event could not have taken place!
MSU Tollgate Farm and Education Center offers a wealth of resources and activities for all seasons. For more information about this article, contact me, Tollgate Education Center education director, at 28115 Meadowbrook Road, Novi, MI 48377, 248-347-0269 or jaros@msu.edu.