Empowering young entrepreneurs to increase retention
Learn and share best practices to empower our youth to become "entrepreneurial" at the upcoming Connecting Entrepreneurial Communities Conference in October 2018.
August 14, 2018 - Author: Kathy Jamieson, Michigan State University Extension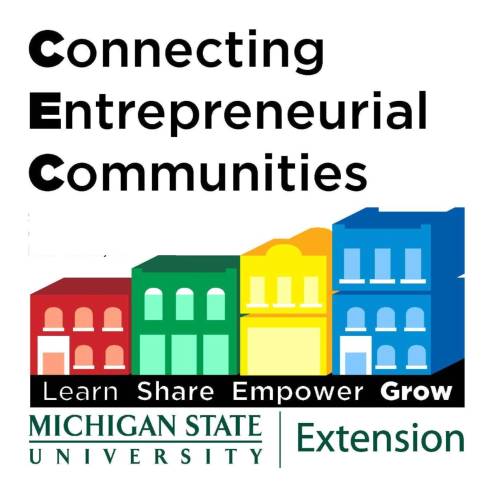 How does a community engage young people in entrepreneurship? Building tomorrow's entrepreneurs is essential to growing our economy. According to the latest Small Business Administration data, Michigan is home to 870,301 small businesses employing 1.8 million workers. In an effort to increase this number, "Under 30—Grow and Attract" is one of five tracks to be offered at the ninth annual Connecting Entrepreneurial Communities Conference (CEC) provided by Michigan State University Extension. This conference will be held in downtown Charlevoix, Michigan, Oct. 3-4, 2018.
Young entrepreneurs will be able to network with community leaders and economic developers as well as have an opportunity to sell and showcase their products or services. In addition, the conference offers a number of breakout sessions that look at innovative ways to grow and attract young entrepreneurs to your community. The following are short descriptions of just a few sessions.
Empowering Young Entrepreneurs: Join us for an exciting conversation on engaging young people in exploring entrepreneurship as a career option. Curriculum, resources and innovative youth entrepreneurship programs from around the state will be shared.
Saving Small Towns With Big City Ideas: Small towns continue to lose young people as they are drawn to big cities and the urban lifestyle. So how can small towns attract and keep the younger people they need to sustain the community? This session will look at what is attracting millennials to big cities and how those characteristics can be adapted to small towns.
Junior Main Street—Community Connections to Youth: Main Street programs serve as a catalyst for an energetic downtown. Creating community connections to youth can build civic duty and a greater appreciation for history while encouraging long term residency. Participants will learn how to develop and fund successful outreach techniques for youth and practical approaches that can be applied in any community, large or small.
Mind-boggling Opportunities: Preparing for the new economy: Is your local government ready to compete in the new economy? To attract new residents, businesses and create jobs, local governments need to consider if their current processes and preferences accommodate the needs of a changing world. This interactive session will review the "New Economy Checklist," which evaluates your current local government practices and policies.
Don't miss this opportunity to learn how you can develop the next generation of entrepreneurs in your club, school, church or community. Register at the Connecting Entrepreneurial Communities Conference 2018 Event page.
To support youth entrepreneurship, MSU Extension 4-H also offers a limited amount of scholarships for young entrepreneurs in high school or college who want to showcase their small business. Contact Kathy Jamieson at jamies13@msu.edu for more information.
---