Cucumber downy mildew update on spore detection
Update from Michigan's spore detection network for June 17, 2020.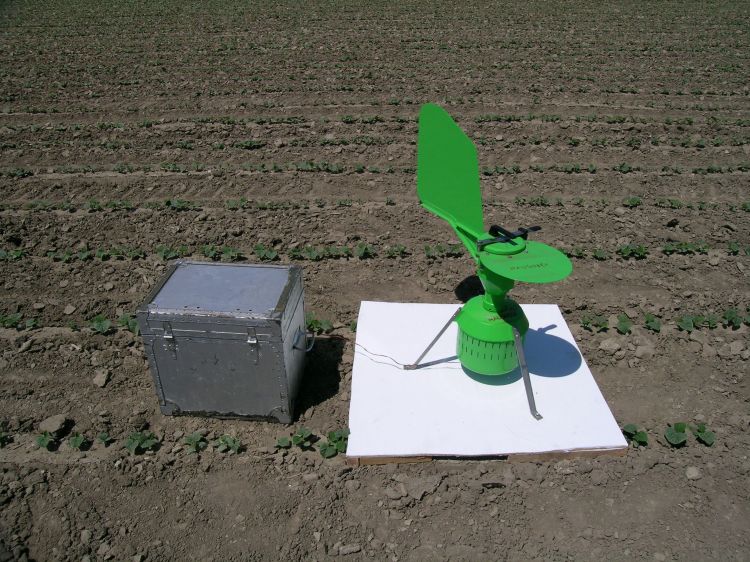 Downy mildew on cucumber or any other cucurbit has not been confirmed in Michigan or in adjacent states of the Great Lakes region. Our molecular analysis of the spore trap samples from Berrien County has recently confirmed cucumber downy mildew spores in the air for June 8, 10 and 13, 2020. For the Muskegon spore trap, there was a positive for cucumber downy mildew spores for June 8. At this point, cucumber downy mildew spores have not been detected from the monitored sites on the east side of the state. Go to our Downy Mildew News page for updates. While many of the state's processing pickle fields are still young, the fresh market growers will be harvesting cucumbers soon from their early plantings that were established in low/high tunnels.
Hop downy mildew spores are being consistently found in our spore traps at all sites. These hop downy mildew spores do not pose any risk to our cucumber and cucurbit industries. In previous years, we would not have known whether these spores were cucumber or hop downy mildew as they look identical under the microscope. It's only through our molecular tools that we are able to know if what we are detecting in the atmosphere is cucumber or hop downy mildew.
Downy mildew has been a yearly problem for Michigan growers since 2005 and diseased plants are often first spotted around the Fourth of July. The 2019 growing year was an exception as disease developed in the state later than usual. The reason that my lab works so hard on spore trapping is that the cucumber downy mildew pathogen does not overwinter in Michigan fields. The downy mildew spores that we capture in the spore traps cannot overwinter or even survive a hard frost.
The good news is that each year we begin with a clean slate for our field production. The bad news is that we don't know when the downy mildew will arrive each year, so we can't know when the highly susceptible crops, including cucumbers and melons, should be protected with fungicides. The cucumber downy mildew spores move via air currents and must blow into our growing regions. Fungicides are costly and applying them before they are needed is not sustainable. However, applying fungicides when the disease is already well established in the field is not recommended because it can be too late to protect the crop and can contribute to the downy mildew pathogen developing resistance to our most important fungicides.
The forecasted sunny and hot weather for the next several days is not especially favorable for downy mildew, as the high heat isn't an advantage to the pathogen. However, cucumber downy mildew has likely arrived in some areas of west Michigan and fields should be scouted. Even if diseased plants are not found, consider using a broad-spectrum fungicide program from now until we detect cucumber downy mildew spores on more days or verify a plant sample with downy mildew.
Examples of cost-effective fungicides that could be used until we are able to verify additional days that are positive for cucumber downy mildew spores or verify a plant sample as being diseased by the downy mildew pathogen in the state include: chlorothalonil, mancozeb, Gavel or Zing! If more spore trap samples come back positive for the cucumber downy mildew, then the recommendation will be to switch to a downy mildew specific fungicide. Go to Managing Cucurbit Downy Mildew from MSU Extension for more detailed fungicide recommendations.
Downy mildew "look-a-likes" each year are primarily angular leaf spot. The angular leaf spot samples may have water-soaking symptoms that can resemble downy mildew. Working with growers, scouts, consultants and Extension educators to make sure we get samples immediately and make a diagnosis is very important. See instructions on how to submit samples.