Dairy Grazing Apprenticeship seeks to train veterans
Opportunities in the dairy industry provide veterans with meaningful careers after service.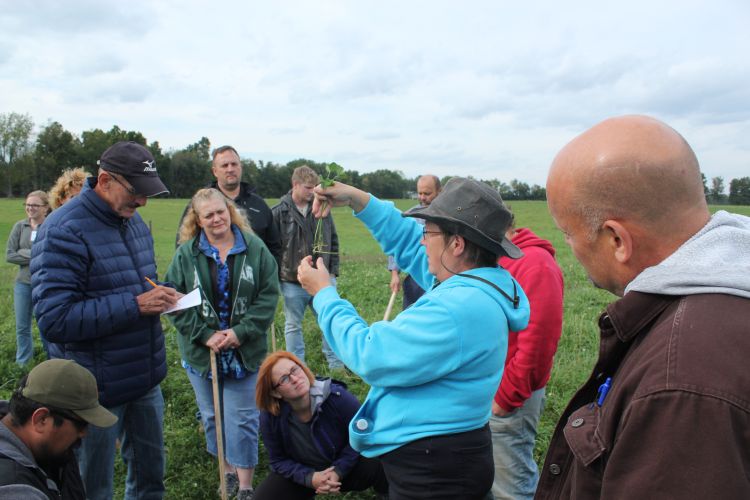 As military veterans transition from national service, they seek to find career paths that are rewarding and allow them to continue to serve their communities. Dairy farming is an important part of rural economies and food security, with each cow generating approximately $34,000 of economic activity in the local community each year and a consistent supply of nutritious foods for residents. As veterans look for career opportunities in the civilian sector, dairy farming offers an opportunity to work with animals and the land in a farm setting as an employee or business owner.
As a farmer, veterans have the opportunity to nurture livestock, apply critical thinking skills learned in the military to complex problems on the farm, be leaders in their communities, and protect their community food supply through production of quality dairy products. However, new farmers currently face significant barriers and are not entering the profession at a rate that offsets the loss of retiring producers.
The U.S. loses 5-10% of its dairy farms every year, in part because the average age of farmers is 59 years, and many do not have an identified successor. The Dairy Grazing Apprenticeship is the first formal apprenticeship for farming in the nation and was created by and for farmers to address this challenge. Using the model of education that has prepared skilled workers in the trades for more than a century, the Dairy Grazing Apprenticeship combines work-based training with related instruction for the federally recognized occupation of "dairy grazier."
A dairy grazier is a farmer who uses managed grazing where farm acres are planted in perennial forages and cows are rotated through paddocks of high-quality grasses that are allowed to rest and regrow. Using this cost-effective method, dairy graziers are able to restore natural resources, produce high quality milk and remain profitable in both conventional and value-added markets.
Michigan veterans interested in dairy production and animal husbandry are encouraged to participate in the Dairy Grazing Apprenticeship and through program participation will enjoy the following benefits:
Full-time employment and training for two years.
Coaching and support during Master Grazier selection process.
$4,500 stipend paid in three installments.
Dedicated website for state and local veteran resources.
Financial planning resources during Dairy Grazing Apprenticeship and after graduation.
Organized veteran activities.
Use of VA educational and vocational rehabilitation benefits.
Opportunities to advance in management or ownership.
Veterans interested in learning more about the Dairy Grazing Apprenticeship or applying should visit the Dairy Grazing Apprenticeship website or contact Matthew Keesling, Dairy Grazing Apprenticeship veterans' liaison, at matthew@dga-national.org.
MSU Extension offers Beginning Grazing School
For those interested in exploring grazing practices prior to Dairy Grazing Apprenticeship participation, Michigan State University Extension will offer a Beginning Grazing School for farmers and landowners grazing dairy, equine and livestock animals at two locations in Michigan July 30-31, 2020. The two-day school will be offered at the MSU Kellogg Biological Station Pasture Dairy Center in Hickory Corners, Michigan, and the MSU Lake City Research Center in Lake City, Michigan.
Each location will have MSU grazing and forage specialists and Extension educators onsite who will present and conduct in-field demonstrations. Participants only need to attend the closest location to participate in the full school and gain the expertise of the numerous speakers from across the state. Topics to be addressed at the grazing school workshop include:
Introduction to managed grazing
Pasture management and decision making
Livestock nutrition and requirements on pasture
Forage yield determination and pasture allocation
Grass and legume species identification
Pasture soil fertility and management
Grazing systems, layout and design
Water systems and requirements
Building and using fence for grazing
Pasture establishment and improvement
To register for either location, go to Beginning Grazing School 2020. Registration closes July 27.
Registration rates for the Beginning Grazing School

Participant

Fee until July 19

Fee after July 19

Student

$100

$125

Veteran

$100

$125

Individual

$150

$175

Group (from one farm)

$125

$150
The workshop fee includes grazing sticks, the Midwest Cover Crops Field Guide, the Forage Field Guide, a USB with all program materials and worksheets, and all meals including a networking dinner Thursday, July 30, along with lunch and snacks Thursday and Friday.
For more information on the Beginning Grazing School, contact Misty Klotz at klotzmis@msu.edu or Brook Wilke at wilkebro@msu.edu.
For more information about MSU Extension veterans services and programming, contact Adam Ingrao at ingraoad@msu.edu or visit the MSU Extension website for a full listing of MSU Extension programs and services.